A war between elder gods, a mysterious deep space signal, intrigue between space miners, and a full cast audio drama from one of today's bestselling authors feature in this week's roundup of the newest releases in science fiction.
---
You don't become the best of the best by staying alive. In the Animus, you are closer to perfection with each death you suffer.
Kaiden Jericho would rather skip the death part, thank-you-very-much.
Join Kaiden as he learns about Nexus, the Animus, and the opportunities that one fight brought him. Never has helping someone benefitted him so much.
The future is looking bright, except for the pain.
Kaiden Jericho's life just went sideways.
The problem? He isn't as prepared as he thinks he is.
Out in the jungles of the Amazon, Kaiden meets a new set of nightmares, and death there is permanent.
Even with all his previous training in the Animus, will Kaiden survive?
---
I wasn't always this adorable, badass superhero you see before you.
Well, I was, but there was a shady side to me, a part of my past I don't like to talk about.
And that's what led me to Supralines, the best superhero school in the Oram galaxy.
What follows is a bit of insanity, a bit of love, and a bit of self-discovery. Join me, and I promise you won't regret it!
"What can I say that has not been said? Interweaving novels, building new worlds, creating characters with amazing skills…Jamie makes it seem like a walk in the park. If you have not yet read a Jamie Hawke work, this is a good start."–Amazon Reader Review
---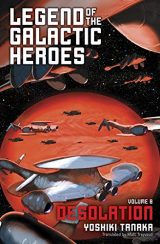 Desolation (Legend of the Galactic Heroes #8) – Yoshiki Tanaka
After utterly defeating the Free Planets Alliance, Kaiser Reinhard has brought 99 percent of inhabited space under his control.
Still, dissatisfaction and unease coil within his breast, for the galaxy's last remaining sliver of free territory is defended by none other than Yang Wen-li.
Seeking decisive battle, the Imperial Navy moves to attack Iserlohn Fortress, but due to Yang's unexpected plan, the battle has already begun before Reinhard arrives.
The Yang Fleet must overcome an enormous difference in force strength—while at the same time, a trap laid by the Church of Terra is closing in around Yang…
---
The Godswar Has Come Again.
Nebiat has seized godhood, and now controls Krox, the most powerful elder god in the sector. Both Ternus and Shaya know she is coming, but their preparations cannot save them. She launches a strike at Ternus that cripples their home world, and shatters their fleets.
Voria desperately struggles to find a way to raise Shaya, or to rise as a goddess herself. She will do anything to oppose Nebiat, but fears it will not be enough.
Aran must confront the awful truth about the Skull of Xal, and make a deal with demons in order to gain the strength they so desperately need to overcome Krox.
And Nara must face the most awful choice of all. Will she murder the woman she most respects, or let the sector burn?
---
Captain Greg Daniels of the DSM Boone is a handful of asteroids away from retiring when his plans are threatened by an explosion on his ship. With the risk of another more lethal attack, Greg must locate the source of the explosion or he'll lose more than the priceless rock he just obtained – he'll lose his life.
On the Lunar Community, Final Frontier Mining Director David Rivera has his sights set on become Prime Minister of the ISC. His hopes rest on ace miner, Daniels, bringing in the most profitable asteroid in the company's history to keep himself in the spotlight. But when he discovers a conspiracy to destroy his company and put a stop to his political aspirations, David must hunt down his mysterious hacker while trying to save Greg, DSM Boone, and the asteroid it has secured.
One man fights for survival in deep space, another on the moon, but is there someone else pulling the strings of both? Only if they can work together, will they find the answers they need to survive.
---
No one knows what to make of the mysterious clicks.
To Ajay Joshi, the amateur astronomer who discovered the strange sounds with his radio telescope, the clicks represent proof of aliens on Callisto, a moon of Jupiter, a theory dismissed as quackery by space agency radio experts. They contend the clicks are nothing more than terrestrial interference, so-called skywaves, or similar electromagnetic interference emanating from Jupiter or Callisto.
To Dr. Kiera Walsh, an aerospace engineer introduced to Ajay and his findings, the consistent, repetitive pattern of the clicks points to the possibility of a lost Martian probe caught in Callisto s orbit. She shares this view with her employer, billionaire and space exploration privateer, Augustus Amato, and is surprised to learn Amato disagrees with her conclusion. He believes the clicks herald something more ominous orbiting Callisto.
Compelled to learn the true source of the clicks, Amato launches a fleet of experimental probes to investigate the Jovian moon. A mission that produces a string of startling discoveries, revelations that shake the space exploration establishment to its core and spark a controversial race to preserve the discoveries before they are destroyed or suppressed.
---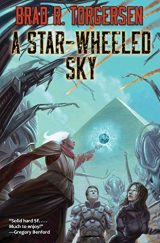 A Star-Wheeled Sky – Brad R. Torgersen
Over a millennium in the past, humans fleeing Earth in slower-than-light vessels discovered the Waywork, an abandoned alien superhighway system that allows instantaneous travel from star to star. The problem: there are a finite number of Waypoint nodes—and the burgeoning population of humans is hemmed in as a result. Furthermore, humanity is divided into contending Starstates. One of the strongest is based on an oligarchy ruling families, but still mostly democratic. The other is a totalitarian nightmare. War seems inevitable.
Now a new Waypoint appears. Might it lead to the long-lost creators of the Waywork? If so, there may be knowledge and technology that will tip the balance in the coming war.
Three people race to make it to the new Waypoint—and beyond. These include Wyodreth Antagean, the reluctant son of an interstellar shipping magnate, Lady Garsina Oswight, the daring daughter of a royal family, and Zuri Mikton, a disgraced flag officer seeking redemption. They are facing an implacable foe in Golsubril Vex, a merciless, but highly effective, autocrat from the Waywork's most brutal regime. Vex is determined to control the new Waypoint and whatever revelation or power lies on the other side.
Now humanity's fate—to live in freedom or endless dictatorship—depends on just what that revelation might be. And who gets there first.
---
Starship Pandora: A Star Force Audio Drama – written by B. V. Larson
B. V. Larson returns to the world of his Audible best-selling Star Force series for the first time in three years with this original, full-cast audio drama.
The mysterious alien race known as the Ancients vanished before Earth's last ice age – but not before building interconnected rings that form a highway system across the galaxy. Humanity has used these rings for years but has never figured out how to build its own, or even how to alter the connection pattern.
Now, the Imperial starship Pandora is on a mission to discover and explore new interstellar connection points. While on Venus, an unexpected guest arrives – Marvin, a rogue robot who puts his strange mind to work on reconnecting the rings into a new pattern. And everything goes haywire. Grotesque aliens come through the ring and overrun Pandora's base camp. The good news is the aliens can be killed. The bad news is the aliens keep coming, and no one knows how to turn off the ring that leads directly to their home world.
And even if the aliens are defeated – there's still Marvin to contend with.
---