Steampunk airships, buried Egyptian ruins, fallen angels, and the Titanic feature in this week's roundup of the newest releases in fantasy and adventure.
---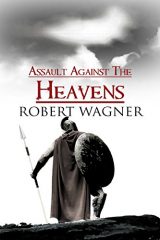 Assault Against the Heavens – Robert Wagner
Daon is a Bronze Man, a member of an elite force of lawkeepers who protect and carry out the will of The Celestial Lord. Even though he was sold into this life as a child, just like his fellow soldiers, his beliefs are much different than theirs. Daon hates The Celestial Lord and would like nothing more than to be free.
His hope is a small thing, since The Celestial Lord is a God, who came down from his throne in the heavens to rule the people of Eur directly.
When a stranger to the capital city arrives, Daon finds himself swept up into a conspiracy, along with his friends Naya and Gal, to depose The Celestial Lord.
Caught between the duty ingrained in him and his desire for freedom, his loyalty to his friends or the loyalty to his God, one thought dominates all the others.
Can Daon even fight against a God?
---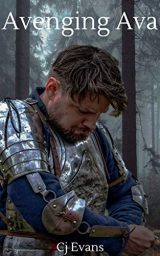 Avenging Ava (The Heroes of Razak #1) – C. J. Evans
"The bear stood on it's hind legs, and it appeared to stand twelve feet tall. It's roar paralyzed the forrest in terror and dread. Even the birds stopped singing out of fear."
Nate and his family live just outside of the village on their farm. One day Nate's younger sister, Ava, is gruesomely killed by a bear. Nate goes out and seeks to avenge the death of his sister, so he joins a hunting party to go out and kill the beast! Yet there is something about this bear that doesn't sit right… there's something different about it… almost some sort of dark magic… Nate is in for more than he bargained for…
This novelette was partially inspired by the same story that inspired J.R.R. Tolkein, Beowulf. This is the first story in a fantasy anthology, and it's a fun introduction to the world of Razak!
---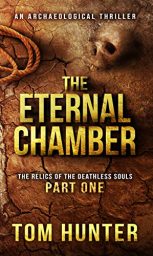 The Eternal Chamber (Relics of Deathless Souls #1) – Tom Hunter
Archaeologist Samuel McCarthy is on the verge of a groundbreaking discovery. The treasure map had led him this far, but the ancient Egyptian defenses and advanced cloaking technology guarding the cave prove impossible for one man to penetrate. Unfortunately, the men who answer his call for help may be more dangerous than the powerful artifacts buried deep underground…
Antiquities Ministry staffer Shafira Khouri longs to trade her desk job for the dig site. But when an office overhaul turns deadly, she knows she's her colleagues' only hope of survival. After the ministry falls into enemy hands, she fears her first field assignment could be her last…
If Samuel and Shafira can't stop a shadowy organization from grabbing hold of a terrifying relic, the entire world could become ancient history.
---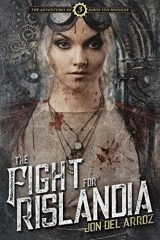 The Fight for Rislandia (The Adventures of Baron von Monocle #3) – Jon del Arroz
The Wyranth Empire is marching on Rislandia City. Zaira Von Monocle and her airship crew are all that stands between the invading army and the total destruction of her country.
After her expedition to the Zenwey continent, Zaira discovers the Wyranth have a new source of their giant's blood soldier serum. The enemy has pressed the advantage and used the lack of an airship threat to gain ground. Meanwhile, the Rislandian Grand Army is running low on supplies and food. They can't hold out forever.
Join Zaira and her crew as they try to take on the full might of the Wyranth Empire and deal with a deadly surprise the Iron Emperor has waiting for them in the conclusion to this epic steampunk trilogy!
---
First Level (Replay #1) – John Gunningham
Waking up in a strange place with no memory of who you are or how you got there is bad enough but when Lana finds out she's stuck with Peter, who seems overly excited by the prospect of an adventure, she starts to get a bad feeling. To make matters worse, Lana finds out she's dead, has no memory of the past, and all the talk of skills, leveling up and questing make her want to scream.
All Lana wants to do is find a way to get home, wherever that is, but Peter is more than content to stay and see what this strange world filled with merchant gnomes, minotaur bartenders and angry house toughs have to offer.
Could Peter have something to do with Lana's current, infuriating state or is he just as lost as she is as they fight towards answers and their FIRST LEVEL!
---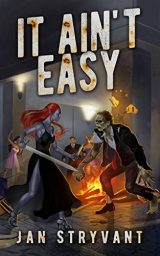 It Ain't Easy (The Valens Legacy #10) – Jan Stryvant
With his home now secure, Sean can take the time to start catching up on the million and one things he's been meaning to do, but never quite seemed to have the time. However, life is really never that simple. Sean's two armies, run by his friend Chad and his great uncle Maitland are coming across a few things hinting that the Vestibulum aren't ready to give up the fight quite yet.
The government and its minions are still not quite sure what to make of Sean or the lions he claims to represent. Divisions exist at the highest levels, and when the president decides to open a line of communications, those who are opposed to the idea are quick to act. The problem however is that while politics may make for strange bedfellows, when dealing with forces that aren't quite human, discretion is highly advised before jumping into bed.
---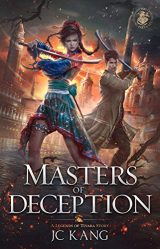 Masters of Deception – J. C. Kang
Hunting a traitor to the clan that raised her, half-elf spy Jie just wants to complete her mission and return home. Instead, she finds herself trapped in a foreign port, where warring crime factions vie for control of the city's pyramid.
Cassius Larusso, a local diviner and conman, knows why: atop the pyramid sparkles a Dragonstone, preventing the Orc Gods from returning to the world. His family's thousand-year mandate to protect the ancient artifact is almost as important to him as filling his coffers with gold, his stomach with delicious food, and his bed with a different type of delicacy.
Joined by Sameer, a paladin pursuing his forbidden love, and Brehane, a sorceress seeking her lost teacher, Jie must choose the right side in a game of shifting alliances and deception. Cassius will lie, cheat, and steal to get her to pick his.
A wrong choice doesn't just mean that Jie can't go home; it could lead to the downfall of humanity.
---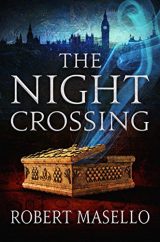 The Night Crossing – Robert Masello
Bram Stoker kept secret a tale even more terrifying than Dracula.
It begins among the Carpathian peaks, when an intrepid explorer discovers a mysterious golden box. She brings it back with her to the foggy streets of Victorian London, unaware of its dangerous power…or that an evil beyond imagining has already taken root in the city.
Stoker, a successful theater manager but frustrated writer, is drawn into a deadly web spun by the wealthy founders of a mission house for the poor. Far from a safe haven, the mission harbors a dark and terrifying secret.
To save the souls of thousands, Stoker—aided by the explorer and a match girl grieving the loss of her child—must pursue an enemy as ancient as the Saharan sands where it originated. Their journey will take them through the city's overgrown graveyards and rat-infested tunnels and even onto the maiden voyage of the world's first "unsinkable" ship…
---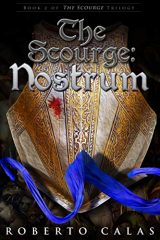 Nostrum (The Scourge #2) – Roberto Calas
Sir Edward Dallingridge survived his journey through the anarchy that is now England, leaving in his wake the bodies of mad lords, foul invaders, friends, and the risen dead. There was nothing on earth that could keep him from the woman he loves.
Nothing but the horror that has already consumed her.
His journey is over, but his mission is far from complete. As a knight of the realm, he has defended England from every enemy it has. But how does one drive away a plague sent from hell? His only hope lies in the rumors of a cure–a treatment concocted by a strange man on an island fortress. Edward will do everything in his power to find this alchemist and to bring Elizabeth back from the walking terror she has become.
---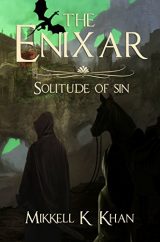 The Solitude of Sin (The Exinar #2) – Mikkell Khan
Twenty years have passed since the annihilation of the god ruler, Gudrunn. Yet, fractures and remnants of his domination still remain.
Princess Athena, the royal couple's daughter, is a shining example of the benevolent rule that is loved by both the countryfolk and the rebels and is seen as one to bring peace to the Kingdom.  One night in desperation, she is kidnapped by a power-hungry tyrant and discovers the universe is far stranger than she ever thought. One day she is living a fairytale life, the next she becomes a gateway between her kingdom and Alpha Sinteres – a metaphysical plane of existence and a source of unlimited magic.
Ruil, a young man with wizardly healing abilities, could not imagine he would transition from lowly stable-boy to member of the princess' rescue mission in a single night. He had no idea that this coming of age quest would bring him to the likes of, witches, shapeshifters, telepathy, and machines with the power of gods. Nor was he prepared for the level to which human betrayal, pain, love, and survival would take a person.
This experience would change them both, this unbinding from the comfort which they both knew, this Solitude of Sin, to which they would never be the same again…
---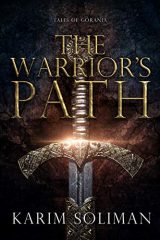 The Warrior's Path (Tales of Gorania #1) – Karim Soliman
Discover the world of Gorania with Masolon, the warrior from the mysterious lands beyond the Great Desert, the outcast who refuses to be the warring monster his clan needs and instead he becomes a kinslayer, the sinner who forges his path of salvation in the broken empire of Gorania with the help of his most—and probably his only—trustworthy friends: his sword and his horse.
As he wanders the kingdoms sprawling over the sun-blazed south and the snow-frosted north, Masolon builds his army to enforce his own notion of justice. His war provokes the ruthless lords of the warring realms, and the merciless outlaws who infest every corner in Gorania—a war he might survive with his body, but not with his mind.
Now enemies and false friends close in from all sides. And Masolon, shrouded in his own cocoon of guilt, meets one fiery girl who could help him find peace for his restless heart. Or maybe peace is just a delusion, and his path to redemption is nothing but a lie.
---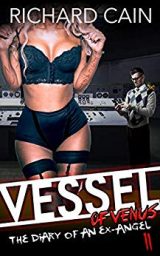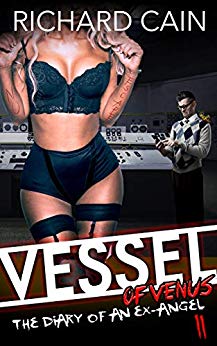 Vessel of Venus (The Diary of an Ex-Angel #2) – Richard Cain
Mark is a down-and-out IT professional with a secret. When he discovers a sorcery app that gives him incredible powers, he sets out to win his ex-girlfriend's love and start a new life – until Venusians show up, sharing the story of how their civilization was destroyed by global warming and giving Mark the chance to fight climate change. All he has to do is offers them a sacrifice once in a while.
Will he get the girl? Will everyone finally realize that he's the most amazing person ever? And will that damn talking locust ever shut up and leave him alone?
You'll find out in the dementedly hilarious Vessel of Venus.
"Read this to find out the real story behind: The clean up after the the deluge to eliminate evidence of the prior civilization, such as air conditioning and the Nephilim. Pixies. Haunted houses. Crop circles. Aliens." – Reader Review
---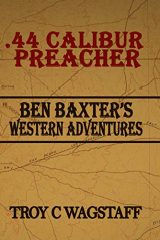 .44 Caliber Preacher (Ben Baxter's Western Adventures #1) – Troy C. Wagstaff
Ben is honor bound and obligated to get revenge when everything turns against him, including getting charged for murder and other crimes he didn't commit. A sheriff and posse go after him as well as every other lawman and bounty hunter in the west desert.
In spite of the numerous challenges and obstacles Ben presses on. His integrity is challenged when one of the lawmen after him is wounded and falls under Ben's care. The sheriff wants to see Ben hang. Will Ben get the wounded sheriff the help he needs or let him die?
In spite of the hair raising adventure Ben is on, he comes across evil men determined to destroy a town. The town offers him the job of being their sheriff. What does Bens honor dictate? Will he take the job or keep looking for his pard's killer?
Preacher Zachary Monroe, a preacher from San Francisco is running from his painful, haunted past. Suddenly the preacher and Ben cross paths. Do they join forces to help each other in their quest or do they go their separate ways?
---