Towering kaiju monsters, swordless swordsmen, Egyptian princes, and Mormon steampunk feature in this week's roundup of the newest releases in fantasy and adventure.
---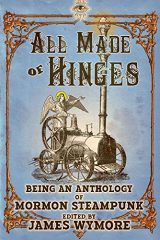 All Made of Hinges – edited by James Wymore
Cheerful in the face of dark opposition. Innovative to improve a backward world. Industrial as a cure for oppressive conditions. Unyielding beneath all who seek to bind and control them. Faithful until they conquer the fear of death and rise to great acts of heroism and service. Mormons and Steampunks are two faces of the same coin.
Twelve authors spin tales of true believers facing impossible odds, risking this life in the hope of gaining something better after. Mormon Battalion soldiers fight an airship, a bounty hunter crosses Porter Rockwell, cultists attempt to reanimate Brigham Young, and missionaries run into Cthulhu. These are just a few of the amazing tales by award winning, bestselling, and premier authors—D. J. Butler, John M. Olsen, Steven L. Peck, Elizabeth Mueller, Scott E. Tarbet, Jay Barnson, Joe Monson, Amanda Hamblin, Christopher McAfee, Jace Killan, John D. Payne, and Lee Allred.
---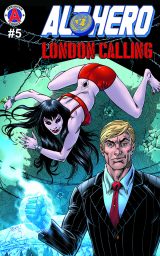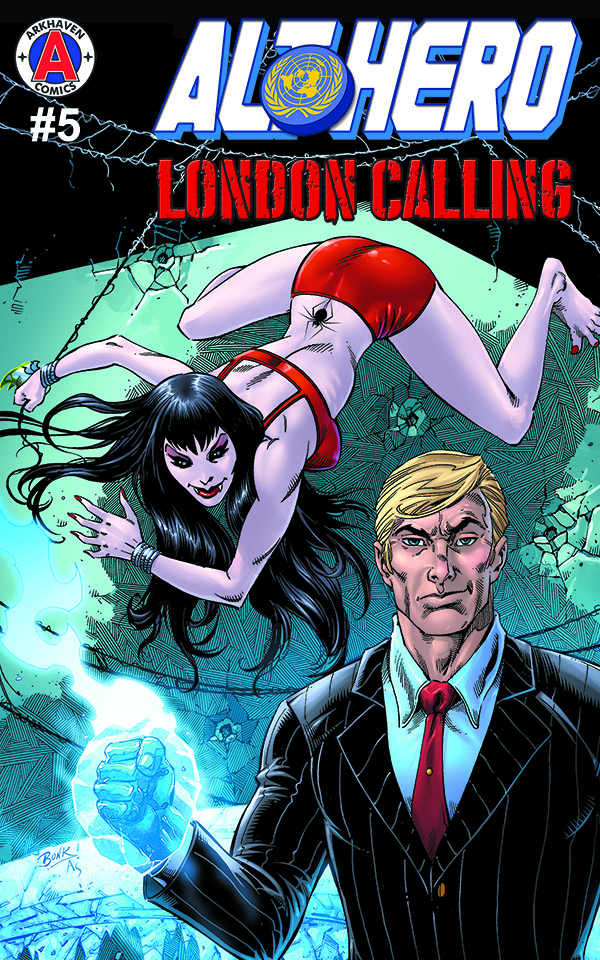 Alt Hero: London Calling (Alt-Hero #5) – Vox Day and Richard Bonk
When London comes calling, death is knocking on the door.
The directors of the United Nations Superhuman Protection Council have learned the hard way that putting pressure on the families of the next-gen renegades is a game far too dangerous to play. But their newfound limitations does not mean they don't have other resources on which to call, resources that are every bit as dangerous as the superhumans they are hunting.
Alt★Hero is an exciting new line of superhero comics from Arkhaven Comics.
"It is refreshing to find a comic that reflects real-world issues and present scenarios that really set the noggin joggin, wondering 'What would I do in this situation? Would I be clever enough to respond like this?" – Amazon Reader Review
---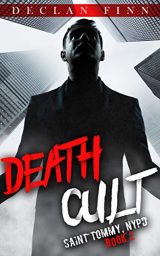 Death Cult (Saint Tommy, NYPD #2) – Declan Finn 
All saints are dead.
Detective Tommy Nolan is no stranger to bizarre events. After all, he's a New York cop. And after the demon, he thought he'd seen it all.
When home invaders threaten his family, he was prepared to take it as a risk of the job. When it turns out the intruders were covered in the mark of the demon, he knew the trouble was just beginning.
Now, it's a race against time as the cult who raised the demon take their revenge. They know that Tommy is not yet a saint. Because all saints are dead.
---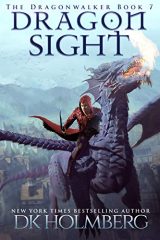 Dragon Sight (The Dragonwalker #7) – D. K. Holmberg 
A centuries old war must end.
After saving the dragons, Fes knows what must come next, but the empire has other plans. Rather than saving the Deshazl from slavery, the emperor bargains for peace. Can real peace happen when his people remain enslaved?
When a summons draws him south, Fes discovers an ancient threat to the dragons that he might not be able to stop. Worse, the Damhur might finally have what they want—a way to control or destroy the remaining dragons.
Survival means going to the heart of Javoor for answers, but not only must he be strong enough, but he also needs to find answers before the dragons are destroyed… this time forever.
---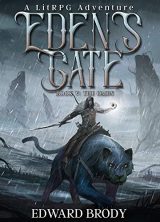 Eden's Gate: The Omen (Eden's Gate #5) – Edward Brody
After the turmoil in the Arena, Gunnar retreats from Highcastle and attempts to maintain a low profile while the heat regarding Reborns subsides.
Avoiding the human cities, he sets out to unexplored lands with guild mates and a potential new recruit. But when his Great Beast goes missing, a simple quest turns into a troubling chain of events that spawns several unanswered questions.
Why is Sora unresponsive? And why are dragons threatening the inhabitants of Eden's Gate?
The King's health may be postponing Dryden's plans, but Gunnar's saboteurs might have disturbed something that could be even more devastating than a Bloodletter invasion. Can Gunnar mend the thin thread that's holding the world from falling into chaos, and after more than a month in Eden's Gate, will he finally cave to the temptations of an elf?
---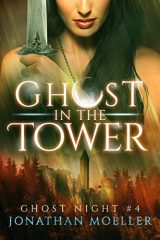 Ghost in the Tower (Ghost Night #4) – Jonathan Moeller 
Caina has hated the Imperial Magisterium, the Empire's college of magi, for all her life…and the magi hate and fear her right back.
But the Magisterium has much bigger problems right now, and the First Magus is willing to make a deal. If Caina can find the root cause of a mysterious string of suicides, the Magisterium will leave her in peace.
Except the suicides are actually murders.
And unless Caina is clever, she'll be the murderer's next victim…
---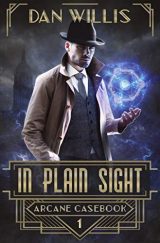 In Plain Sight (Arcane Casebook #1) – Dan Willis 
When a magical plague is released in a Depression-era New York soup kitchen, private detective Alex Lockerby finds himself in a desperate hunt to catch a madman before he can strike again.
His investigations lead Alex to a famous thief, a daring heist, and the search for a mythic book of ancient magic, but none of that brings him any closer to finding the man responsible for the massacre. With the police and New York's Council of Sorcerers desperate to find the culprit, Alex becomes a suspect himself, thanks to his ties to the priest who ran the soup kitchen.
Now Alex has his book of spells, a pack of matches and four days to find out where the plague came from, or that authorities will hang the crime squarely on him.
---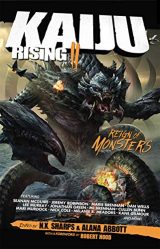 Kaiju Rising II: Reign of Monsters – edited by N.X. Sharps and Alana Abbott 
We are surrounded.
A wealthy man hunts the kaiju that killed his daughter on an island inhabited by mega-fauna.
They are everywhere.
By the light of a campfire a young girl shares the true story of the epic brawl that caused Hurricane Irene.
There is no escape.
Sabotage turns an international science competition into a monster and mecha massacre.
They Reign.
From deep ocean trenches and dense vibrant jungles to alien worlds and other dimensions, the kaiju have returned! This is a collection of sixteen stories by some of the hottest names in speculative fiction. These modern myths celebrate and explore the Japanese film genre popularized by films such as Godzilla, Gamera: The Giant Monster, King Kong, Cloverfield, and Pacific Rim.
---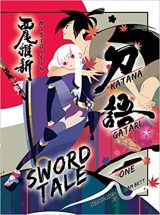 Katanagatari 1: Sword Tale – NISIOISIN 
From the pen of the author of the legendary MONOGATARI novels comes another unique offering, available in English for the first time!
The basis of an animated series, KATANAGATARI brings to life a swordless "swordsman" and a self-described schemer who embark on a quest to obtain twelve peculiar masterpiece blades. Featuring a gatefold color insert, beautiful interior art, and copious bilingual footnotes, this hardcover edition is the first of a quartet scheduled to collect the entire original run.
Brimming with action, romance, and unexpected wisdom, often as tongue-in-cheek as The Princess Bride, and shot through with ninjas, samurais, and secret moves, Sword Tale is Musashi for a new generation and a gift for any fan of adventure.
---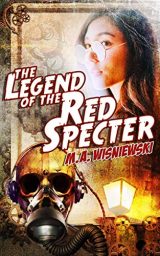 The Legend of the Red Specter (The Adventures of the Red Specter #1) – M. A. Wisniewski
Rookie reporter Joy Song Fan is at the end of her rope. Life isn't easy in the aftermath of the Great War of Nokomis, in which the upstart industrial nation of Kallistrate used its giant mechanical Steam Golems to vanquish the ancient dragon-riding empire of Albion. But Joy's life keeps going from bad to worse. Harassed out of her dream job by a predatory co-worker, blackballed by all the legitimate newspapers of Dodona, stuck working for a skeevy tabloid, she's been given an ultimatum: find and interview the Red Specter.
Though the assignment seems impossible—the Red Specter is a ghost, an urban legend, a myth, a comic-book character—Joy is determined to do it anyway. It's either that or starve. But Joy's investigation through the seedy underbelly of the city of Dodona takes her into unforeseen dangers, as she stumbles upon a criminal conspiracy of fraudulent psychics, crooked cops, Triad gangsters, pirates, war criminals, human traffickers, and enraged cows. And behind it all, Joy finds mounting evidence of a Red Specter who is far more real than she had ever imagined.
---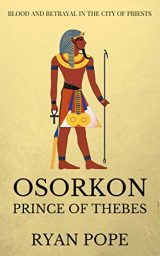 Osorkon: Prince of Thebes (Osorkon #1) – Ryan Pope
From the First Cataract on the borderlands of wild Nubia to the sun-touched temples of Memphis, the Priests of Karnak rule the lands around Thebes with the power of ancient kings. Pharaoh rules from distant Tanis in name only, a token monarch forgotten and ignored.
When the High Priest of Amun in Thebes suddenly falls ill and passes into the underworld, a new heir to the throne must be chosen. But when Pharaoh's decision to pass over his own kin causes a division that threatens to split Thebes apart, his bloodline must fight to reclaim what is theirs.
Osorkon, great-grandson of Pharaoh and descended from the line of the High Priests of Amun in Thebes finds himself beset on all sides. Many are the nobles and war chiefs that will sniff out the first sign of weakness as a vulture smells out a kill. Thrust into the events that define the end of the New Kingdom, Osorkon must shed the blood of enemies within and without, not just to reclaim his birthright but for his family's very survival.
---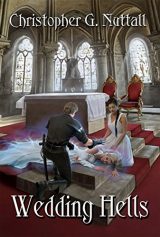 Wedding Hells (Schooled in Magic #8) – Christopher Nuttall
After her victory over Master Grey, Emily wants nothing more than to relax and give herself time to recover from the duel. Her magic, pushed to the limits, is no longer reliable, forcing her to learn to control it from scratch. Every time she delays using her magic, she risks headaches … or worse. But she must return to Whitehall to complete her fourth-year exams and bid farewell to those of her friends who are not returning for fifth year. And then, she must return to Zangaria to play her role in Princess Alassa's wedding to Jade. It seems, if nothing else, a brief diversion before she goes off on a tour of the Allied Lands.
But all is not well in Zangaria and the kingdom is fast approaching a major crisis. Junior aristocrats are demanding their rights and titles from the king, while King Randor himself is dangerously unstable and hiding a secret that could spark off a civil war … and the peasants are threatening to revolt. Emily herself is isolated, unsure how to balance her obligations to her closest friends with her belief in freedom, justice and democracy.
And, as Emily finds herself used as a political pawn by the different sides in the growing dispute and no longer sure who she can trust, she may find herself confronting a choice between doing the right thing, regardless of the cost…
---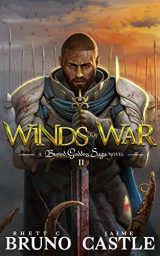 Winds of War (Buried Goddess Saga #2) – Rhett C. Bruno and Jaime Castle
An ancient evil emerges. The Glass Kingdom is at war. Not even the gods can help now.
Full-scale rebellion rages in the south, and Sir Torsten Unger must lead the Glass Army to face it. But when a new and unfamiliar king forces Torsten to march alongside one of his fiercest rivals, he must draw on his faith to keep the army from fracturing.
Whitney Fierstown continues his tutelage of the blood mage, Sora, who is desperate to get a better handle on her mysterious powers. Their journey brings them to the merchant city of Winde Port, where they seek passage to Mei Ping aboard a ship. It's smooth sailing until they realize an old nemesis is hunting them, hell-bent on vengeance and willing to turn to an evil unlike any they've ever faced before.