This week's roundup of the newest releases in science fiction features new volumes for many fan-favorite series, including Ciaphas Cain, The Ember War, The Four Horsemem, and Galactic Liberation.
---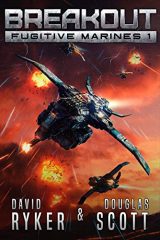 Breakout (Fugitive Marines #1) – David Ryker and Douglas Scott
When a meteor strike unleashes an alien intelligence bent on taking over the human race, only a ragtag band of Marines can stop them. The only problem is, they're in prison for a crime they didn't commit. For the next 98 years.
And their prison is two and a half billion kilometers from Earth on a good day.
Oh, and their fellow inmates want them dead…
Hey, nobody ever said saving the world would be easy.
Also available: Wanted
---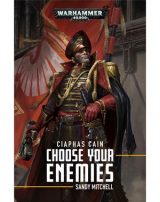 Choose Your Enemies (Ciaphas Cain #11) – Sandy Mitchell
Commissar Ciaphas Cain and the Valhallan 597th are in the thick of it again, putting down an uprising of Chaos cultists on an Imperial mining world. Though their mission is a success, they find evidence that the corruption might have spread to other planets, and that the forge world of Ironfound could now be at risk. The munitions Ironfound produces are vital to the Imperial war effort in the subsector; its safety must be assured at all costs. As battle explodes across the planet, Ciaphas Cain and his regiment come up against allies and enemies old and new in their fight for victory against the forces of Chaos.
It's been a long time, but the self-styled Hero of the Imperium is back in action! And he's doing what he does best – telling tall tales of his unlikely exploits.
---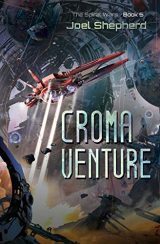 Croma Venture (The Spiral Wars #4) – Joel Shepherd
Upon the ancient drysine moon/city of Defiance, the UFS Phoenix is being rebuilt, but her crew cannot do so in peace. Parren factions jostle for control of not only Defiance, but of the drysine data-core that Phoenix won at such an awful price. But the parren do not lay sole claim to that ancient knowledge, and within the bowels of the machine-city, something long-dead is awakening.
While aliens battle, Captain Debogande struggles to decide his next step. Human emissaries beckon him home, while a terrible new threat drives him toward the far edge of Spiral space. There live the croma, locked in a titanic struggle against the reeh, a species more terrifying than any yet faced by humanity. And holding perhaps the key to humanity's salvation are a small force of freedom fighters, waging a hopeless battle against impossible odds, having waited a thousand years for just such a saviour as the UFS Phoenix…
---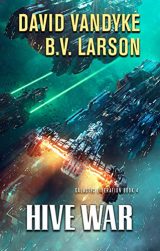 Hive War (Galactic Liberation #4) – David VanDyke and B.V. Larson
From Hugo and Dragon Award finalist David VanDyke, and millions-selling science-fiction legend and Dragon finalist B.V. Larson, comes book four in the epic military space opera adventure saga!
The Republic, the Opters and a strange Crystalline race of unknown origin all meet in a series of titanic battles. Commodore Straker summons thousands of ships, but he soon learns he's technologically out-classed by the enemy.
With traditional victory impossible, the race is on for each side to destroy the key worlds of the other. Billions die, entire planets are destroyed.
Even while the war rages, dark suspicions grow. There are traitors in the midst of the chaos. Straker realizes the worst enemy is the one you believed to be your ally…
---
The Legacy of Earth (Children of Earthrise #6) – Daniel Arenson
The basilisks, cruel alien serpents, attacked our world. They bombed us. Hunted us. Butchered us without pity.
But now we will be the hunters.
We will assemble a fleet. We will cross the vastness of space. And for the first time, we will strike the enemy on his own soil.
It's a time for courage. A time for heroes.
We will no longer hide in bunkers. We will no longer die like sheep. Freedom will be won with blood and fire. Freedom will be the legacy of Earth. We are the last humans. And we will win!
---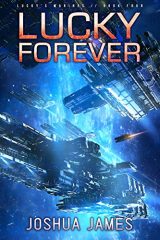 Lucky Forever (Lucky's Marines #4) – Joshua James
Payback is a bitch.
Mankind has endured two waves of alien invasions and isn't waiting for a third.
But when humanity's great invasion turns into a calamitous disaster, it falls to Sergeant Lucky Lee Savage and his hand-picked team of warriors to lead the stranded human forces through a strange and treacherous universe bristling with hostility at every turn.
With the help of his overworked AI, a ghost from his past, and a demon that won't leave him alone, Lucky is determined to see out his mission, even if it means leaving a bloody trail of destruction in his wake. Especially if it means leaving a bloody trail of destruction in his wake.
Luck might not be on his side. But mayhem is never far away.
---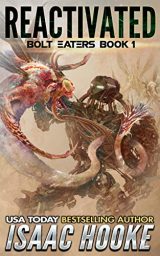 Reactivated (Bolt Eaters #1) – Isaac Hooke
Eric was happily retired. His consciousness resided inside the body of an advanced android. He had two beautiful female companions, a platoon of war hero friends, and the entire floor of an apartment building to call his own. He had paid his dues, having saved the world during his previous stint in the army, and now he could live out the rest of his life in peace and quiet. As an android, he expected that life to last a very long time.
And then the army came knocking at his door again.
Soon he and his platoon find themselves dispatched to an alien world. Piloting Devastators, mechs equipped with enough firepower to take down a small army, Eric and his platoon are scouting the planet ahead of a planned human invasion.
When things start to go very wrong, and the platoon finds itself cut off from support and surrounded by enemies on all sides, Eric begins to wonder if it will truly be humanity doing the invading, and not the aliens.
Also available: Reforged and Redeemed
---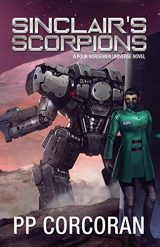 Sinclair's Scorpions (The Four Horsemen: Omega War #5) – PP Corcoran 
The Omega War is in full swing. Earth has fallen to General Peepo's army, and the surviving Human mercenaries have taken refuge at the hidden Winged Hussars' base in New Warsaw.
As humanity begins to think about how to recover the planet, one thing is obvious—more powerful weapons of war will be needed in the effort. One of the keys to recapturing Earth will be the Raknar of Cartwright's Cavaliers, but the power sources of many of the giant mecha have become unusable over the course of history.
More are needed, and Alistair Sinclair knows someone who may have a line on where to get them…a secret Science Guild base where they're being developed for the Mercenary Guild to power the Raknars Peepo has been collecting.
While the Four Horsemen try to hold back the Mercenary Guild forces, Alistair volunteers his Scorpions to track down and bring back the power sources the Raknar need for the assault on Earth. The Scorpions operate by guile, not overwhelming power, but will guile be enough when all the forces of the Mercenary Guild are arrayed against them?
---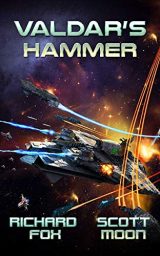 Valdar's Hammer (Terran Strike Marines #3) – Richard Fox
War has come to Syracuse, and only one team of Terran Strike Marines can save the planet. They are Valdar's Hammer.
Admiral Isaac Valdar leads the Breitenfeld, and a fleet of Dotari allies, in a last ditch attempt to break a Kesaht blockade over the human colony. Failure means the death of millions – but the aging carrier, and her commander, have a reputation for miracles.
Outnumbered and outmatched, Valdar sends his elite Strike Marines into the breach. Lieutenant Hoffman must lead his battle worn troops into the heart of a shattered moon on a desperate gamble to turn the tide. But fighting alongside the Dotari is its own challenge, and the Kesaht aren't the only enemy to deal with…
The Ember War universe is going to change forever.