Mecha knights, space vampires, and the Sheik of Mars feature in this week's roundup of the newest releases in science fiction.
---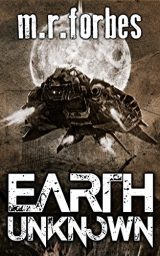 Earth Unknown (Forgotten Earth #1) – M. R. Forbes
Centurion Space Force pilot Nathan Stacker didn't expect to return home to find his wife dead. He didn't expect the murderer to look just like him, and he definitely didn't expect to be the one to take the blame.
But his wife had control of a powerful secret. A secret that stretches across the light years between two worlds and could lead to the end of both. Now that secret is in Nathan's hands, and he's about to make the most desperate evasive maneuver of his life — stealing a starship and setting a course for Earth.
He thinks he'll be safe there. He's wrong. Very wrong.
Earth is nothing like what he expected. Not even close. What he doesn't know is not only likely to kill him, it's eager to kill him, and even if it doesn't?
The Sheriff will.
---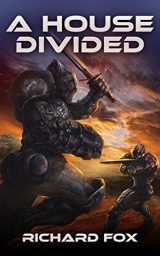 A House Divided (Terran Armor Corps #4) – Richard Fox
A crisis grows in the heart of the Terran Union, one that threatens to tear the Iron Dragoons apart.
When Roland and his lance rescue an Ibarra crew from a Kesaht attack, those saved become a pawn in a conspiracy that could turn the galaxy against all of humanity. Earth's senior leaders must sacrifice the captured crew to preserve the peace, or risk war with the Ibarra Nation. But Stacey Ibarra and her lieutenants have plans of their own…
Roland, torn between his duty as a Templar and his loyalty to his home world, is thrust into the struggle between the Ibarras and Earth. He must choose between the factions, and there will be no turning back.
The next chapter of the Dragon Award winning series will forever change the Ember War universe.
---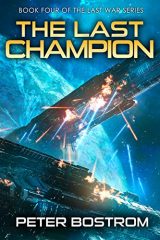 The Last Champion (The Last War #4) – Peter Bostrom
Admiral Jack Mattis thinks Spectre, humanity's nemesis, has been defeated. And he sacrificed the USS Midway to do it.
Now a US Navy pilot has gone missing. A terrorist group kidnaps a dozen infants. Admiral Mattis's own infant grandson is suddenly and mysteriously ill with a sickness no doctor can–or will–diagnose. No one can piece the puzzle together, until from a derelict future-human ship Mattis finally recovers an actual mutant human, come from the future to destroy Spectre himself.
Because humanity's greatest nemesis is not dead–he is only now ramping up his plan for galactic domination. And the pieces he sets in motion will force Admiral Mattis to make the unthinkable choice between saving a billion people, or saving his only grandson and a dozen other infants.
Spectre must be stopped.
And only one champion can stop him. Or die trying.
---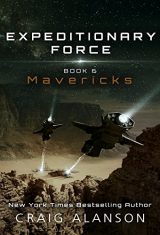 Mavericks (Expeditionary Force #6) – Craig Alanson
United Nations Special Operations Command sent an elite Expeditionary Force of soldiers and pilots out on a simple recon mission, and somehow along the way they sparked an alien civil war. Now the not-at-all-Merry Band of Pirates is in desperate trouble, again.
The remnants of the Expeditionary Force stranded on the alien-controlled planet 'Paradise' get a chance to prove themselves, in a simple off-world training mission with a ship full of teenage alien cadets. When the mission goes horribly wrong and the survival of everyone on Paradise is at risk, the Merry Band of Pirates may have to come to the rescue. Unless they get killed first…
---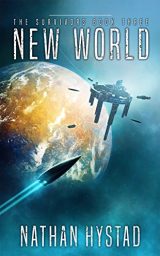 New World (The Survivors #3) – Nathan Hystad
New Spero. A new world to call home.
After a surprise visit to Earth, Dean and his crew travel to Proxima Centauri, home of humanity's first colony world. Dean and Mary, now reunited with Magnus, Natalia, and their old friend Carey, find much has changed since they last saw their loved ones.
Once again, Dean's efforts to lead a normal life are cut short when his sister is threatened by deadly creatures at Terran Five, Spero's northernmost outpost. There, Dean stumbles on an ancient secret, buried deep in the snow-covered mountains, that will change his life forever. And when communication with Earth ends, he realizes his worst nightmare has come true.
The Bhlat have arrived.
Join the team as they fight to preserve their old world and new world alike.
---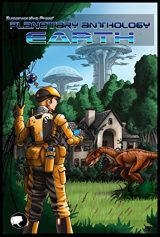 Planetary: Earth – presented by Superversive Press.
Throughout history, the planets of our solar system have meant many things to many people; Planetary Fiction explores the themes associated with these heavenly bodies as well as their astronomical, mythological, and in some cases even alchemical significance.
18 tales of explorers, lost worlds, strange and wondrous creatures, gods & goddesses of old, miraculous inventions, aliens, bots and post humans, brought together in this anthology of discovery and daring.
Come explore the legends and chronicles of planet Earth and the space beyond in the fourth volume in the Planetary series.
---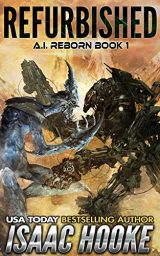 Refurbished (A. I. Reborn #1) – Isaac Hooke
Eric lives a normal life. He has a job. A girlfriend. He owns an apartment. He matters. And then he dies.
He wakes up a couple of centuries later inside an advanced infantry robot whose AI core harbors his consciousness. In industry parlance, he is what's known as a Mind Refurb.
Eric is soon thrust into an experimental army unit known as the Bolt Eaters, composed of fellow Mind Refurbs. Thrown into the latest cesspools of war and conflict across the world, the Bolt Eaters make short work of any opponents. It's almost a cakewalk for the high-tech robots.
His latest deployment is just about to end, and Eric is looking forward to spending the next few months exploring the different virtual reality worlds available to AIs like himself, when aliens decide to invade, stranding his unit in the middle of nowhere, cut off from all support.
That's right, the feces has smashed right through the fan, and now he must face the ultimate test with the machines he has come to know as brothers: a deadly game of cat and mouse, played against a technologically superior, utterly alien foe; a game whose stakes include not just their lives, but the lives of every man, woman, and child on the planet.
It's time to matter once more.
---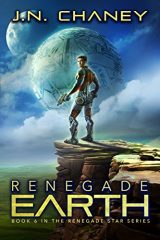 Renegade Earth (Renegade Star #6) – J. N. Chaney
Three Empires Collide.
Captain Jace Hughes and his band of rebels have managed to outrun the Union at every turn, barely escaping with their lives. What started as a simple transport job has escalated into a war between empires, all for the sake of a child.
But a Renegade never backs down.
With Titan, a fleet of strike ships, and a newly transformed Sigmond, the crew of The Renegade Star will need to pull out everything they have in order to make their final stand.
Suit up, Renegades. The battle for Earth has finally begun.
---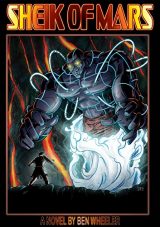 Sheik of Mars – Ben Wheeler
Can a man save his true love from the tyrant of Mars?
Haroun Rashid has found his true love, Zira Al-Zuwar, but she has been taken from him on their wedding night by the powers who rule Mars. Gathering allies from the most unlikely places, he storms the palace of the Sheik of Mars, searching for Zira. No one can stand against him, but the price he will pay in suffering and death may be too much even for his resolve.
The greatest beauties hide the worst snakes as A Princess of Mars blends with the Arabian Nights to create a tale like no other.
---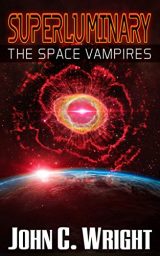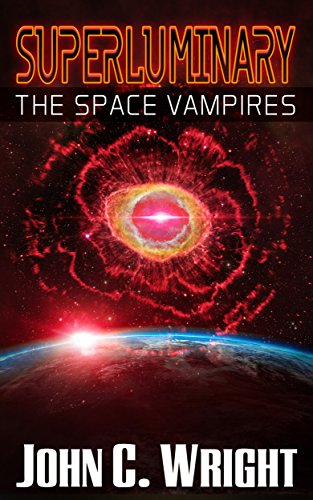 The Space Vampires (Superluminary #2) – John C. Wright
The Lords of Creation have learned that although they rule the solar system with their god-like scientific knowledge, there are even more powerful forces to be feared lurking out in the dark depths of space.
The vampiric necroforms are a massive empire of anti-life, terrible beyond all imagining, ruling a vast network of dead stars and planets they have drained of all life. And at last they have come to the Nine Worlds, seeking to destroy the last refuge of living things to be found in all the dying universe. But how can the Lords of Creation even hope to stop the nightmarish undead monstrosities when they are bitterly divided by pride, jealousy, and mutual suspicion?
SUPERLUMINARY is the latest and most outrageous creation of science fiction grandmaster John C. Wright, the Dragon-award winning author of THE UNWITHERING REALM, THE GOLDEN AGE, MOTH & COBWEB, and AWAKE IN THE NIGHT LAND.
---