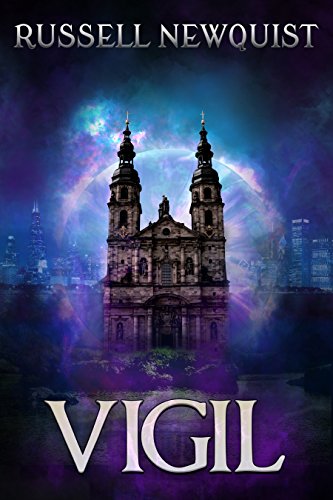 The thrilling sequel to Russell Newquist's WAR DEMONS.
There's a dragon in the church.
After modern day paladin Peter Bishop and his friend Michael defeated the dragon over the skies of Athens, Georgia, it fled to Europe – with Peter's girlfriend Faith in tow. Well, she's a girl. And she's his friend. And her stunning beauty doesn't hurt.
Now Peter and his friends have tracked the dragon to France, where it's living under a church and terrorizing the village. Can they slay the dragon, save the village, and rescue the girl before dawn?
Or will a wayward priest destroy everything they've fought for?
*     *     *      *      *
Reader reviews for VIGIL:
"Imagine if the 80's cult classic Big Trouble in Little China was actually Big Trouble under an ancient French Cathedral, and based off of Christianity rather than Chinese Buddhism. Then stop imagining it and pick up this book because it is exactly as hilarious as it sounds." – Catholic Reads
"Vigil is one part action flick, one part horror, one part fantasy, and all-parts fun."
"Mr. Newquist keeps the frenetic pacing and high octane action from the first book, but ups his game when it comes to the dialogue and the characterization."
*     *     *      *      *
Follow the flight of the dragon from the beginning with WAR DEMONS