Now in Audio: THE LAWDOG FILES
Friday , 19, January 2018
News, Production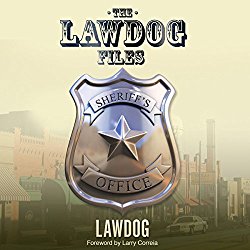 LawDog had the honor of representing law and order in the Texas town of Bugscuffle as a sheriff's deputy, where he became notorious for, among other things, the famous Case of the Pink Gorilla Suit. In The LawDog Files, he chronicles his official encounters with everything from naked bikers, combative eco-warriors, suicidal drunks, respectful methheads, prison tattoo artists, and creepy children to six-foot chickens and lethal chihuahuas.

 
The LawDog Files range from the bittersweet to the explosively hilarious, as LawDog relates his unforgettable experiences in a laconic, self-deprecating manner that is funny in its own right. The audiobook is more than mere entertainment, it is an education in two English dialects, Police and Texas Country. And underlying the humor is an unmistakable sympathy for society's less fortunate – and in most cases, significantly less intelligent – whose encounters with the law are an all-too-frequent affair.
Narrated by David. T. Williams, The Lawdog Files are 4 hours and 29 minutes of genuine Texas hilarity. You really have to listen to the audio sample. His voice is just about perfect for LawDog.