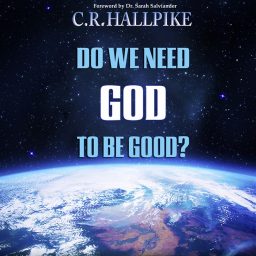 The audio onslaught continues apace with two new thematically-related Audiobook+ releases at Arkhaven.
DO WE NEED GOD TO BE GOOD? by Dr. Christopher Hallpike is 7 hours and 27 minutes long, retails for $14.99, and includes the ebook in EPUB and Kindle formats.
To know how to live, do we need God and religion, or does religion only produce wars, hatred, intolerance, and unhappiness?
Does giving up God mean giving up morality, or can we finally live a peaceful and fulfilling life as atheists by following science and reason instead?
Anthropologist Christopher Hallpike has spent a lifetime's research on the morality and religion of different cultures around the world and shows that trying to base a moral life on atheism and science actually has some very nasty surprises in store for us. Featuring a Foreword by astrophysicist Dr. Sarah Salviander.
ON THE EXISTENCE OF GODS is the response to a public challenge posed by a militant atheist who claimed to have never encountered any good arguments for the existence of gods. It is a competitive discourse between a Christian and an atheist, each of whom argue for their position on the subject, after which the arguments are adjudicated by a team of three judges, a Christian, an agnostic, and an atheist, before additional arguments are presented.
The format is compelling and the results are at times surprising, as the discussion takes unexpected twists and turns, while the judges exhibit ruthless impartiality as they criticize the arguments without mercy or favor. Vox Day, the author of THE IRRATIONAL ATHEIST, presents the Christian perspective, while Dominic Saltarelli argues for the atheist position. The debate is wide-ranging and intelligent, but remains civil throughout, even as the momentum swings in favor of one side, and then the other.
ON THE EXISTENCE OF GODS is a compelling test of how open the reader's mind is to the various possibilities of reality, and is a worthy addition to the long history of Man's contemplation of his own existence in the face of the divine. The Audiobook+ is 3 hours 22 minutes, retails for $9.99, and includes the ebook in EPUB and Kindle formats.