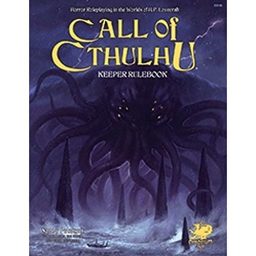 So the Keeper opens up the session with a brief explanation of how everything ties together. Now, I had been asking about the Credit Rating stat which turns out to be a skill which I never put any points into when I was creating my character. He says that's okay… he is specifically ignoring those rules on purpose. We are bankrolled by this sort of Time Lord type patron and don't have to worry about anything to do with money. (So my efforts developing my bootlegging operating between adventures…? That's all pointless. Doh!)
My character has had these compulsions to go into the North to find this cave that has a Lost City in it. Now… my imagination has been running wild coming up with ideas of what might be in it. I was trying to come up with some way to tactfully drop another nugget into play… but the writing was on the wall now. I ask if I'd had any more dreams about this place, and the Keeper says no, they've all been about this other character that I'd completely forgotten about.
The Keeper has this printout of an adventure module on the table in front of him. It's set in the Arctic circle. Our Time Lord patron has bought us a spot on an expedition and wants us to go check it out. As he explains this set up, it was incredible. He tied every plot thread and happening from our campaign together in order to make it fit perfectly with this adventure that didn't actually have anything to do with what we were doing. And I'm not joking, it all fit together and it all made sense!
So we get up there and start adventuring. Well, waiting for something to happen. Investigating. Making Spot Hidden checks. Getting hypothermia. All that. We end up in this huge fight with some kind of Sasquatch– me, another player character, and this hunter/scientist.
Now the guy doesn't have a game master's screen and I could tell in the fight that my .45 was doing nothing to the thing but the NPC's rifle was doing damage. I could also see it was being worn down, so this was not some sort of unbeatable Lovecraft creature. I was hiding in a niche in a cave when the thing looked in at me and I hauled off and shot it right in the eye. (I made a hard skill check. It was crazy!) It reels away from me screaming and goes towards this red pool my fellow PC had been investigating and all these tentacles come out of it and these two monsters start fighting.
I run out from my niche and grab the dead NPC scientist's rifle. Rocks are falling from the ceiling. I lay down to brace the shot… taking advantage… and boom! I shoot the thing. Not entirely fair seeing as I had intel on how many hit points it had, but still. The dice were with me.
Now… this whole cave was falling apart. We had to get out of there. And… the Keeper told me, this was the cave from my dreams. This was the place I had been compelled to go to. He's an okay guy, so I didn't tell him that this was NOT AT ALL like what I had in mind because he never asked us what we were thinking about it all.
So he tells us we get this weird compulsion to dive into the red pool where the tentacle beast was fighting. This sounded crazy to me. The other PC followed it, but I thought it was a death sentence. I run back to the entrance which was blocked up with rocks and somehow make the strength and climbing and dexterity rolls necessary to make an exit. I run like heck back to our Eskimo guide. And I'm shocked by the most intense exchange we had yet in the campaign.
I make up some story about a giant polar bear. I explain how it batted my friend aside with its paw and bit the head off of the scientist. Only I am escaped to tell of it! The eskimo is shocked that I may have left someone behind that's still alive. And I'm like… this is the evil cave a death that your whole tribe would never go near… and you think I should go back?! And he's like, "well hey, if it was my friend, I would feel like I should go back and save him." And I said, "well good thing he's not your friend. Let's get out of here!"
So we jump on the dog sleds and mush back south… and before long, the dreaded Blue Seal tribe had arrived in force. This was awesome, like some sort of Edgar Rice Burroughs action sequence. I failed a hard driving check even though that is my forte, and I rolled into a pit. I hang on the ledge and wait… then fail to either climb or pull myself up. I fail a pushed roll and tumble into a pool of strangely warm water. I look up and I've been sited by this evil tribe member. I get that compulsion I had felt earlier and I have no other choice but to follow it. I dive in the water… and I'm swimming and… I come out in some kind of Elfland. I'm back with the other player character so that we can get on with things.
Now… somebody was knocking this guy in the comments of an earlier session report saying that this guy was some sort of "noobie" Keeper or something. And I've got to say… there's nothing wrong with his game mastering. This whole action sequence was awesome. I ended up getting completely immersed in what was happening– mark this well, y'all– when we went off the rails and he just started making stuff up that drew on all the random things that had emerged in the course of play.
But in retrospect… all that creativity, all that "wa-hoo" adventure… it was all an illusion that served to get me back to the "real" adventure. And here's what I want you to understand: the stuff that we were ad-libbing at the table…? It was way more fun than the stuff that we were "supposed" to be doing.
I know from my experience with game mastering I tend to think of a sand box game as being way harder to run than a canned adventure scenario. The reason for that is I've assumed I would have to invent (in effect) a professional grade adventure scenario myself between each session and maybe even during a session. And that seems impossible.
For the people contemplating that kind of campaign and wondering if they can handle it I want to say… you can handle it. Look at the sort of creativity that average game masters can summon when the party is going off the rails. Now imagine what would happen if they devoted even a fraction of that effort into allowing things to stay off the rails as much as possible.
It wouldn't be as hard as you might think.