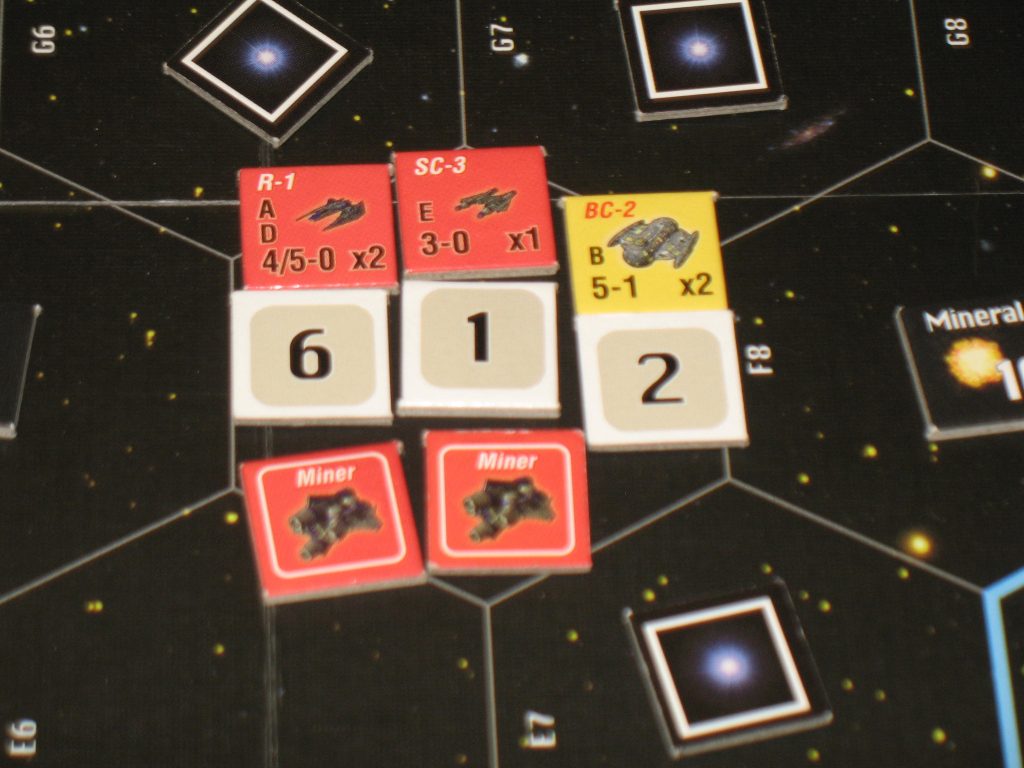 This game was a bit of a change-up. The additional production and alien technologies that a heavy deep space colonization effort yields were nothing next to my son's mass quantities of Titans loaded up with mass quantities of fighter squadrons. Given that I could no longer hang back while he puts together the ultimate star fleet, I was very much inclined to try something different.
I bought an extra miner to increase the amount of income I'd have in the early turns. I chose not to buy either Terraforming or Exploration technology. Colonizing the barren planet in my own borders or the alien worlds in deep space was not on the agenda this time! And getting an exploration cruiser would cost 52 CP's altogether where I only needed four additional scouts at a cost of 24 CP's to carve a path to my opponents empire.
I really only needed two technologies in order to strike: Cloaking-1 and Move-2. (With visions of my "green" starship crews crumbling in the face of a desperate defense, I did go ahead and by Military Academies. This didn't really end up mattering, though.) On turn 5 I had six Raiders on the board. On turn 7 they were combined into a single stack in the center of the board.
My son threw two battlecruisers at my raiders in order to find out what they were. Seeing as we were cloaked, we got to shoot first, so it was vaporized. (That's something neither of us have bothered to do yet in these games: send inexpensive scouts out to do what they were meant for!) I ended the turn before the production phase sitting on one of his colony worlds after I'd neutralized its production capacity.
Now… what had my son been doing up until this point? He'd bought Terraforming, Ship Yard-2, Ship-Yard-3, Destroyers, Cruisers, Battlecruisers, and Battleships. All that money he'd sunk into technology…? I had put it all into ships I was about to use to kill him! His goose was cooked!
At this point things played out for him like his Titan attacks did against me last time. He threw what little he could muster at me with almost no effect. He put in a scanner-equipped destroyer in with his ships, but it just wasn't enough. He kicked even managed to send a Titan towards my own colonies, but without any significant support units or tech, it just could not make a dent in my stacks of raiders. There's a lot of things he could have done different… but in the end, if your opponent is playing aggressively and has the right combination technologies and ships knocking you off balance, it's basically over.
What does this mean for the next big battle? Well, I expect there to be more scouting, a little more thought given to defense, and something more in the way of feints and deception. This sucker punch won't work again! We used almost none of the fancy technology in the game this time. The palette of interstellar mayhem is so vast in this game, it will be some time before we explore every permutation of fleet composition in order to witness how they work against each other!