I love heavily illustrated books about fictional genres and publishing– Geoffrey O'Brien's Hardboiled America, Lee Server's Danger is My Business, Randy Broecker's Fantasy of the 20th Century being some examples.
A new addition is Grady Henrdrix's Paperbacks from Hell ("The Twisted History of '70s and '80s Horror Fiction). This book had some buzz last year months before its release. It has received attention but why not? Hendrix wrote a history of an area of publishing ignored up until now.
The book is a large softcover from Quirk Books. A total of 254 pages on glossy paper with lots and lots of color paperback cover reproductions. $24.00 retail, I got it on Amazon.com for $15.27.
The introduction has Hendrix describing seeing John Christopher's The Little People with the infamous swastika wearing leprechaun on the cover. The epiphany led to an addiction to schlock horror paperbacks.
Hendrix has a quick overview of the 1960s. He is dismissive of pulp reprints.
"Horror seemed to have no future because it was trapped in the past."
His take is the gothic romance novels of the 1960s were the proper beginning for horror paperbacks. He tells the story of Ace editor Jerry Gross coming up with the idea of gothic romance paperbacks.
Hendrix's holy trinity of horror novels are: Ira Levin's Rosemary's Baby, William Peter Blatty's The Exorcist, and Thomas Tryon's The Other. These three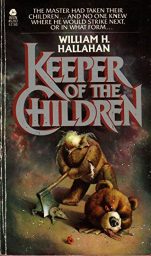 novels gained critical mass in sales to spark a horror paperback boom.
There are eight chapters: "Hail, Satan," "Creepy Kids," "When Animals Attack," "Real Estate Nightmares,", "Weird Science," "Gothic and Romance," "Inhumanoids," and "Splatterpunks, Serial Killers, and Super Creeps."
He spends about one to two pages on sub-categories such as black exploitation Satan novels (I never knew of those), Jewish horror, bad toys, James Herbert's rat novels, medical thrillers etc. The loonier the idea, the more enthusiasm by Hendrix.
He takes time out for mini-histories of cover artists, promotion gimmicks such as the die-cut foil cover, and even a little history of Zebra Books.
I remember the horror boom of the 1980s. Seems like it had arrived when I saw Clive Barker's "Books of Blood" prominently displayed at bookstores in 1986. I was never much of a horror reader. I certainly read my share of fiction reprinted from Weird Tales but never warmed up to Stephen King. I do have to say that I have enjoyed reading Robert McCammon. My horror reading was from writers who wrote fantasy and horror. Karl Edward Wagner's In a Lonely Place from Warner Books Summer 1983 because I have just read the Kane paperbacks. I picked up the Tor collection From the Heart of Darkness by David Drake because Karl Edward Wagner wrote the introduction. I just could not get into Wagner's Year's Best Horror Stories from D.A.W. Books as the fiction was just too modern for my tastes.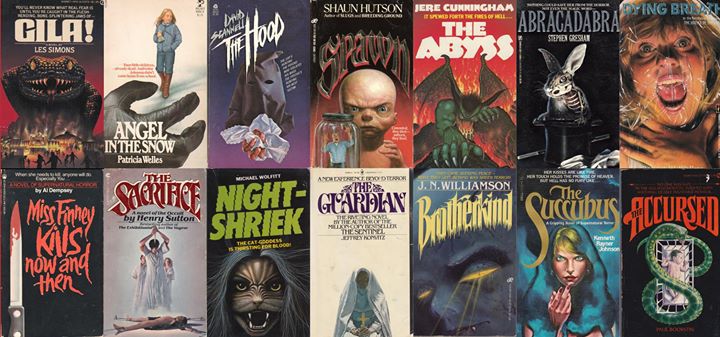 I have contended for many years that there is no such thing as a pure horror novel. It is a disguised adventure novel, mainstream with horror elements, crime thriller, etc. Hendrix seems to agree.
"A truism is that horror functions best in short stories."
Hendrix has this to say about horror which sort of puts things in perspective considering the collapse of the genre:
"Horror is a woman's genre, and it has been all the way back to the oldest horror novel still widely read today: Frankenstein by Mary Shelly."
Hendrix covers the end of the horror boom and transition to serial killers and thrillers at the end of the 1980s. He gives some space to Dell's Abyss horror line that was just too late in the game to save the genre.
So, this is a great book for going down memory lane. Like I said, horror is not at the top of my reading favorites but this is an interesting book. Hendricks has enthusiasm for the die cut foil paperbacks the way I am for picking anything with a Jeff Jones cover of a brawny dude with a sword. Hendrix's style is written for the average fan. Not a whiff of academic wankery at all in the writing.
There is a selected creator and publisher biography section, a recommended reading section, and credits section for all the covers reproduced therein. Who knows, you might just find yourself looking at the thriller/horror section at the local used bookstore.