Quantum Mortis #3 in print
Saturday , 9, March 2019
Comics, News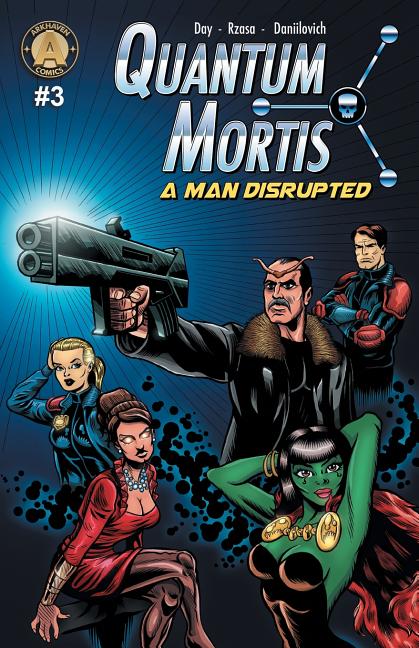 Chief Warrant Officer Graven Tower is a ruggedly handsome military policeman who hates aliens. Fortunately, as a member of His Grace's Military Crimes Investigation Division – Xenocriminology and Alien Relations, he gets to arrest a lot of them. Sometimes he even gets to shoot them.

Chief Tower and Detector Derin Hildreth of the Trans Paradis Police Department are investigating the murder of the Crown Prince of Morchard, but they have not been able to determine a motive for the crime or identify any suspects. So when a royal assistant comes forward with information about the prince's secret life, they don't hesitate to pursue the lead into the heart of the wealthy interplanetary establishment.
The gold logo edition of QUANTUM MORTIS A Man Disrupted #3: A Secret Love is now available in standard comic size for $2.99 at Castalia Direct. We plan to re-release issues #1 and #2 in standard size at some point in the future in the interests of those who would prefer a matching set.