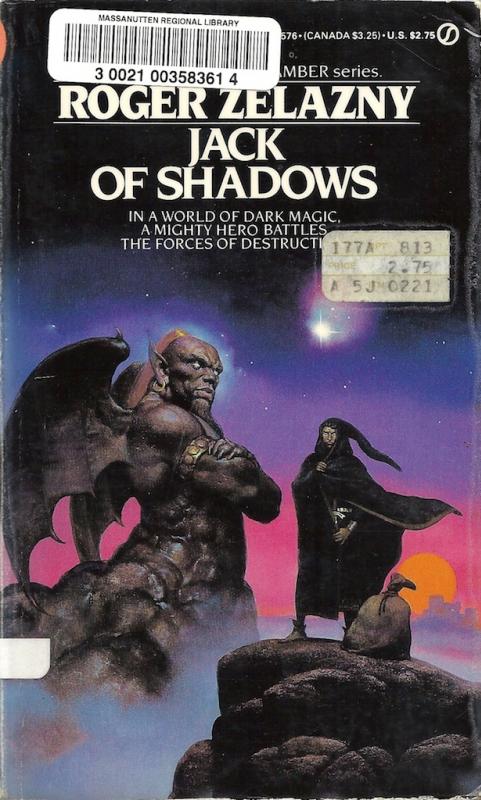 This book is terribly and embarrassingly flawed. It's a shame since it's otherwise full of great imagery delivered at a brisk tempo. Every chapter seems to have a new shade or tone that contrasts with the previous one, but it ultimately falls apart. I'm impressed that Zelazny could whip up something like this in a single draft, but the lack of serious effort on this one is evident.
I suspect that the main reason that this particular title was singled out Gary Gygax's Appendix N reading list is that the author at least had the sense to want to make something derivative of The Eyes of the Overworld. That is exactly the sort of thing I would want to see more of at any rate. And given that not everyone can acquire a taste for Jack Vance's prose, it's probably a good thing that someone tried to make a toned down version that particular ouevre.  Unfortunately, not even an author of Zelazny's caliber was up to the task of emulating Jack Vance.
But that's not to say that this book didn't have an impact. Old school Dungeons & Dragons in all probability has "Hide in Shadows" set apart as a specific ability of the thief because of this book.¹ The title character here has the ability to not only vanish into shadows, but to travel through them instantaneously. If he stands even partially within any sort of shadow, he becomes invulnerable and can even reflect special attacks such as level drains and breath attacks back at his attackers.² More intriguingly, the Jack of Shadows can actually even hear it when his name is spoken in shadows. He can't always tell who is saying it, but he can tell the general direction and distance from which it happened.
I've long wondered why D&D thieves could so easily "Climb Steep Surfaces" even at low level. Well in this book, the thief can literally walk up even a vertical face as long as there are shadows on it. And if you ever wonder why thief and rogue characters on old games often have a surprising degree of magical ability, well… Zelazny's Jack of Shadows and Vance's Cugel the Clever have about equal shares in helping establish this once-common trope. Jack of Shadows is actually the top magic-user on his side of the world– he's nearly Sauron-like in his level of accomplishment and dominion. But purists that are looking for more reasons to object to the addition of the thief class to the original fantasy role-playing game will be glad to know that he acquires his title of "thief" because what he does, not because of what his exact skill set is.
The setting of the book is completely off the wall, though. The earth in it is tidelocked, but science only works on the light side while magic only works on the dark side. In the first place, this doesn't make any sense– and yes, the laws of physics even the nature of reality seems to change from one side to the other. But this is just a terrible premise for a game. I mean, if you have swords and sorcery in a setting, then everyone will want to know which is better just like people want to know who would win if Superman and Batman got into a fight.³ Steve Jackson knew that, which is why when you put his two classic Micro Games "Melee" and "Wizard" together, you really could find out if an iconic barbarian could win against a devious spell-caster. (As early as 1978 you could do this with a set of balanced, comprehensible, and tested rules.) In a similar vein, I really wanted to see science and magic go mano-a-mano in this work… or maybe even battle at a strategic level.⁴ Alas, the world in this setting just isn't there to be toyed with in that manner. Indeed, it's there to make some kind of literary or philosophical point.⁵
You see, there's this big mysterious demon-looking guy that's merged somehow into part of a mountain in the twilight zone between the worlds of magic and science. It is the only real friend that Jack of Shadows has, and Jack drops by every now and then to give it wine and discuss the deep questions of the universe. If it isn't clear that you're supposed to be moved and impressed by the inherent wisdom of this creature, then the fact that it is essentially confirmed to have oracular powers later on should give it some credibility by the time you're finished with the book. Here's a section of their dialog:
"I have heard daysiders say that the core of the world is a molten demon, that the temperature increases as one descends toward it, that if the crust of the world is pierced then fires leap forth and melted minerals build volcanoes. Yet I know that volcanoes are the doings of fire elementals who, if disturbed, melt the ground about them and hurl it upward. They exist in small pockets. One may descend far past them without the temperature increasing. Travelling far enough, one comes to the center of the world, which is not molten– which contains the Machine, with great springs, as in a clock, and gears and pulleys and counterbalances. I know this to be true, for I have journeyed that way and been near to the Machine itself. Still, the daysiders have ways of demonstrating that their view is the correct one. I was almost convinced by the way one man explained it, though I knew better. How can this be?"

"You were both correct," said Morningstar. "It is the same thing that you describe, although neither of you sees it as it really is. Each of you colors reality in keeping with your means of controlling it. For if it is uncontrollable, you fear it. Sometimes then, you color it incomprehensible. In your case, machine; in theirs, a demon."

"The stars I know to be the houses of spirits and deities– some friendly, some unfriendly and many not caring. All are near at hand and can be reached. They will respond when properly invoked. Yet the daysiders say that they are vast distances away and that there is no intelligence there. Again…?"

"It is again but two ways of regarding reality, both of them correct."

"If there can be two ways, may there not be a third? Or a fourth? Or as many as there are people for that matter?"

"Yes," said Morningstar.

"Then which one is correct?"

"They all are."
This is by far the single dumbest thing I can remember reading in any science fiction or fantasy story. Bar none. I want to say that the author is well aware that he's on shaky ground with this and that he follows through by developing the consequences of this premise. And he tries, to some extent. But this idea that each person has their own individual truth is not a premise at all. It's an anti-premise, an idea that pretty much refutes itself. There are no consequences to such an idea and nothing follows from it logically. It is a concept that is in revolt against logic even if it might sound dark and deep and mysterious when you're kibitzing with close friends at a coffee shop or something.
Maybe the author was aware of this: the assertion is presented by a character that has no legs and who can't go anywhere either…! But why would he try to pawn this off on the reader if he actually understood how idiotic it was? If that was the case, then he'd have to be pretty cynical to think he could get away with it. "I can put anything in here and my stupid fans will just swill it up, ha ha ha!" No, I expect that Roger Zelazny really was clueless enough to think that this was both daring and inspiring. He would of course have fit right in with his times: John Lennon's "Imagine" was released the same year is essentially a hymn to this sort of non-thought.
I suspect the author had to make this a central pillar of his tale because he chose to go whole hog into making a basically evil protagonist. He knew he had a lot of work to do to sell this to the reader, so he knocked down anything that would get in the way of their ability to identify with him. What's interesting about this is just how far down this particular  rabbit hole Zelazny actually ends up going:
"Why is it," he asked, "that the Fallen Star who brought us knowledge of the Art, did not extend it to the daysiders as well?"

"Perhaps," said Morningstar, "the more theologically inclined among the lightlanders ask why he did not grant the boon of science to the darksiders. What difference does it make? I have heard the story that neither was the gift of the Fallen One, but both the inventions of man; that his gift, rather, was that of consciousness, which creates its own systems."
What difference does anything make at this point, eh?⁶ Yeah, this really is in there: pretty much "what's true for them is not true for you… and oh, by the way… not only is Satan a misunderstood Prometheus, but he is also responsible for giving mankind consciousness and the ability to think so that we can each make up our own individual truths that don't have anything to do with anything else." Something like that.  It's incredible, really… that anyone would so quickly jump to strongly stated theological assertions right after attempting to destroy the foundations of logic. I'd actually be surprised if it wasn't par for the course. It's only the audacity of the purveyors of this nonsense that shocks me anymore.⁷ Why would anyone need cater to your opinions once you've declared truth to be relative, anyway? Who's listening at that point…?
These are the lengths that the author necessarily had to go in order to give the impression that Jack of Shadows isn't such a bad guy for being such a bad guy. And I suppose it even makes sense that the story ends on a cliffhanger– I mean, what else can be concluded once you've concluded that there can't be any conclusions? I'm not sure what else there is to say about this, but I have to say… if you have to go recast the devil as a misunderstood force for good in order to make your lead character seem even marginally sympathetic, then you may not have a strong enough story concept to really work for much of anything. Much more entertaining, in my opinion, is seeing Cugel the Clever swindel people that are less trustworthy than himself. Jack Vance, at the very least, understood just how satisfying it was to see brazenly greedy conman get a devastating comeuppance in the end.
—
¹ Usually the "Hide in Shadows" and "Move Silently" are combined into a more generic "Stealth" skill in more recent games.
² I haven't seen this ability creep into anyone's thief or rogue archetypes. I like it, though!
³ Batman would totally beat up Superman, by the way.
⁴ Why not just have magic not work on the light side and then see where that leads?
⁵ Which is why literary fiction is pretty well useless as an inspiration for game design. The latter is about doing something for somebody while the former is too often about doing something to them.
⁶ This phrase is not exactly the touchstone of honesty and intellectual rigor.
⁷ Really, if someone attacks the very idea of truth, our response should immediately be, "what have you done?", "what are you hiding?", and "what fundamental moral restriction is it that you're actually opposed to here?"