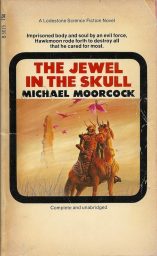 Fantasy did in fact exist before the advent of the watered down Tolkien pastiche. To someone that didn't grow up with older books, they're almost impossible to imagine. So it was for me when I first heard that Michael Moorcock was, in effect, the Anti-Tolkien¹. I mean… how could such a thing even be when for all intents and purposes, Tolkien fairly well defines modern fantasy…?!
Well, if you want to know… if you have to know what it was that publishing and the libraries and the movies have mostly turned their backs on, then read this book. It's not even a hundred and eighty pages long and it is a very fast read. It's not some sort of monstrous series where every book segues into the next, where each book ends on a cliffhanger, and where about four novels in everything suddenly takes on that soul-numbing "contractually obligated" feel. No, this book is a good reading value. When you finish, you'll still want another eighteen hundred pages in this vein!
But what is the "Anti-Tolkien" like in a nutshell? Well… take everything that's awesome about every heavy metal band in the history of rock and roll and boil it down until have an elixir of pure metal. Now transmute that into short novel form. That's as concise a way as I can put it. There are no themes of mercy for those that don't deserve it. There are no scenes depicting undying loyalty from servant to master as the weak things of the world head off into the heart of darkness to confound the things which are mighty. There is no unlikely deus ex machina for the free peoples of the world to stoically put their faith in as they fight their long defeat. No, what you have here in this book is more along some sort of literary antecedent to the ethos of Black Sabbath's "Paranoid".
Behold:
It was a slithering sound, a slobbering sound; the sound of a baragoon– the marsh gibberer. Few of the monsters were left now. They had been the creations of the former Guardian, who had used them to terrorize the people of the Kamarg before Count Brass came. Count Brass and his men had all but destroyed the race, but those which remained had learned to hunt by night and avoid large numbers of men at all costs.

The baragoon had once been men themselves, before they had been taken as slaves to the former Guardian's sorcerous laboratories and there transformed. Now they were monsters eight feet high and some five feet broad, bile-colored and slithering on their bellies through the marshlands, rising only to leap upon and rend their prey with their steel-hard talons. When they did, on occasion, have the good fortune to find a man alone they would take slow vengence, delighting in eating a man's limbs before his own eyes. (page 11)
That thing won't turn to stone if a friendly wizard can only stall it until sunrise. Tom Bombadill is not right around the corner ready to bail the protagonist out the moment he sings a silly song. This thing isn't hoping to prick you with some kind of magic blade that will slowly overcome you if you can't make it to the happy refuge of the sparkly elf creatures. No, it just wants to eat you. And there's stranger and deadlier things out in the wilds as well.
The world of Moorcock's Hawkmoon series is not a happy place. Instead of a mythical past where a group of Anglo-Saxon warriors ride to the rescue in just the nick of time, Moorcock gives us a future where anything remotely British is synonymous with greed, torture, conquest, and insanity. The people of that freakish nation all wear horrific animal-faced masks, a different one according to their caste. Their armies march over a silver bridge into Europe and completely devastate everyone that stands in their way. Country after country falls to them and they crucify their enemies' girl children, castrate their boys, and force the adults to utterly humiliate themselves in the streets if they want to live. "Amarehk" isn't coming to bail people out this time like in all those other world wars. No, Amarehk avoided the worst consequences of the Tragic Millenium; its godlike rulers are thoroughly isolationist. But Granbretan will come for them soon enough. It's all too happy to destroy its enemies piecemeal and the world is idly standing by and watching them do it.
If you are the sort of person that was irritated by the fact that you never got to actually see Sauron in The Lord of the Rings, well… Moorcock throws you another bone here:
Eventually Hawkmoon could see the throne globe, and he was astonished. It contained a milky-white fluid that surged about sluggishly, almost hypnotically. At times the fluid seemed to contain iridescent radiance that would gradually fade and then return. In the center of this fluid, reminding Hawkmoon of a fetus, drifted an ancient, ancient man, his skin wrinkled, his limbs apparently useless, his head overlarge. From this head stared sharp, malicious eyes. (page 67)
And if you felt shortchanged by the fact that you never got more than a hint of what things were like in Sauron's torture chambers, then Moorcock again delivers:
This lead into a small, blindingly lighted chamber of white metal that contained a machine of intense beauty. It consisted almost entirely of delicate red, gold, and silver webs, strands of which brushed Hawkmoon's face and had the warmth and vitality of human skin. Faint music came from the webs, which moved as if in a breeze.

"It seems alive," said Hawkmoon.

"It is alive," Baron Kalan whispered proudly. "It is alive."

"Is it a beast?"

"No. It is the creation of sorcery. I am not even sure what it is. I built it according to the instructions of a grimoire I bought from an Easterner many years ago." (page 64)
And instead of building up a menace like the Nazgul that are little more than a source of suspense and a means of constricting the trajectory of the plot, Moorcock just up and gives you the sort of epic action sequences you've always wanted. Yes, Tolkien did succeed in giving us the march Birnam Wood that Shakespeare really ought to have given us in the first place, but his use of the eagles really leaves a lot of people cold. One reason for that is that Tolkien never gave us the epic aerial battle we always wanted. He left that to Michael Moorcock:
Count Brass raised his sword in a signal, and there was a great flapping and snapping sound. Looking behind him, Hawkmoon saw the scarlet flamingoes sweeping upward, their graceful flight exceedingly beautiful in comparison with the clumsy motions of the metal ornithopters that parodied them. Soaring into the sky, the scarlet flamingoes, with their riders in their high saddles, each man armed with a flame lance, wheeled toward the brazen ornithopters.

Gaining height, the flamingoes were in the better position, but it was hard to believe that they would be a match for the machines of metal, however clumsy. Red streamers of flame, hardly visible in the distance, struck the sides of the ornithopters, and one pilot was hit, killed almost instantly and falling from his machine. The pilotless ornithopter flapped on; then its wings folded behind it and it and it plunged downward, to land, birdlike, prow first, in the swamp below the hill. Hawkmoon saw an ornithopter fire its twin flame-cannon at a flamingo and its rider, and the scarlet bird leaped in the air, somersaulted, and crashed to earth in a great shower of feathers. (pages 120-121)
There's some grit and grime mixed in with Moorcock's fight sequences as well. They're are not like those in many of the other Appendix N titles. Weapons break. Shields splinter. People get stunned and fall unconscious. Raw strength is a huge factor, but psychology probably matters even more. And people just plain get tired, too. In the end, a lot of fights come down to who has the ability to just get up and deal one last blow when both combatants are already completely exhausted.
And strategy, tactics, and morale all come into play as well. The battles presented here read like they were drawn from real world actions by guys like Stonewall Jackson or Nathan Bedford Forrest. The combat that results is a consequence not just of the technology and magic, but also of the character and attitude of the leaders involved. Moorcock does not take a lot of time to pontificate on these matters, but it's clear he's given thought to this and conveys his vision with one piece of all out action after another.
J. R. R. Tolkien created sort of an English analog to The Kalevala– in a sense, he created a national myth for Great Britain. And to the extent that Tolkien creates a positive picture English and Western people standing against dark forces from out of the east and the south, Moorcock does the exact opposite: His Granbretan is the source of ultimate evil. As shocking as that contrast is, perhaps more surprising is the fact that the antithesis of Tolkien style "high fantasy" is not Robert E. Howard's approach to "swords and sorcery." No, the thing that is antithetical to "high fantasy" is the often brutally dystopian "science fantasy" genre.
That sort of wild far future fantasy has all but disappeared today. Concurrently, a lot of people that have been frustrated over the years in their attempts to get the Dungeons & Dragons game to better emulate "high fantasy" tropes they've come to associate with the fantasy genre. When this doesn't work the way that they want, they usually impose "rail road" style adventures upon it or else just throw up their hands and declare that the system is "broken". Oh sure, there are elves and hobbits and orcs that look like they were pulled straight out of Tolkien's oeuvre. But the implied setting of D&D and the sort of adventures that people tend to have in it are nothing much like his stories. This leads to no small amount of friction and cognitive dissonance.
The science fantasy elements of the game were far more pronounced in the early days, of course. A very significant chunk of the books that inspired the game were of the genre and many people that played the game early on had no problem thinking in terms of it.² When the big publishers pushed to crystallize fantasy series around generic high fantasy themes, D&D largely followed suit in order to keep up with the times. And just like Gygax would push to have the monk class removed from AD&D once Oriental Adventures was on the market, so too would AD&D have its science fantasy elements gradually bled out of it once Gamma World could become the repository for everything in that vein.
They could hire Larry Elmore to paint a new set covers and they could fine tune the rules in order to adapt to new audiences. But even after taking all those changes and accommodations into account, there's a certain attitude that remains in the mix. Consequently, I would argue that you're probably going to get more gaming inspiration reading Michael Moorcock than you would reading Tolkien. He can give you a far better understanding of the sort of world that is implied by the rules. Because yes, it's not just Moorcock's work that sprang from an "Anti-Tolkien" approach to fantasy. D&D did, too.
—
¹ See Peter Berbegal's The Anti-Tolkien from The New Yorker back in December of 2014.
² Again, see D&D's Appendix N Roots Are Science Fantasy at Roles, Rules, and Rolls for more on that.