You hear people talking about a "classic" author as if he were the best thing ever. But you're unnaturally skeptical, because you already "know" all the big time grandmasters. And you "know" that after Dune and Foundation and Starship Troopers there's just not going to be much else from the bad old days that really registers at that level. You see bloggers you read regularly talk of his stories with an almost giddy degree of excitement. But you just. Can't. Believe it.
Given that that's your inevitable frame of mind, let me just present you with the opening of one of van Vogt's most famous stories:
On and on Coeurl prowled. The black, moonless, almost starless night yielded reluctantly before a grim reddish dawn that crept up from his left. It was a vague light that gave no sense of approaching warmth. It slowly revealed a nightmare landscape.

Jagged black rock and a black, lifeless plain took form around him. A pale red sun peered above the grotesque horizon. Fingers of light probed among the shadows. And still there was no sign of the family of id creatures that he had been trailing now for nearly a hundred days.

He stopped finally, chilled by the reality. His great forelegs twitched with a shuddering movement that arched every razor-sharp claw. The thick tentacles that grew from his shoulders undulated tautly. He twisted his great cat head from side to side, while the hairlike tendrils that formed each ear vibrated frantically, testing every vagrant breeze, every throb in the ether.

There was no response. He felt no swift tingling along his intricate nervous system. There was no suggestion anywhere of the presence of the id creatures, his only source of food on this desolate planet. Hopelessly, Coeurl crouched, an enormous catlike figure silhouetted against the dim, reddish skyline, like a distorted etching of a black tiger in a shadow world.
What did you just read…?
The first appearance of the first edition AD&D game's Displacer Beast. That's right. The same game designers that pillaged the old John Carter planetary romances for White Apes and Sterling Lanier's mutant future novels for Green Slimes were also "borrowing" from Campbellian science fiction as well. But it wasn't the classic "hard" science fiction writers that are still on the shelf at your local big box book store today. No, it was this other guy that, like Edgar Rice Burroughs, has been weirdly airbrushed out of the science fiction and fantasy narrative.
How good is he…? Well let me tell you. I've read countless descriptions of imaginary worlds for use in Traveller-like space games. Very few of them give me that "I've totally gotta play this" feeling. Insane pulp free-for-alls like Barsoom or the Planet of Adventure have such a lock on this, very few of the more "realistic" settings can compete. But this one can. If you are looking to run a First In scenario set in the Zhodani core expeditions, you will definitely want to check this out.
The heavy? In my opinion you have something here on par with Khan Noonien Singh. This is one of the great science fiction adversaries of all time– and the stats in your copy of the Monster Manual just don't do this justice. The science for his various superpowers is all there. But at the same time, he manages to pull off a very believable rendition of the kind of pulpy monstrosities the classic crew of the Starship Enterprise was liable to encounter.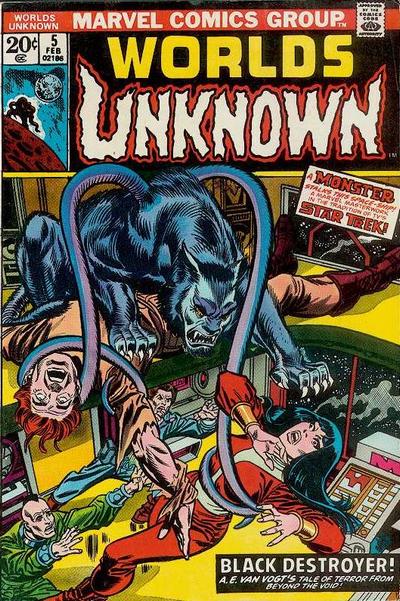 Now… if you're on the prowl for literary antecedents to the sort of pulse pounding action you see on the old Star Trek episodes, then you're actually going to want to pass on this. There is no stereotypical square-jawed hero here. There's no mind-blowingly good looking space princess. In fact, what you do have is as far from that as is aesthetically possible. Nobody gets their shirt ripped off in a brawl. Nobody even throws a punch.
See, the Space Beagle has an all-male crew. The "hero" of the story isn't really the Hari Seldon-like Elliot Grosvenor. Granted, the guy has a knack for navigating the tedious and byzantine bureaucracy that encysts almost any sufficiently complex STEM-related activity. But the real "star" here is Nexialism, a sort of meta-science that allows this guy to be way more insightful than the stodgy and blinkered scientists of his space collective.
I'm sure that this seemed like a really good idea at the time. And the resolution here is way more developed than the typical "reverse the polarity" and "re-route a phase inducer" tricks of science fiction television. But really smart guys thinking their ways out of difficult problems is only ever going to be just so compelling. Nevertheless, the heavy and the setting do manage to overcome this inherent weakness of the unrestrained Campbellian ethos. van Vogt really was a grandmaster. And this book should be required reading for anyone that calls himself a science fiction fan.
So check it out!!!