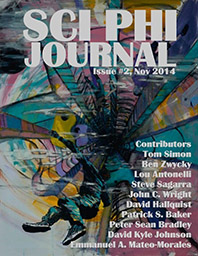 Jessie Rennie's grand experiment fusing science fiction and philosophy moves boldly into its second phase, and the resulting reaction – if not exactly stellar in its synthesis, or nuclear in its power, is still good enough to spark off a few neurons.
Only a few neurons, because the bulk of these tales seem to end right when they get really interesting ("Ghosts", "Terra in Vista"), or raise intriguing questions without exploring them in depth ("On The Spiritual Plain"). Others, like "The First Step" (about a future transhumanist dictator seeking to establish a cybernetic Nirvana for his followers) have epic ideas but come across as a little heavy-handed.
What some of the individual selections lack in subtlety they make up for in cohesion. Sometimes in an anthology a single theme is curated by the editor, while other times – in a case of cosmic synchronicity – the disparate authors happen to share the same muse and write about similar subjects. At any rate, many of the stories and essays in the Sci Phi Journal #2 deal with illusory worlds and false perceptions, feature the horrors and wonders of transhumanism, and ultimately champion an unaugmented red pill reality.
Speaking of The Matrix, when judging something designed to be thought-provoking and mind-blowing like this sci-phi collection, my benchmark for success is how much I look like Keanu Reeves here: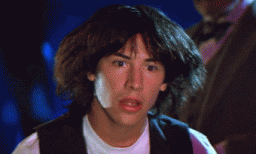 Whoa!
By that standard, the articles were the most successful for me. Tom Simon's "The Making of the Fellowship: Concepts of the Good in the Lord of the Rings" artfully breaks down the vices and virtues of the various races of Middle Earth, while John C. Wright's "Prophetic & Apotropaic Science Fiction" humorously dissects the (often failed) prophecies and predictions of sci-fi while establishing the difference between the two concepts.
There were two standouts in the fiction category: "The Quantum Process" by David Hallquist, a frightening snapshot of a mind duplication procedure gone wrong, and "Beyond the Mist" by Ben Zwycky, a new serial with a mind-bending beginning that hopefully will keep getting better.
Science fiction and philosophy are natural bedfellows and intellectual kin-cousins, so I expect more of their freakishly smart offspring in the third edition.