Review – Starship Grifters, by Robert Kroese
Friday , 20, January 2017
Uncategorized
Short Reviews will return next week with George Antonio Wetter's "Too Smart to Die".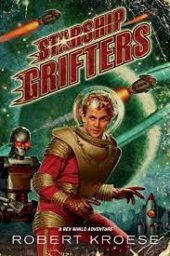 I backed the Starship Grifters Universe Kickstarter for a signed copy of Starship Grifters and some Big Sheep drink koozies on the strength of Robert Kroese's shitposting alone. Seriously, if you're not following that guy on Twitter, you're missing out.
Starship Grifters is a very tongue-in-cheek sci-fi spoof that is sort of like a Space Balls with a cross between Zapp Brannigan and Tommy Flanagan: Pathological Liar as the main character.
Usually I find 'only sane man' (in this case, not a man, but Rex Nihilo's femmebot assistant) stories dreary and obnoxious, but Kroese's tour de force writing and humor kept it enjoyable. Maintaining a steady level of humor without getting too twee and self-satisfied is difficult – flying that prop plane through a forest below radar level in GTA: San Andreas difficult – and, admittedly it comes close to crashing in a few spots, but at no point did I say "I'm tired of this, I'm done."
The gist of the story is the pathological liar main character's lies get him caught between the Empire and the Rebellion while trying to play them off each other to make a profit and dump a worthless asset with a lien on it. Both sides become convinced Nihilo is in possession of cloaking technology on a dirtball planet; it must exist because no one can find it. It's kind of like Foucault's Pendulum in space but without 500 pages of Italians discussing European history.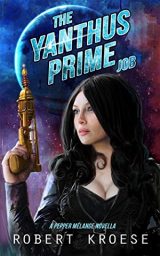 Kroese's a good writer and a funny writer, and if you like purely satirical or parodical stories, particularly send-ups of Star Wars, Starship Grifters is not bad at all. That said, I'd like see what Kroese does with a story in a setting that doesn't have the zany turned up to 11, a place where things can be funny but every character isn't a cartoonish idiot. I hear that his spin-off novella, The Yanthus Prime Job, which features a minor character from SG (one of only two 'sane [wo]men'), delivers. Sadly for me, there is no paperback as of yet, nor is one planned. Still, Kroese's a guy I plan to keep on my radar. If I'm ever at a con again with nothing to do, I'll probably download the Pepper Melange int-fic vidya to play and kill some time.