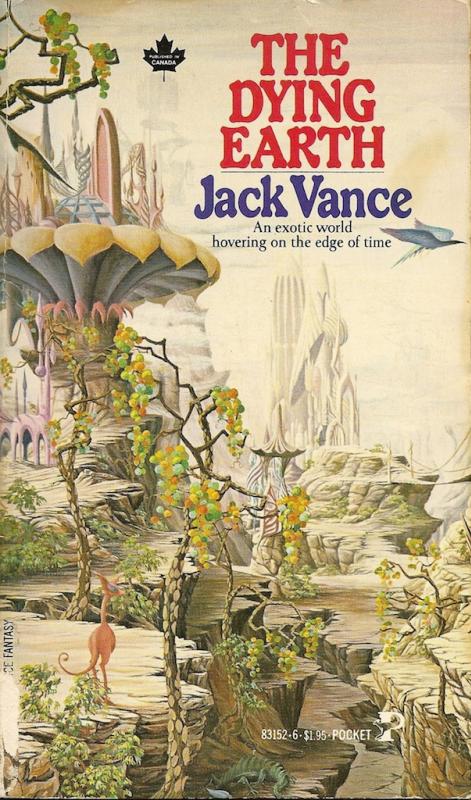 The writing of Jack Vance is striking, inventive, and vividly descriptive. His stories are superb, but his books haven't always been easy to track down. Consequently he's often remembered just for inadvertently providing the template for the magic system in Dungeons & Dragons. In that game, a magic-user could spend time studying to learn a set number of spells. When he cast them, he would forget them and then have to study them again. This was termed either "Vancian magic" or "spell memorization" depending on who you gamed with. In D&D circles, it was often accepted as just being the way things worked with hardly anyone demanding an in depth explanation of it. Outside of the D&D scene, it was often deemed to be strange, childish, or even "unrealistic."
But it turns out that only a fraction of Jack Vance's ideas were lifted from The Dying Earth to be grafted onto the first fantasy role playing game. And though few people would be surprised by this oft-quoted passage:
The tomes which held Turjan's sorcery lay on the long table of black steel or were thrust helter-skelter into shelves. These were volumes compiled by many wizards of the past, untidy folios collected by the Sage, leather-bound librams setting forth the syllables of a hundred powerful spells, so cogent that Turjan's brain could know but four at a time…. What dangers he might meet he could not know, so he selected three spells of general application: the Excellent Prismatic Spray, Phandaal's Mantal of Stealth, and the Spell of the Slow Hour.
This one, however, is an entirely different matter:
At one time a thousand or more runes, spells, incantations, curses, and sorceries had been known. The reach of grand Motholam– Ascolais, the Idle of Kauchique, Almery to the South, the Land of the Falling Wall to the East– swarmed with sorcerers of every description, of whom the chief was the Arch-Necromancer Phandaal. A hundred spells Phandaal personally had formulated– though rumor said that demons whispered at his ear when he wrought magic. Pontecilla the Pious, then ruler of Grand Motholam, put Phandaal to torment, and after a terrible night, he killed Phandaal and outlawed sorcery throughout the land. The wizards of Grand Motholam fled like beetles under a strong light; the lore was dispersed and forgotten, until now, at this dim time, with the sun dark, wilderness obscuring Ascolais, and the white city Kaiin half in ruins, only a few more than a hundred spells remained to the knowledge of man. Of these, Mazirian had access to seventy-three, and gradually, by strategem and negotiation, was securing the others.
Considered in the light of the stories in this collection, it's absolutely staggering.
While the real world development of Dungeons & Dragons mirrors this source material in that a few odd spells are named after the wizard that developed them, there really is a lot more going on here. Not only has Jack Vance constructed a detailed far future science fantasy setting, but he has also crafted an apocalyptic origin story to account for its magic system. His true genius lies in how he established an extremely hard upper limit to the number of available spells in his world. The spell-casters in his tales all hunger after more and greater knowledge precisely because they have so little at their disposal. They pursue it with every ounce of cunning they can muster. But about the only way most of them can get it is by taking it from their rivals!
Such a premise has not been explored overmuch in either fantasy or gaming. Indeed, games are naturally focused more on how exactly the rules mechanics work; the settings are often whatever they need to be in order to make the game playable and accessible. There is often no real economy of magic or magical knowledge and players are often granted new powers automatically whenever the requisite number of experience points are obtained. This gradual evolution in a player character's abilities is a key factor driving people to engage in ongoing campaigns of weekly game sessions that last for years at a time. Few people want to clutter up the fun by adding more restrictions and impediments to the rush that goes with leveling up.
But imagine if there were only a set number of spells in one of those massively multiplayer online role playing games. If the only way to gain new spells were to raid other magic-users for their spell books, the result would be a bloodbath. This one alteration would not only completely change the nature of the game, it would also destroy whatever semblance of civilization that was in existence at the start of play– all because every magic-user in the game would have this tremendous incentive to obtain the equivalent of Maziran's seventy-forth spell! Anyone with a spell they don't already have would be on their hit lists….
Of similar significance is the commonly overlooked fact that mathematics is the key to discerning the "real" nature of Vancian magic. In many games, the designers come up with some sort generic "magicky" type skill or else have it powered by an arbitrary "mana" force. Other people, hankering for a sense of authenticity, work out systems based on pacts with demons and so forth. In contrast to this, Jack Vance is explicit about his magic's being susceptible to discoverable laws:
Within this instrument resides the Universe. Passive in itself and not of sorcery, it elucidates every problem, each phase of existence, all the secrets of time and space. Your spells and runes are built upon its power and codified according to a great underlying mosaic of magic. The design of this mosaic we cannot surmise; our knowledge is didactic, empirical, arbitrary. Phandaal glimpsed the pattern and so was able to formulate many of the spells that bear his name.
But in the Dying Earth setting, a general knowledge of how mathematics applies to magic is almost completely lost. The consequences of a scenario that culminates into a science fantasy analog to Lord of the Flies go far deeper than what a casual reading would indicate:
In all my youth this ache has driven me, and I have journeyed from the old manse at Sfere to learn from the Curator… I am dissatisfied with the mindless accomplishments of the magicians, who have all their lore by rote.
The wizards, then, are nearly all charlatans. They're like jazz musicians that can only learn a set number of songs, can't improvise on a set of chord changes, and forget what little they do know at the end of a set. They're like engineers that can only solve a few well known problems and who can only actually tackle a fraction of what was previously solvable. They are like the most typical math student of today who has knowledge of only a handful of tricks, is barely able to recognize when to apply them, and who is essentially innumerate when separated from his calculator. Despite their trappings of learning and lore, these wizards amount to little more than barbarian looters of a fallen empire.
This, too, is also staggering. It also explains one of the classic divides in role playing game design. Early editions of D&D placed no restrictions on the intelligence of magic-user characters. Your character can be a complete idiot and still cast "Sleep" just as well as other, more brilliant mages. When guys like Ken St. Andre and Steve Jackson created their own variations of the fantasy role playing game concept, they found it natural to limit a character's available spells based on his intelligence level. The Fantasy Trip went so far as to require you to roll against IQ in order successfully cast a spell. While this was appealing to a lot of gamers, it is clearly a completely different take on magic from what we see here. Mages like Maziran were not limited by their intelligence, but by the contents of their spell books and by how many spells they could fit in their brains at once. The spells themselves were differentiated by the duration of the "space-twisting syllables" it took to invoke them. And instead of being limited a specific number of slots for each of a dozen or so spell levels, Maziran could learn "four of the most formidable, or six of the lesser spells" at one time.
The elements of Jack Vance's work glimpsed in early role playing games can at first seem strange and nonsensical, but they really do make sense when viewed in their original context. The science fantasy setting, the characters, and the action in The Dying Earth all flow directly from the premises of the magic system. Of course, had Dungeons & Dragons been more faithful to those premises, it could not have presented the vaguely Medieval world that was key to its wide ranging appeal. The selective pillaging of Vancian concepts makes sense in retrospect, but it's ironic that the life of this craftsman recapitulates that of his own creation. He's not unlike the wizard Phandaal with only an handful of his hundred spells surviving into general usage. He deserves so much more than that.