I received a message Tuesday night that Richard L. Tierney had died. It was the proverbial punch to the gut as I had talked to Dick a few weeks earlier and he seemed to be doing fine for a man in his mid-80s.
The first work of fiction by Richard Tierney I ever read was the Red Sonja novel, The Ring of Ikribu (co-written with David C. Smith). That was in early 1982. I had burned through the Conan paperbacks and looking for other related books.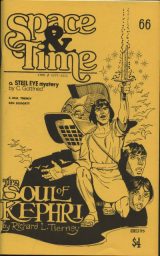 What made me take notice of Tierney was reading "The Ring of Set" in the anthology Swords Against Darkness (Zebra Books, 1977). This was my introduction to Simon of Gitta and his adventures in the early 1st Century A.D. Roman Empire. I read the 2nd Simon story in Swords Against Darkness II and the Smith-Tierney Bran Mak Morn pastiche For the Witch of the Mists, which I enjoyed.
I began to explore the small press in the mid-1980s. I read the Simon of Gitta stories in Weirdbook, Crypt of Cthulhu, and Pulse Pounding Adventures. In 1987, I wrote to Robert M. Price who published Crypt of Cthulhu for Dick Tierney's address. I wanted to write to him to tell him how much I enjoyed the Simon of Gitta stories. Price sent me Dick Tierney's address and I soon got a response. Thus began a 34 or so year communication. We talked and wrote to each other on a wide range of subjects.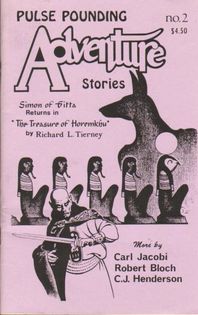 I got to meet Dick in person in early 1989 when I had some business in Minneapolis. He drove up from Mason City, Iowa and he took me to Uncle Hugos's Bookstore. I also met his sometime collaborator, Glen Rahman and brother Philip. It was then I found out about Fedgan & Bremer Books and the plan for the Donald Wandrei collection, Colossus.
I read Tierney's novel The Drums of Chaos in manuscript form in 1989 or 1990. He had written the novel though it probably had little no appeal for the big publishers. It made its way around a circle of people. That is the story where Simon is present at Jesus' crucifixion with a whole lot of Cthulhu Mythos in the plot. A few weeks ago in our phone conversation, Dick humorously said to me that Drums is the real story behind the Gospels.
Richard L. Tierney is something of a rarity. When it comes to sword-and-sorcery fiction, I can only think of John Jakes, Tierney, and Michael Moorcock from the Silent Generation offhand. Darrell Schweitzer had said to me last summer at Pulpfest that there was this big gap of writers between the old pulp era and the boomers in horror. The same goes for sword-and-sorcery. Dick's fiction has a retro-pulp feel to it. He worked in H. P. Lovecraft, Clark Ashton Smith, and Robert E. Howard elements whenever he could. He tied in P. Schuyler Miller's "The Sands of Time" (1937) to his John Taggart story, "Countdown for Kalara." I mentioned to Dick that Miller had written a sequel, "The Coils of Time" (1939) that has never been reprinted.
The Simon of Gitta stories have good action and also an old-fashioned romance angle as Simon's beloved Helen dies and he searches for her reincarnation through the cycle. These stories would not have been out of place in Weird Tales decades ago.
He was a good writer of Lovecraftian derived fiction.   "From Beyond the Stars" (Night Chills, Avon Books 1975) and "The Wrath of Tupan" (1977) are examples. "The Other Place" (Astro-Adventures #2, 1987) could have been written by Donald Wandrei and appeared in Astounding Stories in 1934. It was cosmic science fiction of the sort that you don't see.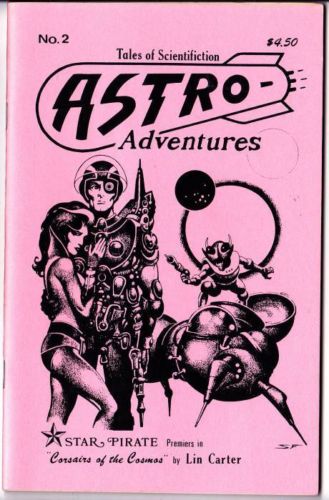 In addition to his prose fiction, Dick was a noted weird poet. He had an Arkham House collection of his verse in 1981. He had the best poetry in The Cimmerian with a cycle of barbarian themed poems.
He also wrote some lit-crit on Lovecraft. "The Derleth Mythos" is now considered a ground breaking essay.
From what I can gather, Dick broke an ankle a couple weeks ago and had surgery. He did not do well afterwards, orthopedic surgery can trigger cardiac events and he left this mortal coil on Tuesday, February 1st. I can remember him telling me around 25 years ago that he was doing a lot of reading on quantum physics. By coincidence, someone mentioned to me on Monday about quantum theory and alternate realities and the idea that when you die, this life was a dream and you wake up in that alternate reality. I hope that is the case as the wonder of the universe fascinated Dick. Hopefully, he is exploring some of it now.
I highly recommend reading the Simon of Gitta stories. It is one of my favorite sword-and-sorcery series that has been recently reprinted as Sorcery Against Caesar.