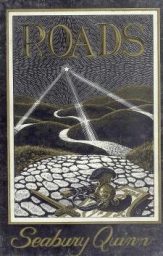 Charles Dickens' "A Christmas Carol" is the usual favorite supernatural/fantastic Christmas story. My favorite is Seabury Quinn's "Roads." This story first appeared in the January 1938 issue of Weird Tales. The issue would have been on the magazines racks on December 1st, 1937.
Seabury Quinn was one of the most popular writers for Weird Tales. Quinn had fourteen articles and 143 stories in Weird Tales. Of the works of fiction, 91 were in the Jules de Grandin series. Quinn was an early contributor to Weird Tales with the well regarded "The Phantom Farmhouse" in the October 1923 issue. "The Horror on the Links" (October 1925) then introduced Jules de Grandin. De Grandin was a French medical doctor who was also what could be called an occult detective. The story proved to be so popular that Jules de Grandin appeared in a total of 91 stories up through September 1951.
Quinn was actually a competent writer when not writing Jules de Grandin. In 1935, he began writing non-de Grandin stories. He took a break from de Grandin for a few years in the early 1940s. In the late 1930s, he wrote some stories that verged into sword and sorcery territory.
"Roads" starts with three Jewish zealots deciding to rob and murder a sleeping man in the courtyard of a sari who they believe to be a spy. The sleeping man turns out to be Klaus, a Germanic gladiator, recently in the service of King Herod. The robbery is foiled as young Klaus is not easily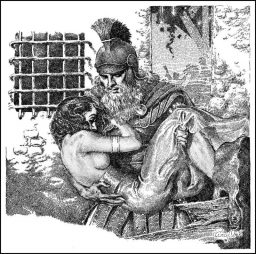 surprised.
While on the road, Klaus hears a wail of anguish. The widow Rachel holds a recently slain infant bearing the wound of a sword thrust. Herod's soldiers are murdering male infants and toddlers on the rumor a king had been born.
The next morning Klaus hears a cry for help. He rushes to find Herod's soldiers assaulting a couple on the road just before dawn. Klaus goes to battle as his long sword (worn on his back) and ax go to work. A young mother cradles an infant. Klaus looks at the infant and hears a voice in his head:
"Thou shalt live immortally in every childish heart so long as men shall celebrate my birthday."
Chapter 2 has Klaus three decades later as a centurion in the Roman legions and aid to Pontius Pilate, where he is known as Claudius. The whole final Jesus unfolds as he is brought before Pilate.
"A tall young man in white, bearded in the Jewish fashion, but so fair of skin and light of hair that he seemed to bear no racial kinship to the swarthy men surrounding him."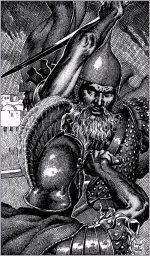 Pilate orders Klaus to attend the crucifixion where he puts a spear into Jesus to put him out of his misery. He hears the voice in his head again:
"Thy work is not yet started, Klaus. I will call and thou wilt know my voice when I have need of thee."
The sky turns black and there is an earthquake. Klaus saves a young woman whose foot is pinned under a beam. She is Erinna the hetaera, from Tyre. Jesus made her whole again when she asked for a cure from "the dreadful malady." She declares she is now Klaus' and they marry. Klaus gives her the name of Unna.
Chapter 3 goes through the centuries with Klaus and Unna. Klaus is with Constantine at the Battle of the Malvian Bridge. He travels with the First Crusade and the retaking of Jerusalem. Unna is imprisoned by priests when she points out the place of the crucifixion and other landmarks. Klaus rescues her and they escape. While in a city on the Rhine during Yuletide, Klaus whittles toy sleds and the couple distribute them filled with fruits and sweets. It is here he is given the name of Santa Claus. The priests turn against them and they once again flee.
They come across Little People traveling north as humans have turned against them. Klaus, Unna, and the elves travel far into the frozen North "where the light of the bridge Bifrost rests upon the earth." They built a house with lofty chimneys and great hearths.
They set to work making toys all year which is transported by the magical sleigh of the Little People.
"Klaus is very real today, and every year ten thousand times ten thousand happy children wait his coming; for he is neither Claudius the centurion nor Klaus the mighty man of war, but Santa Klaus the very patron saint of little children, and his is the work his Master chose for him that night two thousand years ago; his the long, long road that has no turning so long as men keep festival upon the anniversary of the Savior's birth."
"Roads" was the most popular story of the issue. In the March, 1938 issue, Manly Wade Wellman wrote to "The Eyrie" stating –
"Let me vote for Quinn's Roads as the most impressive thing in the January WT. It gives me to think thus: does not the world of fantasy hold its good powers as well as evil, its saints and angels as well as its fiends and devils? Roads was both lusty and devout, as a good Christian tale should be."
Vernon Shea, a young correspondent of H. P. Lovecraft, did not like the story:
"I wish Seabury Quinn hadn't written Roads, for that tale for children has no place in WT. It made me squirm."
August Derleth would produce a slender 110 page hardback for Arkham House in 1948. 2,137 copies were printed. Leo Margulies reprinted the story in Worlds of Weird in 1965 and the reprints in 1977 and 1978. The most recent reprint was in A Cosmic Christmas anthology (Baen Books, 2012).
"Roads" is an unusual origin story and an enjoyable one to reread on Christmas eve.