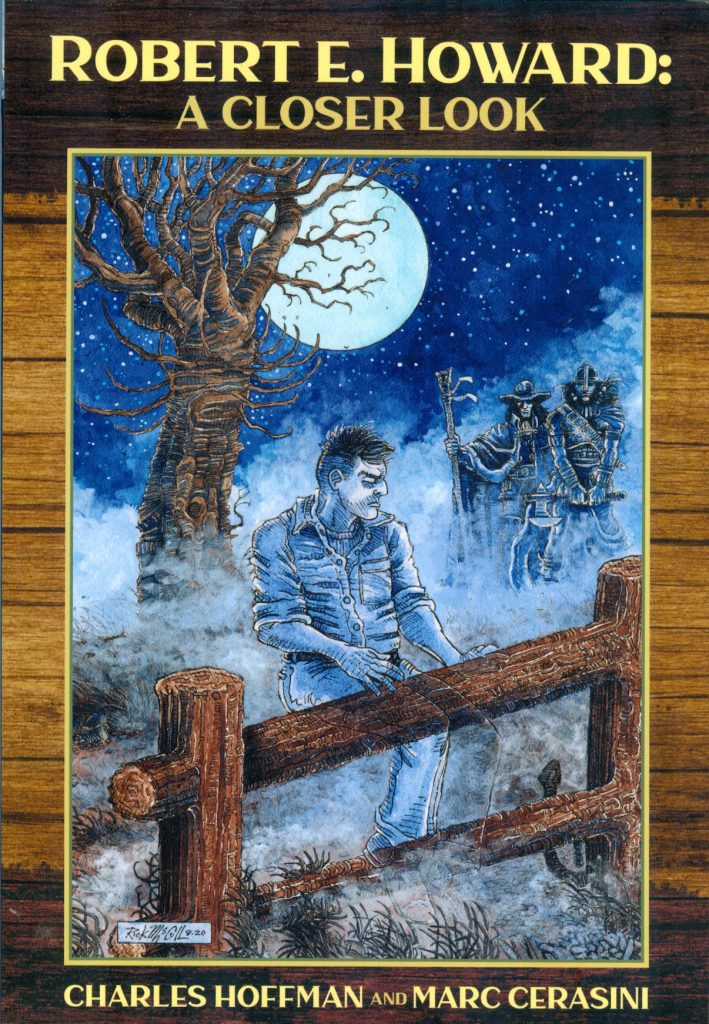 The Starmont Reader's Guides were published from 1979 to 1992. The entries are numbered up through 61. There are gaps in the numbering as some failed to materialize. The idea was to provide an overview of a fantastic author. At worst, these books were just synopses of the subject author's fiction. Some had criticism of the fiction along the way, and if lucky, some keen insight.
Robert E. Howard was the subject of Starmont Reader's Guide #36 by Marc A. Cerasini and Charles Hoffman. This was published in 1987 in both hardcover and trade paperback. It was a total of 156 pages. I bought it in fall 1987 after reading a review in one of the Cryptic Publications magazines, probably Crypt of Cthulhu. I am pretty sure I got it from Weinberg Books.
This book had a profound impact on me. The authors went through Robert E. Howard's fiction with some synopses to the more important stories and making the case for the importance of Robert E. Howard. I had not read anything like this before. Cerasini and Hoffman were unapologetic about Robert E. Howard. Charles Hoffman has been one of the most insightful critics of Robert E. Howard for over forty years.
Starmont disappeared with the death of Ted Dikty. The Robert E. Howard Starmont Reader's Guide became hard to find.
We now have a new edition that has been updated and expanded. I read the new version this week and compared text between the two versions today. Robert E. Howard: A Closer Look (Hippocampus Press) is 299 pages, slightly larger in format, and printed with a larger font. The Starmont books had rather small print and larger print is most welcome.
Cover and frontispiece are by Rick McCollum, who I have known for 29 years.
Contents:
Introduction
I. Howard's Life, Career, and Legacy
II. Bran Mak Morn
III. Solomon Kane
IV. King Kull
V. Conan
VI. Other Fantasies
VII. Horror Stories
VIII. Other Prose and Poetry
IX. Conclusion
Works Cited
Bibliography
Index
This book has a good short biography of Robert E. Howard. Chapters examine the major characters and genres. There are synopses of the major stories with some critical discussion.
"Kull, on the other hand, has always sought a creative, positive outlet for his energies and will continue to do so. In the past, Kull's restless energy led him on a fruitless quest for metaphysical truth and esoteric knowledge. But now he has taken absolute authority unto himself and must truly rule."
One change of text I did note:
"Another attempt to define Howard's work was made by Darrell Schweitzer in his book, Conan's World. This useless, ill-conceived effort is probably the nadir of Howard criticism. Totally inept, Schweitzer's book repeats all the basic fallacies concerning Howard without offering the reader any new insights, only the author's uniformed and often silly opinions." (Robert E. Howard Starmont Reader's Guide 35)
"Darrell Schweitzer's Conan's World repeated all the basic fallacies concerning Howard, while offering uniformed opinions and no new insights; even the author subsequently expressed dissatisfaction with it." (Robert E. Howard: A Closer Look)
I recommend Robert E. Howard: A Closer Look, if you know nothing about Robert E. Howard and his fiction but are curious. Then follow up with the Don Herron edited anthologies The Dark Barbarian and The Barbaric Triumph.
You can get Robert E. Howard: A Closer Look directly from Hippocampus Press or other online booksellers.