An aspect of Robert E. Howard in Novalyne Price Ellis' One Who Walked Alone and in E. Hoffmann Prices various memoirs is his motoring around in his car, namely a 1931 Chevrolet. Robert Roehm's "Robert E. Howard's Automobiles" is the best resource for information on the two vehicles REH owned and where he got them.
The first car he bought was a used 1931 Chevrolet in spring 1932. An L. Sprague de Camp interview of Lindsey Tyson has specified it was a Coach. Chevrolet offered thirteen different body styles in 1931: Cabriolet, Landau Phaeton, Five Passenger Coupe, Convertible Phaeton, two-passenger Roadster, Sport Roadster (with rumble seat), Sport Coupe (with rumble seat), two-passenger, Three Window Coupe, two-passenger Five Window Coupe, Coach (two-door sedan), Sedan, Special Sedan, and 2/4 passenger Cabriolet.
The history of Chevrolet begins in 1911. The board of General Motors removed President William C. Durant in 1910. Durant had started in the carriage business and moved into automobiles when taking control of the ailing Buick Motor Company in 1904. Durant turned Buick around and founded General Motors in 1908 with partner R. S. McLaughlin. General Motors added thirteen car companies including Oldsmobile, Cadillac, and Oakland Motor Company (changed to Pontiac). A cash shortage in the wake of all the acquisitions caused General Motors Board to force out Durant. Durant teamed up with Louis Chevrolet, a Swiss race-car driver, to create the Chevrolet Motor Car Company in 1911. Louis Chevrolet was out in 1914. Durant was also buying shares of GM stock to take control of the company in 1916. Chevrolet then came under the GM umbrella.William Durant was the anti-Henry Ford. Durant believed in each GM division to target one class of buyer. Cadillac was top tier, Buick for people who wanted a car above the norm. Chevrolet's main competition was Ford and Plymouth, the "Low-Priced three."
GM had its eye on overtaking Ford Motor Company in sales. Chevrolet started selling the "Stovebolt Six" engine, also called "Cast-Iron Wonder" in 1929. It offered six cylinders of power in contrast to the four-cylinder engine in Ford's Model A. Chevrolet had the marketing slogan "Get a Six for the price of a Four." Displacing 194 cubic inches via its 3-5/6-inch bore and 3-3/4-inch stroke, the three-main-bearing engine used a 5.02:1 compression ratio and Carter one-barrel RJH-08 updraft carburetor to make 50hp at 2,600 RPM and 122-lbs.ft. of torque at 1,800 RPM. The balanced engine was upgraded in 1931 with a stronger engine block, stronger crankshaft and a redesigned harmonic balancer for markedly smooth operation. The torque and flexible power band allowed for fewer shifts of the un-synchronized three-speed manual gearbox.
Chevrolet car bodies used a large proportion of wood. Fisher built the bodies. Advertising at the time promised:
"This is not only the strongest, safest, most durable type known, but it is exactly the same type used in the highest-priced cars. A framework of selected hardwood is fortified at all points of stress by staunch steel bracing. Over this strong framework are mounted sturdy steel panels, so that the wood reinforces the steel and the steel reinforces the wood."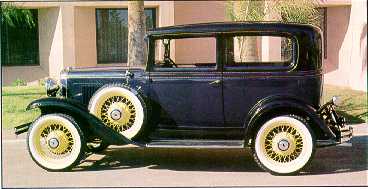 Ford used more steel and had a better survival rate. A new 1931 Chevrolet two door Coach cost $545. Chevrolet made changes to the 1932 models influenced by Oldsmobile and Cadillac. The 1932 Chevy Confederate BA series were called "Baby Cadillacs." Chevrolet cut prices by 10% in 1932 and increased to 20 different models.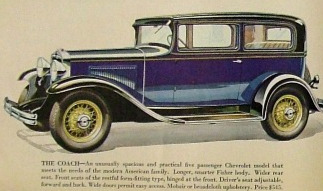 I like the look of the Chevy 2 door Coupe. Robert E. Howard might have gotten a break on price. Lindsey Tyson said in an interview that REH paid $350.00 for his Chevy. Perhaps the Coach was perceived as more rugged for all those Texas dirt roads. The Coupe would hold 2-3 people in the one seat while it had a trunk. The Coach had two seats but no trunk.
From 1931Chevrolet.com:
"The coach body is wider at the rear seat. The additional width is obtained by improving trim construction without sacrificing any actual trim depth. Both front seats are of the "bucket" type, with the curved back permanently attached to the seat. This type of seat is much more comfortable than the folding type due to its permanent back construction. The entire seat is hinged at the front. A compartment for tools is provided under the floor board beneath the front seats. This permits access to the tools for making adjustments, tire repairs, etc. without disturbing the occupants of the rear seat."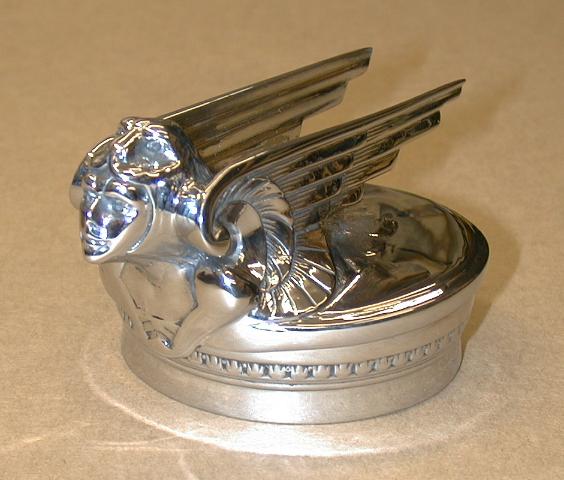 An interesting accessory for the 1931 Chevrolet was the Viking Radiator cap mascot. That would have been something, Bob Howard motoring around with a Viking radiator cap on his Chevy.
There is something about the look of early 1930s cars. The ZZ Top vehicle is a 1933 Ford.
Robert E. Howard's second car was a 1935 Chevrolet, specifically, a Standard Chevrolet Sedan. Howard may have bought it in autumn of 1934 when the new models arrive or in 1935. It is not known when he bought the car.
The Great Depression was hard on automobile manufacturers. Companies such as Cord, Pierce-Arrow, and Duesenberg would not make to the end of the 1930s.
1935 model production numbers:
Ford                             820,253
Chevrolet                      548,215
Plymouth                       350,884
Pontiac                         178,770
Dodge                          158,999
Oldsmobile                    126,768
Hudson/Terraplane        101,080
Buick                            53,249
General Motors switched to Fisher all-steel "Turret Top" roofs. Sedan bodies increase in popularity with open cars slipping into obscurity. Chevrolet introduced the first all-steel station wagon on a light-truck chassis. Chevrolet began a styling change in 1934 with sleeker bodies and vee'd windshields. The front grill went from rectangular to a more oblong shape. The cars transitioned from an overall boxy or square to a more rounded look. The running boards in the 1935 Standard Sedan are rubber coated. The 1935 Standard was unchanged from 1934 in look. The 1935 Master was a new car. There were some internal changes in 1935 including an "X" frame. The spare tire is rear-mounted. Wood grained garnish moldings and instrument panel. Upholstery was mohair. Radios were now a standard part of the 1935 Chevy.
The Standard series included Coupe, Coach, Sedan, Roadster, and Phaeton. The Standard Coach, the vehicle REH had, was the most popular car in the 1935 line-up. Selling price was $485.00.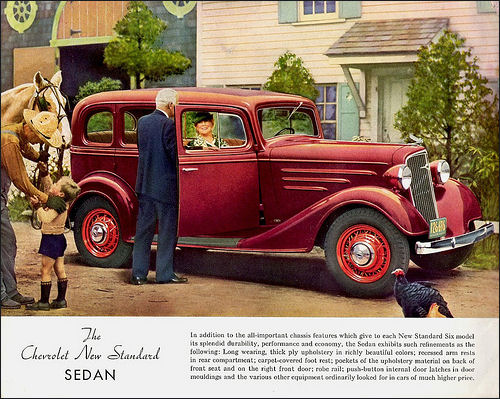 Chevrolet would continue with the "stovebolt" 6 cylinder engine. Ford debuted an 8 cylinder (the V8) in 1932. It had a 221 cubic inch displacement. This engine was a favorite with young motor-heads, and was the foundation for the hot-rod movement. The 1935 Standard engine had the same bore, stroke, piston displacement, and compression ratios as the 1934 Master engine. That converted to quicker acceleration and an average increase of horsepower of 25%.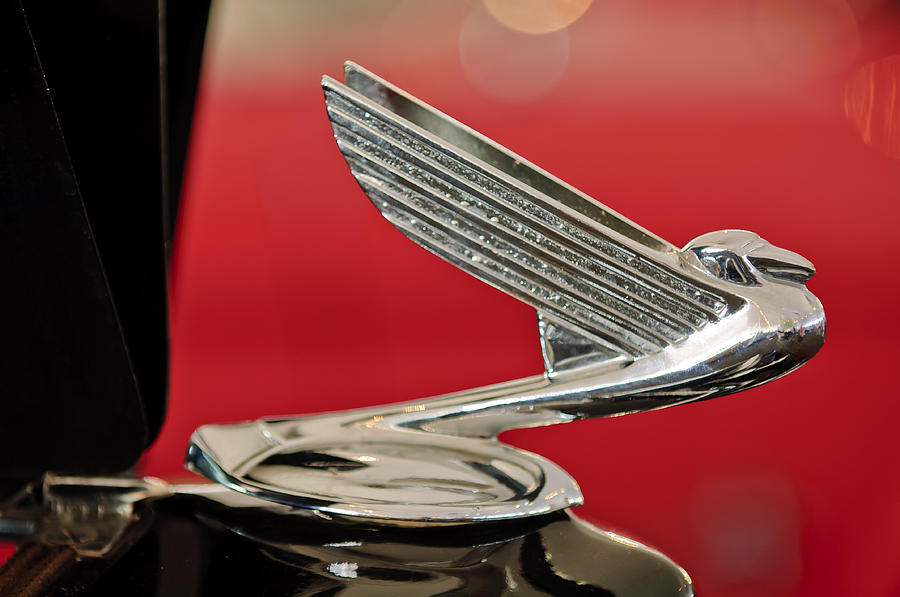 There was an ornamental radiator cap. For 1935, it was a symbolic bird streamlined to typify speed. More changes would come in 1936 even more rounded contour. In 1937, Chevrolet would go to the "Blue Flame" engine, which had increased power.
I really like the look of this 1936 Chevrolet Coupe
Rob Roehm's research came up that there was a Chevrolet dealership in Cross Plains in the 1930s. When it started and when it ended is probably a story itself.