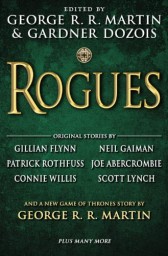 Rogues is the latest of the George R. R. Martin and Gardner Dozois edited cross genre anthologies. Bantam Books is the publisher now instead of Tor. Hardcover, 806 pages, $30.00, twenty stories and an introduction by Martin. The cover is the same sort of minimalist style with the title in big letters as with Warriors.
Martin has this to say in the intro:
"I guess I have always been partial to rogues…Now, fantasy often gets characterized as a genre in which absolute good battles absolute evil, and that sort of thing is plentiful, especially in the hands of the legions of Tolkien imitators with their endless dark lords, evil minions, and square-jawed heroes. But there is an older subgenre of fantasy that absolutely teems with rogues, called sword and sorcery. Conan of Cimmeria is sometimes characterized as a hero, but let us not forget, he was also a thief, a reaver, a pirate, a mercenary, and ultimately a usurper who installed himself on a stolen throne…and slept with every attractive woman he met along the way. Fafhrd and the Gray Mouser are even more roguish, albeit somewhat less successful. And then we have Jack Vance's thoroughly amoral (and thoroughly delightful) Cugel the Clever, whose scheming never quite seems to produce the desired results, but still."
Now to the contents.
Joe Abercrombie: "Tough Times All Over" is sword and sorcery of the nihilistic sort. I was not overly impressed. I have heard Abercrombie described as the second coming of Karl Edward Wagner but don't see it myself. This is the second story I have read by Abercrombie. He has one more chance.
Gillian Flynn: "What Do You Do" is mystery in 1st person. The first portion of the story is overly detailed about hand-jobs. A dysfunctional family and creepy teenager who manipulates the situation is the main plot.
I did not like Matthew Hughes's story in The Mammoth Book of Warriors and Wizardy. "Inn of the Seven Blessings" has the same main character, Raffalon, and is much better. Hughes reads like the bastard child of Jack Vance.
Joe Lansdale: "Bent Twig" is a crime story in East Texas with his Hap and Leonard character. Lansdale is at his best with the East Texas setting and a story of a corrupt preacher running a prostitution ring. The ending was not believable with Hap and Leonard exposing all the local politicians involved and putting them away.
Michael Swanwick: "Tawny Petticoats" is in an alternate or post-apocalyptic New Orleans. I am not sure. Zombies, mastodons, and swindling gone wrong. Swanwick attempting to be the modern Avram Davidson.
David W. Ball: "Provenance" is about stolen Nazi art. The story is mostly flashback. Very grim stuff.
Carrie Vaugn: "Roaring Twenties" is an overlong talky story set in prohibition with supernatural creatures. Boring.
Scott Lynch: "A Year and A Day in Old Theradane" is the sort of cutsy fantasy that leaves me cold. A drunk former thief offends a sorceress who then forces her to perform a heist of impossible proportions.
Bradley Denton: "Bad Brass" concerns tuba heists in Texas. Stupid.
Cherie Priest: "Heavy Metal" has a malicious ghost in a copper poisoned Tennessee lake luring victims to their doom.
Daniel Abraham: "The Meaning of Love" is fantasy with exiled prince rescuing girl from slavery.
Paul Cornell: "A Better Way to Die"- Steampunk James Bond pastiche which did not quite work for me.
Steven Saylor: "Ill Seen in Tyre"- Gordianus in Tyre with Fafhrd and Gray Mouser mentioned.
Garth Nix: "A Cargo of Ivories"- A story in the Sir Hereward and Mister Fitz (puppet) series. Small elephant on ship.
Walter Jon Williams: "Diamonds From Tequila" has movie making in Mexico with drug and diamond smuggling. Irritating.
Phyllis Eisenstein: "The Caravan to Nowhere"- Alaric the Minstrel. Meh.
Lisa Tuttle: "The Curious Affair of the Dead Wives"- Skipped this one after the first two pages. Mystery?
Neil Gaiman: "How the Marquis Got His Coat Back"- London Below world. Skimmed through this one. I don't get Gaiman's draw.
Connie Willis: "Now Showing" – something about movies but not getting the plot.
Patrick Rothfuss: "The Lightning Tree"- Bast the errand boy in earlier years. The first I have read by Rothfuss. Meh.
George R. R. Martin: "The Rogue Prince, or, A King's Brother"- Daemon Targaryen. Incest and dynastic intrigue told in distant fashion sort of like Tolkien in The Silmarillion. Martin is sidestepping from finishing his big series and writing these shorter pieces set years before the events in Game of Thrones.
There you have it. The library has this book in the general fiction section. Barnes & Noble has it in the science fiction section. Martin's Game of Thrones story is the lure for people to buy or read this book. The Matthew Hughes story was worth reading. I will read more by him. I was curious to see where George R. R. Martin is going but find the incest angle icky. Most of the stories are not the type of thing I would actively search out to read on their own. So, this book can be described as "meh."