---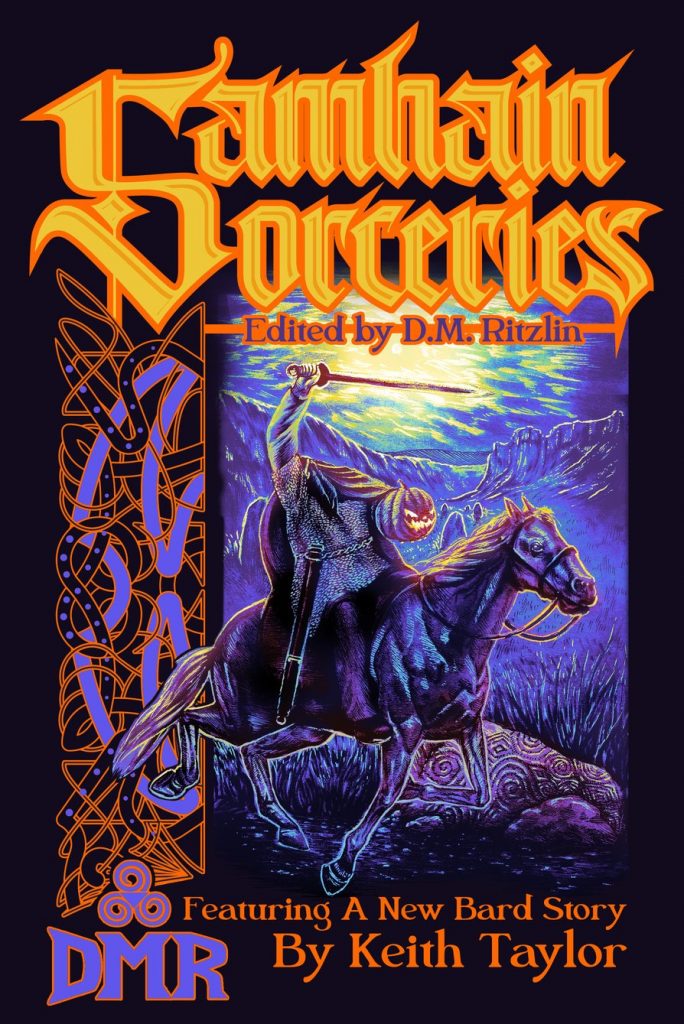 Good sword & sorcery fiction has a strong horror element. It becomes Lin Carter when it doesn't. What is more natural than putting the sword with Halloween, that spookiest of Celtic holidays?
DMR Books has a forthcoming anthology of new fiction, Samhain Sorceries. The book contains 10 stories in 210 pages.
Keith Taylor is the master of Irish sword & sorcery since the 1970s. Felimid McFal, hero of five novels and scattered stories returns to venture in a boat on Samhain's eve to open a metaphysical gate with some evil spirits.
I mentioned Rev. Joe Kelly a few weeks back in the Summer 2022 issue of Cirsova. He is present here with a story set in England with an Irish adventurer summoned to deal with a family curse. There are an isolated group of Picts causing trouble. The story appears to be late 1600s-early 1700s. This should appeal to fans of Solomon Kane.
Tim Hanlon is a new author to me. "The House of the Dark One" has Aengus mac Conall entering into an alternate land on Samhain's eve to retrieve his sister taken by a Dark Lord.
Adrian Cole is another writer going back to the sword & sorcery silver age of the 1970s. Cormorac of Wessex runs across a Viking host bent on mayhem. He seeks some supernatural aid.
Matthew Pungitore is no stranger. "The Tale of Marius the Avenging Imp" is different in tone from the other stories. This is more to the Clark Ashton Smith side of sword & sorcery than Robert E. Howard. A Roman sorcerer creates an imp and sends him to claim a treasure taken by an Irish brigand.
Owen G. Tabard's "The Eye of Balor" is set in the Orkney Islands with Norsemen and Picts at odds. Haakon the Red is set to find the Eye of Balor, the Fomorian king of legend.
"The Tomb of Tigernmas" has a druid making a sacrifice to Cromm Cruach in return for supernatural aid against an invading Irish king's army.
John Lawrence Rak, Jr.'s "The Hole in the Tree" has Faidh Mac Gloairn the thief hired by a mage to retrieve the man-wolve's fetish.
A band of Cymric warriors ride into Hell at Halloween to bring back their recently passed leader in Harry Piper's "The Raid into Annwyn." The imagery reminded me of William Hope Hodgson's The Night Land.
H. R. Laurence's "The Barrow-King's Bride" has two highwaymen in Yorkshire accidentally rescue a maiden taken by a very bad parson. The parson intends on offering the maiden as the bride to a long dead Saxon king in return for treasure.
I really like this book. Then again, moors, bogs, and gorse are in my veins. I also like Halloween. This is my favorite anthology since Return of the Sword. Samhain Sorceries is to be released on September 26. Get this book, make some Guinness beef stew, have a bottle of Harp beer followed by some Bunratty mead and enjoy this book for October.