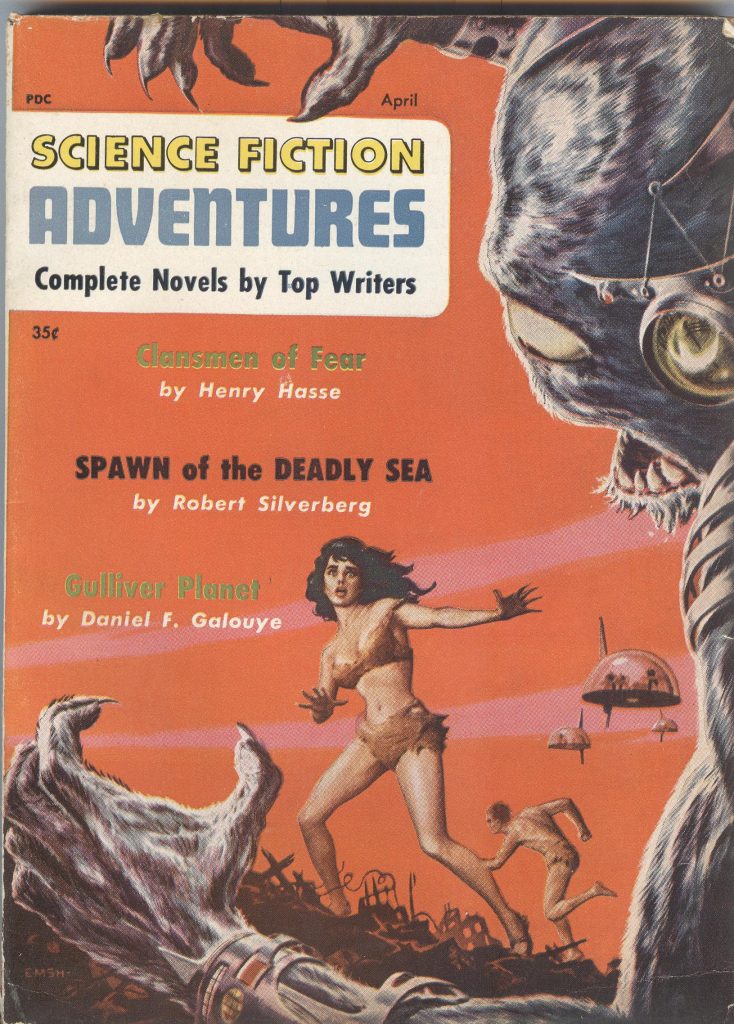 The April 1957 issue of Science Fiction Adventures had a sensational red cover by Ed Emsh. The three novellas format continued.
"Clansmen of Fear" by Henry Hasse was the cover story. This is a post-apocalyptic story as was so common in 1950s science fiction magazines. Hasse is probably best remembered for the story "He Who Shrank." I read that story in the Asimov edited Before the Golden Age. Donal is the leader of a village whose inhabitants need periodic exposure to radiation in the ruins of Chicago. He has problems, some of the women are joining marauding wanderers who raid their fields. Things go from bad to worse when very ugly, vaguely cat looking aliens who need the radiation to power their stricken ship. There is some fighting and then a resolution by the aliens who will transplant the villagers to an Earth like planet. Hasse really does not explain how the villagers will get by without their radiation on the new planet. Very clunky science fiction.
Daniel F. Galouye was prolific in the 1950s and the faded away in the early 1960s. I have not really read much by him. "Gulliver Planet" is an alien invasion of Earth story with microscopic aliens taking over the bodies of a group of humans. I did not like this one at all.
"Aren't you using the Supplementary Auto-Raction Circuit?' "No, I thought–"
"Confound it, Thaul! That's what the circuit's for–to automatically supply authentic movements and gestures!"
This is just a sample. I can't say I want to sample more Galouye.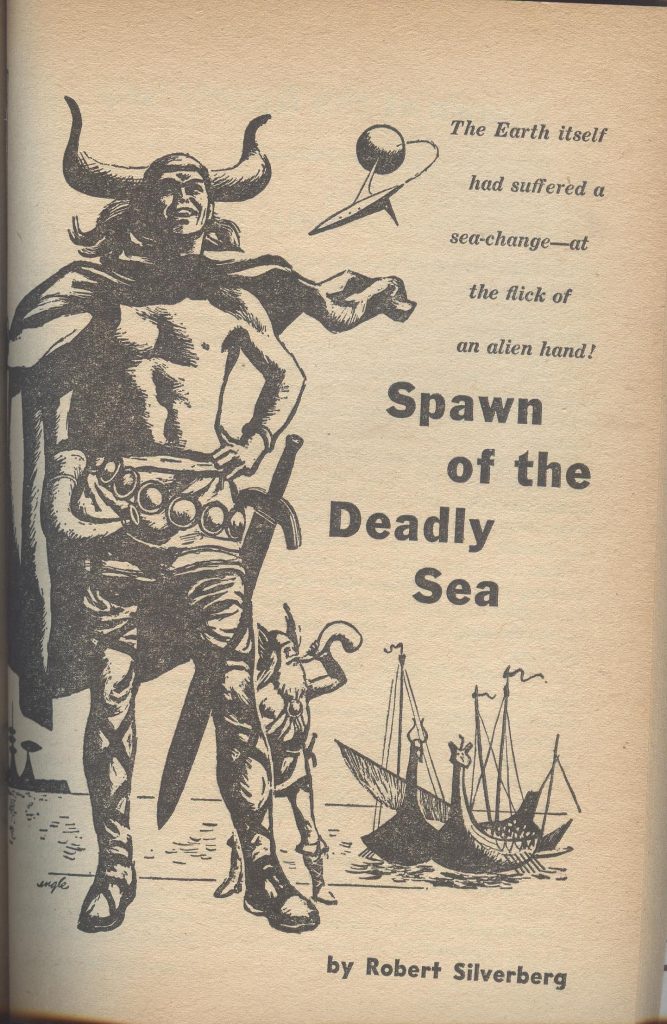 Robert Silverberg's "Spawn of the Deadly Sea" rescues this issue. I have written that there is a type of story from Planet Stories that was sword & sorcery cloaked as science fiction. "Spawn of the Deadly Sea" is that sort of story. Aliens conquered Earth in the past and sank the continents leaving some islands and floating cities. Dovirr Stargan waits for the Sea-Lords to arrive to collect their tribute from the city of Vythain. He intends on joining them and he does. He takes part in sea battles and boldly takes command when Gowyn, Thalassarch of the Western Sea dies. Things become epic when the aliens, the Dhuchay'y return to spawn. They are big amphibious creatures. If you ever wanted Robert Silverberg writing as Robert E. Howard, this is it.  What is even better, Silverberg expanded "Spawn of the Deadly Sea" into a novel, Conquerors From the Darkness
In the introduction to a 1979 reprint by Ace during the late 70s sword & sorcery boom, Silverberg wrote:
"I have long admired the sword & sorcery work of Fritz Leiber and L. Sprague de Camp and a few other masters of that genre, and I recall even find some pleasure in the bloody epics of Robert E. Howard."
Silverberg's original title was "Sea-Lords of Forgotten Terra." I think there is some Poul Anderson influence here. He cleaned up some of the prose for the novel which was published in 1965 in hardback. You can find various paperback editions in used bookstores. Check it out. Who did the cover for this 1979 Ace edition?