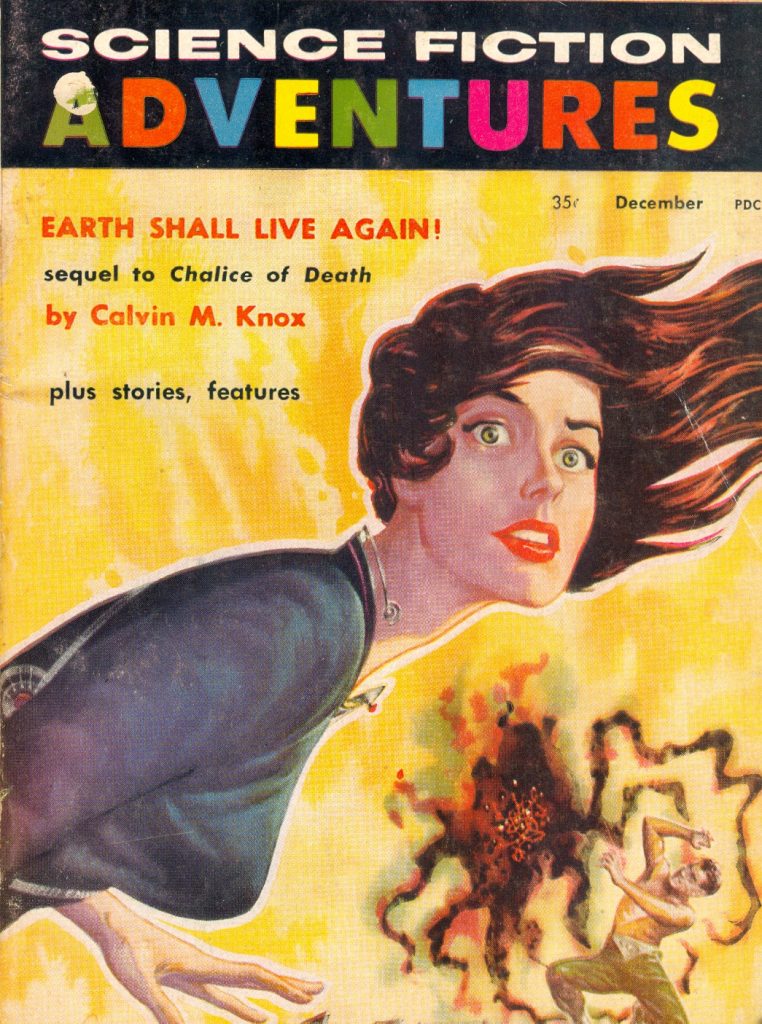 The December 1957 issue of Science Fiction Adventures continued the trend away from three novella format. The cover by Ed Emsh was for Robert Silverberg's "Valley Beyond Time."
Sam Thornhill wakes up unexpectedly in a very pleasant valley on a planet with a double sun. There is a small group of humans and some aliens with the same story of waking up. They are from all over the galaxy. Food is dropped three times a day. The Watcher brought them here and takes care of them. One member of the group goes berserk and kills another. The dead human body regenerates and reanimates! They also begin to grow younger. They finally become bored and attempt to leave the zoo situation they are in. The Watcher appears as a cloud and one member grabs a serpent alien with a helmet that gives it god-like powers. Thornhill and company are successful in breaking free. Thornhill finds himself back on the space transport that he last remembered being on. "Valley Beyond Time" struck me as padded. I first read this in the Dell collection Valley Beyond Time around 25 years ago when I was searching out Robert Silverberg collections with Science Fiction Adventures reprints.
Silverberg was again present as Calvin Knox with "Earth Shall Live Again!" This is a sequel to "The Chalice of Death." A year has gone by and Hallam Navarre has returned to Jorus with a plan. Six thousand Earth men and women were released from suspended animation and are having kids. A second colony is established on nearby Procyon. Navarre wants to use some borrowed ships from the Jorian fleet as the nucleus of the Earth space navy. His arch enemy, Kausirn the Vegan, has usurped power reducing the monarch of Jorus as a figurehead. There is a dungeon break, dealing with a traitor, and subterfuge to capture some ships.
"Moon Dust" by Richard R. Smith is a tale of sabotage on a U.S. moon base by some unknown agent. The story is very dated with the Cold War paranoia. Smith was a writer with 19 stories in the science fiction digest magazines from 1954-1958 and another two outlying stories in the 1980s.
Basil Wells, from Conneautville Pennsylvania was present with "Final Voyage." He was a writer mainly for Planet Stories in the 1940s and some stories in Fantastic Universe in the 1950s. He was still producing for Weirdbook in the 1970s and early 80s. I wrote to him in the late 80s. "Final Voyage" is a tale told from the viewpoint of the ship. The Janelace is a non-working ship at a Venusian space port. There is a rebellion and the Earth fleet has to be warned. The story has the feel of a juvenile with one character named Volcano Brand. Larry Shaw wanted to revive Planet Stories and he got one of the writer from that magazine.
Harry Harrison had his first story with "Captain Bedlam." Harrison had been the editor for a few months of the first magazine with the title of Science Fiction Adventures. That magazine lasted for nine issues from 1952 to 1954. Space travel has more problems than was first thought. The fix was to create another personality to deal with the disorientation. The story came off as unconvincing.
The letters' section in the magazine was called "The Readers' Space." One letter by Franklin Bergquist of Eddyville, Iowa caught my eye:
"Does anybody have Garden of Fear by Robert E. Howard? It's a paperback that was offered by Readers Service Book Club. Also does anybody have any material on Howard that can be published in a zine, Hyborian Age?"
I don't know if Mr. Bergquist published a fanzine called Hyborian Age or not. Many science fiction digest magazines would run fanzines with addresses. This might warrant further exploration.