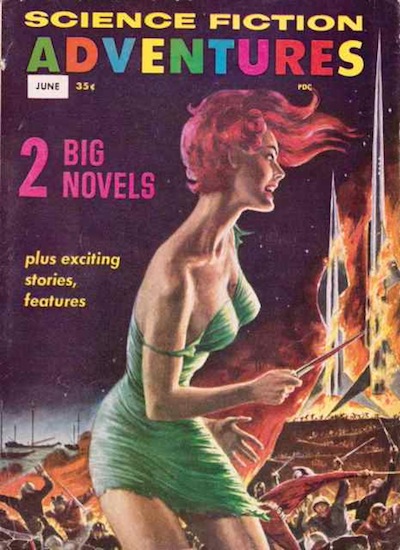 The twelfth issue of Science Fiction Adventures, June 1958 featured John Brunner's "The Man From the Big Dark" on the cover (art by Emsh).
"Only one kind of man ever came out of that gaping hole in space– a pirate. And with a girl's mutilated corpse on board his ship, what else could Terak be?"
This is grand fallen galactic empire stuff with Terak, on the run from a space pirate with aspirations of conquest. Terak is on the run from his former boss, Aldur, landing on Klareth. He organizes resistance to the conquest. There is sword fighting with space armadas. Glorious stuff. "The Man From the Big Dark" was reprinted in Great Science Fiction Adventures and also in the John Brunner collection Interstellar Empire.
Harry Harrison returns with "The World Otalmi Made."
"The only way to void a Profession man's contract was to kill him– if you could. It wasn't easy, but everybody on Dubhe IV seemed to want to kill Brek!"
This story reminds me a lot of Jerry Sohl's "One Against Herculum." If you like Sohl's novella, you will probably like this. This is a sort of 1950s science fiction I don't care for.
Robert Silverberg was present as "Alexander Blade" in "3117 Half-Credit Uncirculated." A tale of a stolen coin that ends on a twist.
Silverberg was also present as "Ralph Burke" in "The Reluctant Traitor." A Terran spy is captured and mentally conditioned to be a traitor. This was not a bad story, better than "3117 Half-Credit Uncirculated."
This was the last issue of Science Fiction Adventures. There had been a science fiction boom in the late 1950s and now the market was contracting. There was an economic recession starting in late 1957 that probably played a big part. Science Fiction Adventures had competition from Ziff-Davis' Amazing Stories and Fantastic Stories that were more lowbrow. Mercury Press published Venture Science Fiction from 1957 to July 1958 for ten issues. Fiction was similar to what was in Science Fiction Adventures but with Poul Anderson, Leigh Brackett, Tom Godwin, and Theodore Sturgeon.
Science Fiction Adventures did not have the breadth of talent of Venture. SFA depended very much on Robert Silverberg delivering a stream of stories to make up issue after issue. The magazine never had Leigh Brackett or E. E. "Doc" Smith.
There appears to be a change in reading habits. Another competitor to Science Fiction Adventures was Super Science Fiction. That magazine lasted a little longer with several special all monster issues. Larry Shaw would go on to edit a magazine, Monster Parade, that would last for four issues from late 1958 into early 1959. The Universal monster movies were showing up on T.V. helping to start the rebirth of horror.
If you are interested in reading fiction from Science Fiction Adventures, an easy way is to pick up the Robert Silverberg collections Hunt the Space Witch!, The Chalice of Death, and The Planet Killers. All the Silverberg fiction from SFA worth reading is in those collections. John Brunner's Interstellar Empire is one of my all time favorite space opera books. Lancer Books had three editions of Great Science Fiction Adventures. The biggest problem is finding a Lancer book whose binding has not disintegrated.