Living dungeons, vengeful fathers, dragons, and mechs fill this week's new releases.
---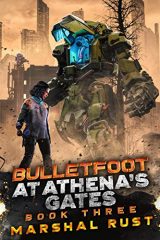 At Athena's Gates (Bulletfoot #3) – Marshal Rust
Centuries ago, humanity crawled inside its bunkers and vowed never to come out. The air was too toxic, they said. The earth, too dangerous. But not everyone agreed . . . 
The Auburn Revolution is fully underway. 
The odds look hopeless: a bunch of farmers against an army. But the Knights, secure in their honor and their armor, lay siege to the ominous bunker that has held Auburn in its grip for so long.  
Joining them is the mysterious figure known as the Prophet and the Western Railroad Company, which has always had a keen eye on this particular patch of turf. 
However, this is no mere bunker, and its terrible commandant is a ghost who reaches out from the Knights past to strangle them. 
Will honor prevail?
---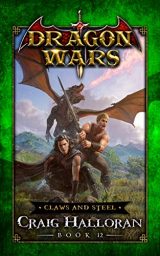 Claws and Steel (Dragon Wars #12) – Craig Halloran
With no other options on the table the blood brothers must execute their most reckless plan of all or die trying. 
Black Frost has the entire world crushed underneath of his talons, and Grey Cloak and Dyphestive are running out of options to defeat him. They need an army and will lock horns with thier allies on how to get it. Meanwhile, at the bottom of the world, Zora makes new enemies unlike anything she has ever encountered before and the lives of Talon will never be the same. 
With time running out, resources getting low, and an inner feud brewing, will the Blood Brothers and Talon be able to come together and find a way to thwart Black Frost, or will their own personal agendas spell doom before the battle even starts? 
---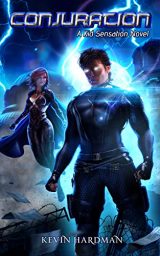 Conjuration (Kid Sensation #9) – Kevin Hardman
Jim (aka Kid Sensation) counts himself fortunate in that his friends have always been there for him, and he – in turn – tries to be there for them. That's why it is with a great deal of enthusiasm that he looks forward to attending an event honoring his friend, the teen warlock Kane. However, his plans are immediately complicated by two factors.
First, an emissary from the nigh-omnipotent group of beings known as Incarnates unexpectedly appears on his doorstep. It is an arrival that, while not unwelcome, introduces a certain amount of unpredictability and chaos in his life.
In addition – and of much greater concern – his friendly visit with Kane is utterly derailed by a mysterious and deadly force that attacks randomly…and with murderous intent.
Focused on keeping the body count from rising, Jim quickly realizes that he is dealing with an adversary capable of destroying the entire world – and determined to do so. Even worse, it also becomes apparent to Jim that this enemy is beyond his ken, and even his vaunted super powers may not be enough to avert the global cataclysm that is coming.
---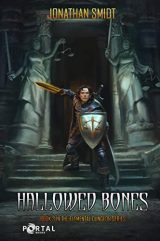 Hallowed Bones (Elemental Dungeon #3) – Jonathan Smidt
The dungeon cores are dying.
In the wake of the demon invasion, dungeons are being exterminated to protect the land. The Cult of Chaos may have been defeated, but the Exalted One remains in the shadows, pulling the strings.
Now his time has come.
Ryan, struggling with memories of his life as a human, finds himself once again under threat from the Church. Only by growing to the fabled diamond tier will he have a chance to save those around him. This time it's all or nothing, because the God of Death is watching.
Can a dungeon defeat a god? It's going to take a little more than a stalactite to the head…
---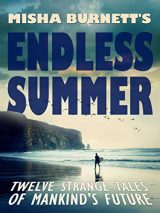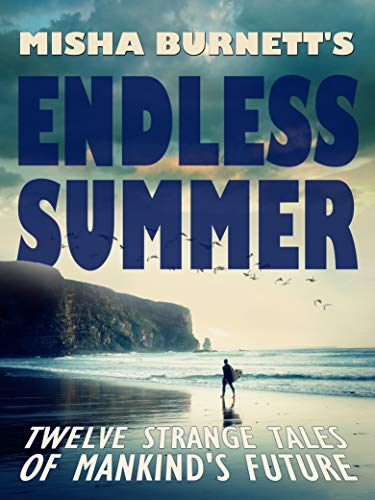 Misha Burnett's Endless Summer – Misha Burnett
Misha Burnett is a master of the macabre and champion of the New Wave. His talent for tales runs the gamut of weird fiction from contemporary Urban Fantasy to Sword & Sorcery to Science Fiction, all with his unique (and slightly twisted) take!
Misha Burnett's Endless Summer is a collection of strange and chilling tales of Mankind's future, near and distant, from tomorrow until beyond the mark of history, through Civilization's zenith, decline, destruction, and ultimately, Mankind's rebirth!
Cirsova Publishing invites you to embark on an incredible and breathtaking journey across the ages, beginning with the time-travel thriller from the pages of Cirsova magazine, The Bullet from Tomorrow, and running through eleven original stories that hold up a mirror to the worst and, more importantly, the best that humanity has to offer!
---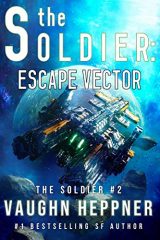 The Soldier: Escape Vector – Vaughn Heppner
Marcus Cade had to cross 800 lonely light-years to Earth so he could begin searching for his beloved wife. But he was broke and his spaceship badly needed an overhaul.
So he traded his one-of-a-kind Gyroc rifle to a stingy and half-mad mechanic for a cheap fix and a Nion XT Navigator.
When Cade went to sleep during the journey, the traitorous nav performed its secret function, bringing his ship to a rift, through a vortex and into the web of an extraterrestrial conspiracy.
Cade was not amused, not one damn bit. Meaning, the aliens might have gotten more than they bargained for, as Cade was a super-soldier and a hard-bitten survivor from the Old Federation. He launched a one-man crusade, determined to rip their pocket universe apart or die trying so he could escape and continue to search for his dearest Raina.
---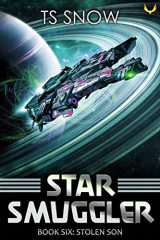 Stolen Son (Star Smuggler #6) – T. S. Snow
It was a last adventure…a final fling…
Sinbad sh'en Singh, patriarch of the Clan sh'en Singh, has finally gone off the Deep End—at least that's what his children think.
Fed up with the younger generation's condescending ways, he's resigned as CEO of sh'en Singh Shipping, and with youngest son, Mal, and grandson, Lynx, is sailing away on a sentimental journey.
Retracing the steps of that fateful first voyage he made with his beloved Andi, all Sin expects to worry about is dodging old girlfriends, renewing the acquaintance of former comrades-in-crime—if any are still around, that is—and keeping the boys sober.
When Mal disappears, the light-hearted cruise becomes a deadly manhunt.
A frantic father searches for his missing son with one goal in mind: Find Mal and punish the ones who took him.
---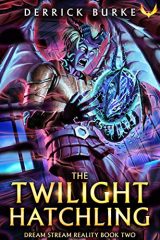 The Twilight Hatchling (Dream Stream Reality #2) – Derrick Burke
Game life is good… when nobody is bothering you.
With Donald and his friends having moved into the all-expenses-paid, plush suite within the DSR Corporation's headquarters along with several other beta testers, their lives have certainly taken a turn for the better.
Well, except for Donald's love life. It turns out his girlfriend Rosie has been cheating on him while also playing without him and behind his back. Double ouch. If that wasn't bad enough, an old flame of his is he turned down when reunited is now taking potshots at him at every opportunity. At least he has his friends to help him through it.
Having a barrel full of laughs while playing games with your friends is a surefire way to get over a girl, right?
Speaking of, who knew becoming the Duke of Everhein would provide such lucrative bonuses and quests so early on in the game? Since Donald decided to save the kobolds instead of killing them, he is one step closer to clearing out the Glade of the various inhabiting clans. The question is, will any other encounter go as smoothly, or will there be some hiccups along the way?
There is some good news though. Once Donald and his friends have all named their new AI's, they will be able to summon them into the realm of Orbis as familiars. There's a catch, however. They have no idea what the creatures will be.