This week, the Ozarks become Ground Zero for a fantasy invasion, King Arthur is found in space, and the World Wrecker and Henry Kuttner's Elak return.
---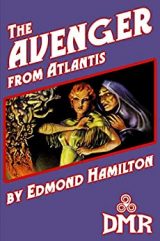 The Avenger from Atlantis – Edmond Hamilton
Action, excitement, wonder—three elements that are sorely lacking from most of today's science fiction. But that wasn't always the case! Edmond Hamilton, one of the greats from the Golden Age of SF, knew how to deliver the thrills that sci-fi readers looked for. This collection contains some of his finest and least-reprinted sci-fi adventure stories. If concepts such as fighting men of disparate ages uniting against alien tyrants, Atlantean scientists attempting immortality, or a civilization inside an active volcano sound more appealing than stories about gadgets, gizmos and eggheads, then this is the science fiction book for you!
Stories included:
"The Six Sleepers" 
"The Fire Creatures" 
"The Avenger from Atlantis"
"Child of Atlantis" 
"Comrades of Time"
"Armies from the Past"
"Dreamer's Worlds"
"The Shadow Folk"
---
Black Dawn (Fae Nexus #1) – Nathan Amaye
Gage came home to the Ozarks to mend fences with the friends he'd left behind. But when a solar storm reconnects Earth to the Fae Nexus, the world is engulfed in magical energy, altering the laws of nature… violently. Fuel, ammunition, and electronics explode, leaving the world in a dark apocalypse.
As the flames die down, demons emerge through the Fae Nexus, swarming Gage's hometown and enslaving the survivors.
To fight back, Gage and his reunited friends harness Fae powers, becoming the Wizard, Ranger, and Fighter they've always played in their favorite roleplaying game.
With the help of a pair of moonshiners turned Alchemists and the ghost of a long-dead gunslinger, Gage and his friends have to level up fast to free their families and defend their home against the demonic horde.
He may have walked away once, but this time the only thing Gage is leaving behind are his regrets and a pile of dead demons.
---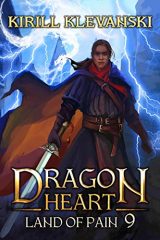 Dragon Heart: Land of Pain – Kirill Klevanski
His name is Hadjar Darkhan, and he still follows the call of his dragon heart.
The War Games ended a few months ago, and the various generals of Darnassus, led by the Emperor, realized that just the disciples of the best martial arts Schools and even the smaller, lesser schools wouldn't be able to strengthen the Darnassian Army enough to prepare it for what was coming. A war was on the horizon, and every weapon would matter, so losing even the most inexperienced warriors was an unthinkable prospect.
The Empire had never prepared for battle on such a massive scale before. They'd gathered tens of thousands of Spirit Knights and hundreds of thousands of Heaven Soldiers in just a short time. But would that be enough to combat the countless hordes of the enemy? Or were these just the death throes of a once vast Empire?
Hadjar, whether he wanted to or not, would be part of this upcoming war. Moreover, his role might end up being far more significant than he'd originally assumed.
Before a decisive battle begins, he must plunge into a maelstrom of war preparations, which doesn't bode well for him…
---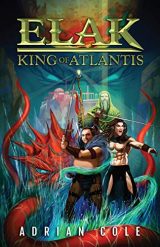 Elak, King of Atlantis – Adrian Cole
Henry Kuttner's classic sword-and-sorcery pulp hero returns in new tales from British Fantasy Award-winning author Adrian Cole.
Unlike Robert E. Howard's barbarous Conan, Elak's royal blood destines him for a life spent among courtiers, courtesans, and castles. But Elak spurns his nobility, preferring the dangers of the road to the dainties of the palace. In league with his comrades, the drunken thief Lycon and the druid Dalan, Elak turns his blade against vile sorcery, brutish creatures, and mighty warriors.
Adrian Cole reincarnates Elak with five meaty tales of sword-and-sorcery:
Blood of the Moon
Witch Queen of Doom Island
Revenge of the Sorcerer
Spawn of the Sea God
Sky Warriors of Atlantis
Whether you're new to Elak or have thrilled to Henry Kuttner's original stories, you'll feel the locomotive rush of classic sword-and-sorcery in the hands of a modern master.
---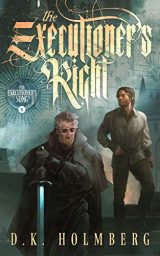 The Executioner's Right (The Executioner's Song #1) – D. K. Holmberg
Executioners don't solve crimes, they punish those who commit them. Or so Finn thought before apprenticed to one.
Poverty-stricken Finn Jagger would give anything to heal his ailing mother. With his father imprisoned, Finn has joined a thieving crew to earn the money he needs to save her. When the latest heist turns to disaster and lands him on death row, Finn's future seems to be tied up with a noose.
Until the king's executioner claims him as an apprentice.
Finn soon learns an Executioner has far more power and greater responsibility than he'd ever realized. As inquisitor and detective, he must find the truth behind each sentence he carries out. It's a challenging job, but one that Finn is surprisingly good at.
When the crew decides Finn could be the key to completing an impossible heist that threatens the kingdom, he's forced to choose between his new job and his old friends.
And making the wrong choice could cost him everything.
---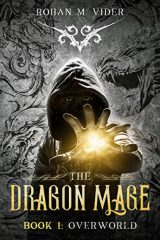 Overworld (Dragon Mage Saga #1) – Rohan M. Vider
A magic apocalypse. Refugees from Earth. A new world. Elves, orcs, and dragons!
Portals from Overworld have appeared on Earth, and beings intent on conscripting humanity into the mysterious Trials have invaded.
Earth is doomed. Humanity has been exiled. Can Jamie save mankind?
Jamie Sinclair, a young man with unique gifts, must find a way for his family and friends to survive Earth's destruction and build a new home in Overworld.
The Trials is not a game. Will Jamie survive its challenges?
Join Jamie as he struggles through the brutal Trials while wrestling with his new magics and Overworld's game-like dynamics.
A fantasy post-apocalyptic survival story of one man's journey to save humanity.
---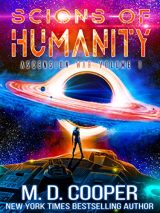 Scions of Humanity (Aeon 14: The Ascension War #1) – M. D. Cooper
The Orion War is over and new peace is spreading…
It will take centuries for the legacy of the prior conflict to fade away, conflicts spurred on by diasporas and resource restrictions that will ripple through the Perseus, Orion, and Sagittarius arms of the galaxy.
Yet in the wake of those final battles comes a reprieve, a new peace maintained by the knowledge that total war is too devastating to even contemplate, that the weapons employed–should they come into common use–would lay waste to the galaxy.
Admiral Tanis Richards, the former Field Marshal, wishes nothing more than to retire to her lakehouse and stare out over the rippling waters for a year or two, but knows she cannot. For the greatest enemy that humanity and free AIs have ever faced waits for her at the galactic core. Epsilon, a powerful AI, his nodes filling an entire world, is has his mind bent on remaking the universe, and organic life is not in the blueprint.
Though they yearn to enjoy the fruits of their labors, Tanis and her allies must prepare for one final battle against the scions of the human race. They must prepare to fight The Ascension War.
---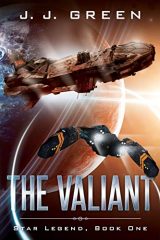 The Valiant (Star Legend #1) – J. J. Green
King Arthur in outer space?
Endless warfare has ravaged Earth, and billions are desperate to escape. One of them is Taylan Ellis.
Driven from her home in the West Britannic Isles by an invasion and severed from her children, Taylan enlists with the Britannic Alliance, hoping she can help regain her homeland and find her kids.
But decades of internal conflict and terrestrial and space warfare have left the BA on the edge of collapse.
Then its battleship, the Valiant, picks up a distress signal. The rescuers break into a sealed chamber and find the apparently mummified remains of an Iron Age chieftain. Disappointed, they're about to leave when they discover the 'mummy' has a pulse.
Taylan suspects she knows who the mystery man is and what he's capable of. If she's right, can she convince her superiors and save the BA, her country, and her children?
---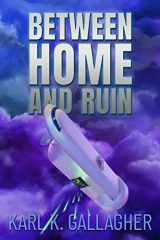 Between Home and Ruin (Fall of the Censor #2) – Karl. K. Gallagher
Niko Landry and his crew thought a routine hyperspace survey would be easy money. But when the barrier separating their homeworld from the rest of the human race opens, they seize the chance to go exploring . . . finding an empire more dangerous than they imagined.
The Censorate erases all information over a lifetime old. The newly discovered Fierans must give up the art and history they preserved from Old Earth . . . or face war.