This week's science fiction and fantasy new releases feature alien chi cultivators, intergalactic skip tracers, dragon riders, the Legion, and the Four Horsemen.
---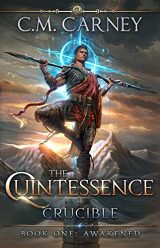 Awakened (The Quintessence: Crucible #1) – C. M. Carney
Cultivation. Progression. Ascension.
On the world of Crucible, where humanity's spiritual artists train to fight in a war of universal proportions, Aryc Tal Venn has the potential to be one of the gods.
But when he accidentally unleashes heretical powers during his Challenge, he is forced to flee his home or face the wrath of the Inquisition.
With his sister by his side, Aryc begins a quest to uncover the truth of his own existence.
Only to discover a terrible secret.
A secret with the power to destroy humanity.
Will Aryc master his unnatural powers in time to save the people of Crucible or will he be the harbinger of humanity's destruction?
---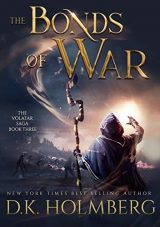 The Bonds of War (The Volatar Saga #3) – D. K. Holmberg
War breaks old bonds while new ones form.
The threat of the mysterious creatures that can drain different types of magic sends the Volatar and his friends on a mission to uncover answers from the tu'alan, but the last time he had visited them, they had refused to get involved. Finding answers poses a danger, and it involves him mastering his control over the great powers he possesses – or lose them altogether. With the coming threat, he begins to question if his new understanding of his magic will even be enough.
After an attack on the wagon caravan making its way north with the Jahor, Hevith chases an old foe for answers. What he uncovers will change the complexion of his purpose, but he must have the fortitude to make the difficult choices to protect his people. War with the Hith is coming, and he must be ready.
---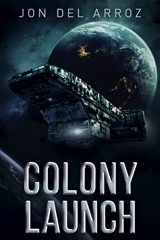 Colony Launch (Ixora Colony #1) – Jon Del Arroz
Humanity is at war…
…many citizens want no part of it.
Governor Antony Lemkin has done the unthinkable as a politician–voluntarily stepping down from his post in protest of Earth's escalating war with the Aryshans.
With war drums beating and the machinery of government going full force, there's little he can do to but voice his dissent, until mega-industrialist Fabio DePino presents him with a plan: build a new Earth, far away from humanity's conflicts.
But will Earth's government simply let colonists leave their control?
---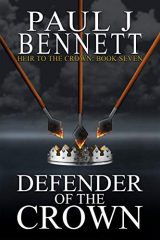 Defender of the Crown (Heir to the Crown #7) – Paul J. Bennett
The enemy of my enemy is still my enemy!
As peace settles across the land, two great kingdoms prepare for a royal wedding. With all eyes focused on the celebrations, the unexpected arrival of a Norland delegation throws everything into chaos.
For generations, they have laid claim to the throne of Merceria, yet now they want to negotiate?
With her own nobles council in constant conflict, Queen Anna is forced to question the motive of this visit. Is it a trap, or a genuine desire to end hostilities?
Against the wisdom of her advisors, she travels north, determined to forge a new future for her people.
Will her unwavering desire for peace lead to the destruction of all she holds dear?
---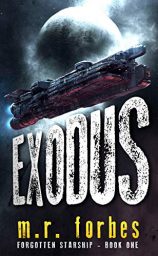 Exodus (Forgotten Starship #1) – M. R. Forbes
In the year 2050, Earth makes first contact. By 2052, the war is over. We lose.
Our last hope for survival rests inside a massive hangar hidden within the Rocky Mountains. Pioneer is the largest starship ever constructed. A marvel of human ingenuity and the apex of our technological know-how, she's ready to embark on a long journey across the final frontier in search of a new world to call home.
But space is full of danger.
And some problems are hard to leave behind…
---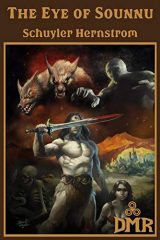 The Eye of Sounnu – Schuyler Hernstrom
Once upon a time, short fiction was the mainstay of science fiction and fantasy readers. Titans like Robert E. Howard and Jack Vance worked their magic on magazine and pulp pages, delighting readers with strange visions and pulse pounding action. In 2016, editor P. Alexander dared to bring those days back with the launch of Cirsova, a magazine of science fiction and fantasy fiction.
DMR Books is proud to present a collection of one of Cirsova's rising stars, Schuyler Hernstrom. These stories will take the reader across strange and sweeping landscapes of adventure. Life and death, blood and desire, greed and sacrifice, all and more are contained within. Classic barbarians and classic rogues are here, along with Dunsanian knights and witches, sentient computers and savage beasts. This collection includes all of Hernstrom's stories from the first three years of Cirsova along with three tales that have never appeared in print before.
---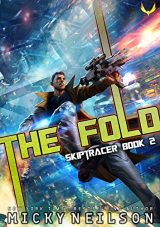 The Fold (Skiptracer #2) – Micky Nelson
Another job, another problem.
Skiptracer Blake Hartley has formed a tenuous alliance with the alien Sekkha on what should be an easy job: escort a young boy named Jorn Freyul to their client. That's it.
But they soon find out that Jorn is more than he seems. He's known as the Exegent, a divine-like figure among members of a fanatical order called the Fold.
Unfortunately for Blake and Sekkha, Jorn also possesses classified information that will not only put their lives in jeopardy, but also ties in to a devastating secret from Blake's last job—Hypertek.
Now, Blake must hide the boy from Fold zealots while fighting to prevent yet another interstellar war.In other words, situation normal.
---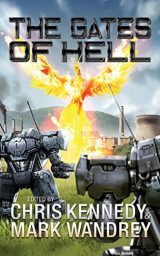 The Gates of Hell: More Tales from the Lyon's Den (Four Horsemen Sagas #4) – edited by Chris Kennedy and Mark Wandrey
From the outside, The Lyon's Den doesn't look like much; there isn't even a sign. But Mercs of all species know that if you head to southwest Houston, near the Starport, there's a particular run-down strip mall that looks like it's been abandoned for years. The glass door second from the south end of the strip is plastered over on the inside with blue paper, and the faint golden outline of a rampant lion is the only clue.
The door is locked, of course, and beyond the door is nothing but a darkened hallway with a downward slope and a slight curve to it. Once you follow this curve far enough, you are greeted by two very large, very well-armed Lumar. "Welcome to the Lyon's Den," the larger of the two says without a translator, and without a trace of an alien accent. "You know the rules?"
Welcome back to the Four Horsemen universe, where only a willingness to fight and die for money separates Humans from the majority of the other races. Edited by bestselling authors and universe creators Mark Wandrey and Chris Kennedy, "The Gates of Hell: More Tales from the Lyon's Den" includes fifteen all-new stories in the Four Horsemen universe by a variety of bestselling authors—and some you may not have heard of…yet. Want to know why Asbaran Solutions changed its logo or where Roland's head went? Better learn the rules to the Lyon's Den…and then step inside!
---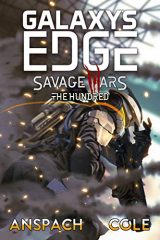 The Hundred (Galaxy's Edge: Savage Wars #3) – Jason Anspach and Nick Cole
The Legion has landed.
One hundred men met the brutal standards of General Tyrus Rechs and became legionnaires.
One hundred men embarked on a suicide mission to retake New Vega from the Savages.
One hundred men stood up… for the galaxy.
Also available in audio book format performed by Stephen Lang (Avatar, Gods and Generals), Galaxy's Edge: The Hundred is the exciting conclusion to the Savage Wars trilogy as the Legion launches a desperate, brutal assault against the overwhelming forces of the Savage Alliance.
---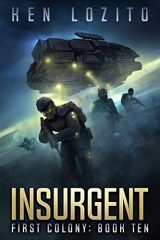 Insurgent (First Colony #10) – Ken Lozito
As Connor secretly searches for the enemy homeworld, he launches clandestine military operations to liberate other worlds in hopes of gaining allies before the enemy can find the last human colony.
The humans cannot hope to compete with the enemy's vast empire, but with the discovery of a new ally, Connor believes their luck has finally changed.
Instead, when new allies clash with the old, Connor finds himself caught in the middle. Connor will have to choose whether doing what's necessary to ensure the colony survives is worth compromising his loyalty to allies close to home, but the price could ultimately tear the colony apart.
Surviving a war with the enemy isn't always a numbers game, but in choosing one ally, will Connor lose it all?
---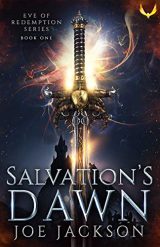 Salvation's Dawn (Eve of Redemption #1) – Joe Jackson
When Citaria falls under the shadow of a demonic incursion, only a legendary hero can stop them.
For Karian Vanador, though, being resurrected comes with a price. Not only is she in a different time and place, but the world has changed in her absence, and she must face the dark demons of her past once again.
Partnered with allies who would've been her enemies in her past life, she must adapt to this new world and lead these young heroes to fulfill their potential – to stop a civil war being stoked by demonic influences. If they fail, Citaria may fall to a war that dwarfs the Apocalypse.
What lies beneath the demons' sudden interest in Citaria? And how is one woman supposed to counteract it? The gods sent their best, but can she become the hero of today as well?
---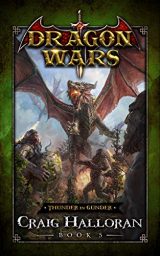 Thunder in Gunder (Dragon Wars #5) – Craig Halloran
When the blood brothers' adventures begin to simmer down, a new sinister menace surfaces…
The newly reunited brothers, Grey Cloak and Dyphestive, deserve a break. After all, they spend their days and nights battling enemies who want to destroy them. It's exhausting and overwhelming for the blood brothers who just crave some down time.  But when their fiercest enemy launches a surprise attack, it puts all Sky Riders' lives in peril.
Now, with a new set of thieves and kidnappers on their tails, Grey Cloak and Dyphestive must act fast. But as a war between giants and dragons brews hundreds of leagues away, the fate of their world is again thrust into their hands.  Can the brothers band together to save a member of the Talon before it's too late?
If you crave riveting tales, complete with magic, dragons, dwarves,  and orcs, then you are sure to embrace the brazen and mysterious exploits of Grey Cloak and Dyphestive.
If you enjoy epic fantasy, filled with the gamut of elves, dwarves, halflings and orcs,  along with mages, thieves and warriors to dragon riders, then you will devour the mysterious and brazen adventures of Grey Cloak and Dyphestive.