Every week, the Castalia House Blog spotlights some of the many new releases in independent, pulp and web novel-influenced science fiction and fantasy.
---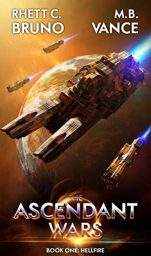 The Ascendant Wars – Rhett C. Bruno and M. B. Vance
When the rules of war keep changing, fight for each other…
Humanity has been banished to a distant star. Left to fight over resources rationed to them by mysterious machine-overlords known as Wardens.
Commander Rylan Holt labors against inter-colony arms trafficking when an informant gives him horrific news. The ruthless cartel boss, Lilith, has stockpiled outlawed weapons of mass destruction.
Worse, she claims to have permission from the Wardens to unleash them upon the system.
When the battleship Audacity speeds to investigate Rylan's discovery, operations officer Scott Carrick finds himself in a trap more deadly than he could have ever imagined. His only hope of escape may lie with their most junior crewmember, a nurse named Aila Okuma, who's never seen battle.
As Rylan, Scott, and Aila struggle to survive a war where the rules keep changing, they must answer a terrible question: how do they win when it seems the Wardens intend for everyone to lose?
---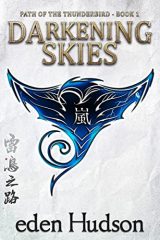 Darkening Skies (Path of the Thunderbird Book 1) – eden Hudson
A boy abandoned at an ancient school of warrior arts. A princess bartered away as a treaty bride. A lurking evil with the power to topple the world.
Ji Yu Raijin is happy to live out his life serving his school, cultivating his life force, and learning the Path of Darkening Skies, an ancient and noble warrior art—until the day comes when he has to choose: remain true to the teachings of his path and allow his art to die out or commit an unforgivable sin and save the world.
Second princess Shyong San Koida was born the only cripple in a dynasty of powerful warriors. With a broken life force, the only way Koida can contribute to her family's empire is by sealing a strategic alliance to a barbarian leader with her hand in marriage. But hidden forces within the court conspire to stop the union and obliterate the Shyong San dynasty at all costs.
At the intersection of the servant boy and the princess's stories lies a secret, malignant art bent on destroying not only them, but the entire world.
---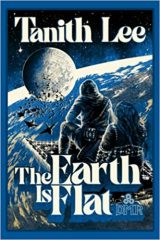 The Earth is Flat – Tanith Lee
IN THOSE DAYS THE EARTH WAS FLAT
In the 1970s and '80s, Tanith Lee composed five books' worth of tales of the Flat Earth, a fantasy series compared to both Clark Ashton Smith's Zothique and The Arabian Nights. In later years she would return to the setting for five more stories. All five are included here, along with many others that showcase Lee's talent for crafting spellbinding tales of heroic warriors, enigmatic magicians, and strange deities.
Stories included:
"The Origin of Snow"
"The Man Who Stole the Moon"
"The Snake"
"The Pain of Glass"
"I Bring You Forever"
"Foolish, Clever, Wicked and Kind"
"Blue Vase of Ghosts"
"After I Killed Her"
"Cold Spell"
"Beauty is the Beast"
"Into Gold"
"The Truce"
"The God Orkrem"
"The Kingdoms of the Air"
---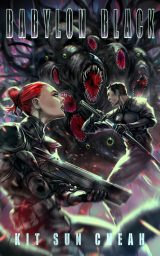 Babylon Black – A crowd-funded campaign by Kit Sun Cheah
Yuri Yamamoto is back.
After two years of self-imposed exile, the disgraced operator turned street samurai has come home to Babylon.
Just in time for the country to tear itself apart.
The armies of the New Gods are on the march. Monsters in human skin await activation orders. Spies and deniable operatives wage a war of assassins. Minority communities are forced to choose sides—or be destroyed. With every act of aggression, the New Gods bring mankind closer to ruin.
As the world races towards the apocalypse, what can Yuri and his team of battle-hardened guerillas do?
Team Black Watch can't fight the New Gods head-on. Even with Yuri's divine gift, their numbers are few and their resources scarce. They must make new allies, carve out safe havens, turn their enemies against each other, and attempt to stave off the inevitable.
They can't save the world.
But they're going to try.
The crowd-funded campaign will close on 8 April, 2023.
---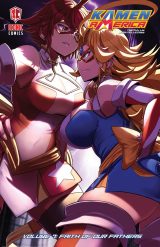 Kamen America Volume 7 – A Kickstarter by Timothy Lim and Mark Pellegrini
"Charlotte 'Carly' Sasha Vanders was an aspiring fashionista whose life was changed after being fatefully impacted by cosmic debris! Now a human battery, she uses her supercharged status to rebrand herself as a henshin-heroine. However, she quickly learns that sometimes doing what's right isn't always fashionable as she battles the forces of evil as the patriotic paladin known as KAMEN AMERICA!"
Kamen America, Volume 7 takes place in a world divided between light and dark. As the Kamen Corps is split across the United States and the world in a desperate attempt to fend off the Otomotons, the Zenerengers are plotting their next move by targeting specific power stations!
To this end, Cynthia Prestige takes advantage of the situation and enlists the help of Zener Ecto and Zener Psycho to enact the last part of her nefarious plan. But what devastating and revealing repercussions will this have on the Kamen Corps? Find out in this penultimate chapter of the second Kamen America saga!
This Kickstarter will remain open until 6 April 2023.
---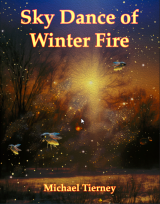 Michael Tierney's Sky Dance of Winter Fire – a Kickstarter from Cirsova
For Michael Tierney, it was nothing more than moving a stack of firewood; for Wallflower, one of the insects living in the pile, it was the beginning of the adventure of lifetime.
A few years back, author and artist Michael Tierney was out during a bout of surprisingly good winter weather, restocking his firewood. Huge waves of winter fireflies rose into the sky in an explosion of light.
This fantastical spectacle stuck with Michael, and sent him on flights of fancy. He envisioned the miraculous flight within context of an epic adventure and struggle. He wondered how those bugs that had been in the woodpile might have envisioned him: a giant; a monster; an out-of-this-world alien being?
Michael initially put the story of the sky dance to paper, but that was not quite enough. He also wanted to capture the essence of those moments in art and imagery. Sky Dance of Winter Fire was born as a digital mixed-media storybook that Michael Tierney and Cirsova Publishing would like to bring to you now…
This Kickstarter will remain open until 6 April 2023.
---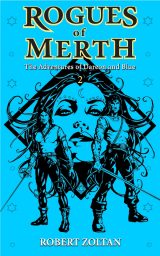 Rogues of Merth: The Adventures of Dareon and Blue – a Kickstarter from Robert Zoltan
One Night in Merth, that most westerly city tottering on the edge of  the Succulent Sea, a desperate young poet swordsman and an ingenuous  young tribal warrior meet by chance or fate or luck. Their unlikely  friendship sets them on a course of adventures across the wild  mysterious continent of Plemora, where they face monsters, magicians,  maledictions, and things nameless and far stranger.
This is the first publication of Rogues of Merth, Book 2! In Book 2, the poet swordsman Dareon Vin and the Indari warrior known as Blue return to the city they both love and hate. Reunited with the Khulanese Dancer, Malika, they encounter delights and dangers both old and new, marvels beyond comprehension, and nightmares of horror that take them from the glittering starry rooftops to the subterranean depths and even beyond the world of Plemora. Ten new tales!
You can get both Book 1 and 2 as PDFs, paperbacks or hardcover editions! Twenty tales of Heroic Fantasy Sword and Sorcery Adventures in the tradition of the Golden Age (Fritz Leiber, Jack Vance, Michael Moorcock, Robert E. Howard, and C.L. Moore).
This Kickstarter will remain open until 17 March 2023.