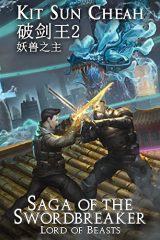 Lord of Beasts (Saga of the Swordbreaker #2) – Kit Sun Cheah
When beasts swarm the Central Plains, the city-state of Yudu issues a call for aid. Martial cultivators from across Xiazhou descend on Yudu, chasing dreams of wealth and glory. Among them is Li Ming and his fellow biaohang from Dayong.
Shattered by recent losses, Dayong needs to rebuild their reputation, earn much-needed revenue and expand their influence. But when they arrive, what was supposed to be a straightforward beast hunt spirals out of control.
Old foes and new enemies crawl out of the woodwork. The beasts themselves are acting strangely. And from the shadows comes a plot to overturn the world of the rivers and lakes.
Surrounded by chaos and conspiracy, Li Ming and his allies must plunge into the fray and unmask those who seek to become the Lord of Beasts.
---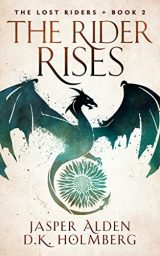 The Rider Rises (The Lost Riders #2) – Jasper Alden and D. K. Holmberg
The Lost Riders will return…
With the truth of the queen's deception revealed, Hal and his team must find new allies to stop her.
Their journey brings them into Dragon Valley, but they quickly learn that all is not well. A dark danger has come to Keershan's home, poisoning the dragons. If they want to find the help they need, they must first save the dragons—but the dragons no longer trust humans.
With war coming, they must choose a side. Could it already be too late?
---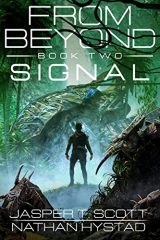 Signal (From Beyond #2) – Jasper T. Scott and Nathan Hystad
The Signal is on Earth. The world is being infected.
David Bryce returned in a crashed starship, but his mission was unsuccessful. He's sent to Alaska with his family, but the infection has already begun. When he finds an alien device, he might just be able to change the course of an impossible war.
The Signal is hidden somewhere on Earth. The race is on to find it before the invaders do, but an insidious ailment is spreading across the globe, making it difficult to know who to trust. Lennon Baxter leads a Dark Team, hunting the Stalkers as they seek to congregate. But what is their motive?
Atlas Donovan is the only man capable of helping the Association, and it's unclear whether he can trust the enigmatic Dark Leader. He heads to the Amazon jungle to search for the Signal, the fate of the world in his hands.
---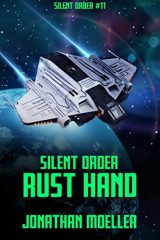 Silent Order: Rust Hand – Jonathan Moeller
A lawless space station. A ruthless pirate gang. And a superweapon that might destroy everything.
Jack March is on the most important mission of his life – find the Pulse superweapon before it can destroy the Kingdom of Calaskar.
To find the Pulse, he needs a ship that can make the dangerous journey to the Non-Aligned Systems.
But to get that ship, he'll need to return to Rustbelt Station and survive its dangers.
Because in the lawless depths of interstellar space, it's might that makes right…
---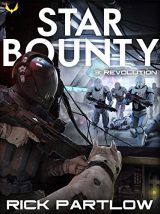 Star Bounty: Revolution – Rick Partlow
All's fair in love and war.
Grant Masterson is used to working alone. For years, it's been him and his robot Dog against the universe, hunting down wanted fugitives for the bounty on their heads.
But things have changed. He's working undercover for the Marshals Service, and he has a new partner, both in work and in life: Commander Allie Miller of Union Naval Intelligence.
Working together, they continue the hunt for Nautilus, the mysterious criminal entity trying to bring down the Union.
But when Grant and Dog try to help Allie take down a weapons deal Nautilus is trying to broker with terrorists bitter over defeat in a long and bloody war, will Grant's love for Allie become his greatest weakness?
---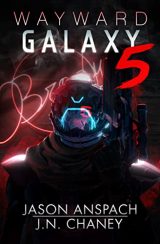 Wayward Galaxy 5 – Jason Anspach and J. N. Chaney
The future isn't what they expected.
A company of Army Rangers are sent on an interstellar colony ship to secure a foothold on a dangerous, alien planet through violence of action. Leaving behind a warring Earth flung headfirst into a conflict of mutual assured destruction, the Rangers and the accompanying crew of first colonists are guided on a 40-year journey by an unprecedented artificial intelligence.
But when they emerge from the frigid embrace of cryosleep, they awake to a nightmare, finding themselves greeted by the same ruthless enemy that brought about the ruin of Earth. Alone on a dangerous, alien planet and with no hope of rescue or relief, the military colonists are forced to finish the war they thought they'd left behind. And in an unknown galaxy, friends and enemies alike prove to be much more than they seem.
N-number Five is Alive!
Peace and a secure future are within the grasp of the Rangers and Osay colonists… if they can withstand the coming Reclamation Fleet.
But first they must deal with old enemies and the mysterious RUPAC research stations that will finally allow Reach, Brody, and company understand just where all of Amir's various factions truly stand.
---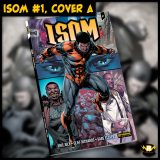 Isom #1: Ill Advised – a crowd funded campaign by Eric July
Avery Silman was once an entry-level hero known as Isom in the city of Florespark, Texas shortly after gaining his special abilities. A certain event had him hang up his suit, and now he stays on the outskirts of the city, living as a rancher.
Avery's sister, Altona, gives him a call and wants him to visit an old friend by the name of Darren Fontaino. Another family friend that was interning with Altona has gone missing and she last heard that she was dealing with Darren. But Darren has much changed since he was hanging out with Avery when they were young. He's a cold-blooded shot-caller and one of the most feared men in the city.
This visit turns into one of the longest days in Avery's life. Around these parts, people call 'special beings' Excepts. And unfortunately for Avery, he has the luxury of running into some of them. The Alphacore and Yaira have their own set of conflicts. A man built like a tank by the name of Santwan reappears and he's had previous confrontation with Avery. So what happens with Avery and Darren's meeting? Who and where is the family friend? Just grab Isom #1: Ill-Advised Pt. 1 and find out for yourself!
Open until 23 September 2022.
---
Light Unto Another World #6-10 – a Kickstarter from Yakov Merkin

While his army training prepared him for many things, Uriel Makkis had not been expecting to be suddenly pulled through a portal and stranded on another world. However, he was always adaptable, and quickly set out to make the world upon which he was stranded a better place, guided by his staunch faith and aided by his newfound friends, along with the skills and knowledge he brought with him from Earth.
Along the way, Uriel has made a bunch of new friends, new enemies, and changed the world forever. 
That's just the start of the story.
Now, having made many new friends, new foes, and changing this world forever, Uriel and his team face their most dangerous enemies yet as they start to unravel more of the mysteries surrounding them and this world.
Open until 18 August 2022.