Extra-solar colonies, time traveling cops, and man-eating sasquatches haunt this week's new releases.
---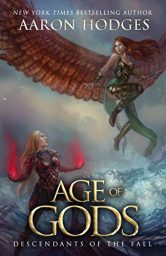 Age of Gods (Descendants of the Fall #3) – Aaron Hodges
Pursued by the inhuman Tangata, Lukys flees on foot through the wilderness. He and his companions make for the ocean, a stolen ship their only hope—but even that may prove fleeting. For should they reach the island of Perfugia, a war is brewing between the kingdoms of humanity. Lukys fears he will find only more death on the shores of their homeland. But they have nowhere else left to go.
Meanwhile, the Queen's Archivist might hold the key to peace. Standing before the City of the Gods, Erika has dreamed of this moment her entire life—so why does she feel such dread? The City is nothing like she imagined, plain stone buildings in place of soaring towers. And the Gods have sworn against interference in the struggles of lesser beings. She must make them see the truth, convince them to abandon their ancient laws, or humanity will fall. And the Tangata will rule, ascendant.
---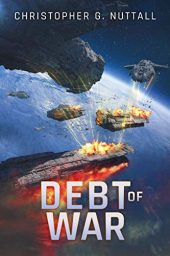 Debt of War (The Embers of War #3) – Christopher G. Nuttall
The Commonwealth Civil War has stalemated, but both sides—desperate to win at all costs—are looking for ways to end the fighting before everything they've built is turned to ash. King Hadrian, on the edge of madness, searches for allies who might help, at a price. His enemies, all too aware the battle is far from won, search for long-forgotten truths that might tear the king's forces apart and end the war in a single blow. For Admiral Kat Falcone and Commodore William McElney, caught on opposite sides, everything they've ever loved is at stake.
William knows a secret, a secret that may end the war if he and his friend Kat can work together long enough to use it. But powerful forces are arrayed against them, intent on fighting the war to the bitter end. One false move and they'll both fall into fire…
…And hundreds of planets will burn with them.
---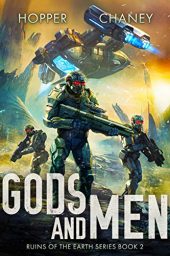 Gods and Men (Ruins of the Earth #2) – Christopher Hopper and J. N. Chaney
Humans are herded like sheep for the slaughter.
And their only hope for survival lies with a team who just left the planet.
Following their successful mission to destroy the slaver ring in New York City, Wic and the members of Phantom Team pass through the Antarctic's origin ring and find themselves deep in the heart of the Androchidan Empire.
But as the scope of the alien specie's operation becomes apparent, Phantom Team realizes they can't standby as humanity is culled into submission. Efforts must be made to slow the enemy's progress, if not stop it altogether.
Under Wic's leadership, the team devises a plan to infiltrate and neutralize part of the Androchidan's operation. Allies are made, and resources are acquired. But when enemy spies find evidence of collusion, it is only a matter for time before the Phantoms' hopes of thwarting the enemy are dashed.
Will Wic and his elite team of warriors succeed in reversing the tide of the Androchidan invasion? Or will they succumb to the unrelenting power of the most notorious slaver operation in the galaxy?
---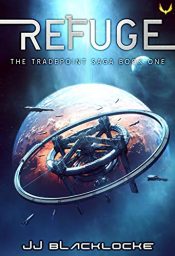 Refuge (Tradepoint Saga #1) – J. J. Blacklocke
A Dangerous Haven. Adapt or die.
Nine hundred Vennans undertake a cultural exchange to Tradepoint, a space station where aliens from different worlds meet to do business. A young and gyfted Speaker, Gredin, is translator and diplomat for the happy occasion.
But a horrific vision shatters her first night's sleep on Tradepoint. Venna, their homeworld, has been destroyed. Now the safety of the delegation, the only Vennans left in all of time and space, rests on Gredin's young shoulders.
Stunned and grieving, she navigates trade wars and political prejudice, bartering with other races—some friendly, some neutral, some outright hostile—for what her people need to survive. And the cost of failure is the unthinkable.
Extinction.
---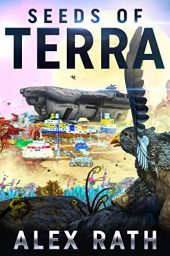 Seeds of Terra (The Terran Space Project #1) – Alex Rath
The race to colonize is on!
With industrial expansion on Earth bringing the planet's habitability into question, there's only one place to look. Up. And, with both the Moon and Mars colonized, the next best option is outside the Solar System. Captain Maxwell Reeves, a former test pilot for the United States Space Force, and his wife, Annica, moved to Switzerland to assist in that effort. They both joined the Terran Space Project, a group with no allegiance to any country or government, with one purpose—to send people to space.
The Wormhole Traversal Project was formed within the TSP four years ago when exploration vessels detected a wormhole at the edge of the solar system, and a probe launched to test the wormhole showed back up in the Alpha Centauri system.
Four hundred people signed on to be part of the mission to Alpha Centauri, and Traveler, Earth's first extra-solar colony vessel, was constructed. Now, Captain Reeves is ready to take the ship and its crew and colonists through the wormhole to find a new home, but some questions remain. Will they actually end up at Alpha Centauri? What will they find there? And—worst of all—when the traitor emerges, will Captain Reeves be ready for the most difficult mission of his life?
---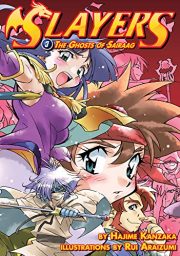 Slayers: The Ghosts of Sairaag – Hajime Kanzaka
Beautiful and brilliant sorcerer girls just can't have nice things, huh? All I wanted to do was swipe a little bit of bandit treasure. Now suddenly I'm being chased around by icky trolls, nasty demons, mean mummies, and brooding golem bad boys. Hah! I'll show them there's a reason you don't cross Lina Inverse…
All me and Gourry wanted was a peaceful little road trip, but we can't take one step without wannabe heroes showing up to "vanquish" us! You'd think there was a bounty on our heads or— Wait, there IS?! Ah, crap. Better head to Sairaag to get this whole mess sorted out! Sure hope it's just a big misunderstanding and not some complex plot by an old enemy to lure us into a— Wait, WHO issued the bounty? Oh, boy…
---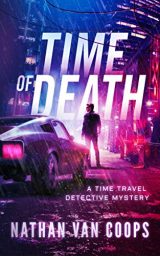 Time of Death – Nathan Van Coops
Revisiting the past can be murder.
Private detective Greyson Travers has a secret, but he isn't the only one.
When a stunning widow asks him to investigate the suicide of her husband, Greyson plans for an easy resolution.
But a quick look into the past gets dangerous for his future. He isn't the only one interested in the case, and the longer he's involved, the more victims turn up dead.
Greyson can travel through time. It makes him the best sleuth in the city. But every advantage comes at a cost. Under pressure from a powerful mob kingpin and an agency governing time, his investigation will take him deep into the underworld.
The clock is ticking, and Greyson might be too late to discover the truth.
Sometimes the past is better left for dead.
---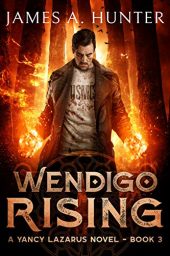 Wendigo Rising (Yancy Lazarus #3) – James Hunter
A rural town riddled with corruption. A cannibalistic Sasquatch. An apocalyptic bombshell…
Bigfoot is real. Yancy Lazarus knows because there happens to be a nine-foot-tall, walking myth standing in the road, flagging him down.
Yancy just can't escape his reputation as a supernatural fix-it man even when cruising through the forgotten backwoods of Montana. Turns out Bigfoot has a serious problem on his hands: one of his own has gone rogue, developing a taste for the flesh of humans and Sasquatch alike. A greater Wendigo has risen for the first time in thousands of years, and if Yancy can't stop the creature, it will mean a slaughter for the residents of a rural Montana town.
---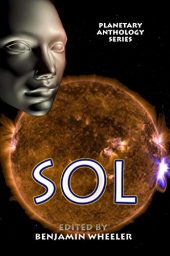 Sol (Planetary Anthology #9) – edited by Benjamin Wheeler
Sol, the center of our solar system, the very reason why we exist at all. These are the stories of our Sun, stories of nobility and righteousness.