Whether in a Celtic Otherworld or the ashes of a future Earth, magic worlds swarming with elementals or the cold vastness of space, this week's new releases are filled with valiant deeds and desperate acts.
---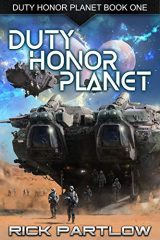 Duty, Honor, Planet – Rick Partlow
We thought we were alone…
We're going to wish we were.
Jason McKay and Shannon Stark, two young Republic Space Fleet Intelligence officers, are given the leadership of a new special ops unit. The mission? Guard the spoiled daughter of an important senator on a tour of the colonies.
Neither of them thought the mission would be anything more than babysitting…until the aliens invaded the colony.
Implacable, relentless, merciless, the armored creatures slaughter everyone who gets in their way. The team is forced to go on the run with the people they're supposed to protect.
But survival will be the least of their challenges. Because it's not as simple as an alien invasion, and the truth may be even stranger than they can imagine.
Jason and Shannon are forced to weigh the lives of the people they lead–and the ones they love–against their duty, honor, and planet.
---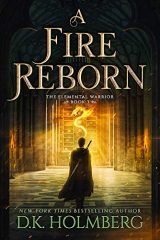 A Fire Reborn (The Elemental Warrior #3) – D. K. Holmberg
The threat Tolan has long feared has been defeated, but a new danger emerged, one that poses a threat to both shapers and the elementals.
For the first time since mastering his connection to the elements, Tolan fears an elemental. He's long advocated the elementals were misunderstood, and tried convincing others within Terndahl to free them from the bond, but the appearance of Light has proven his mistake.
Chasing the threat leads Tolan to take a dangerous journey, one that challenges all that he's learned of spirit and brings him back to the lands beyond the waste where he discovers a secret hidden from the rest of the world for centuries.
What he uncovers is more deadly than anything he's ever known, and one his unique connection to the elements might not be enough to stop. It will take more than a master of spirit to survive; it will take a true element warrior.
---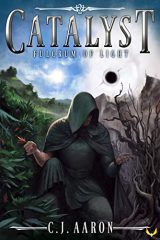 Fulcrum of Light (Catalyst #2) – C. J. Aaron
Freedom has come at a price.
Stranded on the coast of an uncharted land, Ryl will be tested as the world outside the Palisades proves darker than within.
With little to no direction save the cryptic information from a mysterious stranger, Ryl must rely on his new-found skills and place his trust in his new companion. Together they forge onward into the barren wastes of the Outlands. As the sickness approaches, their time and hope fades.
Surrounded by uncertainty, will they discover there is more to fear than just the unknown?
Ryl survived The Stocks. Will he survive the Outlands? His search for the secrets of the power that flows through his veins continues.
Will he find the answers before his time runs out?
---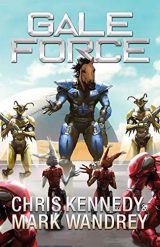 Gale Force (Four Horsemen: The Guild Wars #7) – Chris Kennedy and Mark Wandrey
In the aftermath of Peepo's war against humanity, the Mercenary Guild is still in chaos. On Earth, the moratorium on mercenary contracts is disrupting Jim Cartwright's efforts to stand up the new Terran Federation. Making matters worse, Jim has received intelligence that someone is squatting on asteroids in our Solar System…and Sansar Enkh is pretty sure they don't have Earth's best interests in mind. Fearing the aliens have plans for another invasion—or worse—Jim takes his ship, Bucephalus, and sets off to investigate.
While the mercenary guild is in recess, Nigel Shirazi has an opportunity to make some credits, and when he leaves to pursue an illicit contract, Alexis Cromwell decides to follow up on some information she's received on the mysterious Weapons Conglomerate. Nigel wouldn't approve of her running off, especially eight months pregnant, but Alexis has never been one to listen to instructions—or orders for that matter. She gathers a squadron of Hussars and heads off on her quest.
Events in the galaxy are happening at a frantic pace as the guilds battle each other in the shadows…and sometimes in the open. The Four Horsemen are once again at the center of it all, and as the guilds squabble, the Dusman aren't sitting on the sidelines. They have their own plans, and humanity is only part of them.
The Guild Wars aren't over; they've only just begun.
---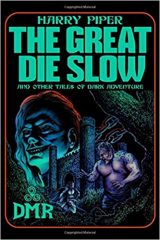 The Great Die Slow – Harry Piper
A lost knight stumbles upon an ancient horror… A desperate lord makes a deal with an unholy, hungry power… A young girl driven half-mad by grief pursues an impossible quarry…
Set in a Dark Age Celtic landscape shrouded in myth and legend, these dark, often tragic, tales tell stories of ordinary men and women confronted by evil both human and inhuman.
Whether priest, knight, farmgirl or sellsword, they will all be forced to take up arms and fight against forces that will test their strength and their sanity to the limit, in stories that will chill you, excite you and perhaps even break your heart…
Stories included:
The Man In Chains
Manawyddan the Heartless and the Unquiet Mere
The Penitent
Cadell's Fate
The Burden
Sir Gareth and the Thing That Hid
The Great Die Slow
---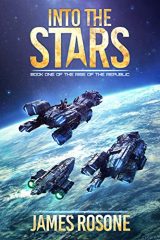 Into the Stars (Rise of the Republic #1) – James Rosone
The stars are within mankind's reach…
…But what awaits in the void may end humanity…
Mars and the Moon have been colonized, piracy runs rampant in the asteroid belts, and a thriving society grows in the depths of space. Humanity prepares to embark upon its greatest journey—the colonization of Alpha Centauri.
Then everything changes…
A deep space reconnaissance probe discovers a new Earth-like planet twelve light-years from Earth's sun. The probe also finds something unusual, something…unnerving. A new mission is created, a space fleet is formed, and humanity embarks on unraveling the greatest mystery of all—the origins of life itself.
Can the factions of Earth remain united, or will old rivalries and animosities destroy the fragile peace in the face of this terrifying existential threat?
Will exploration prove to be a fatal mistake?
---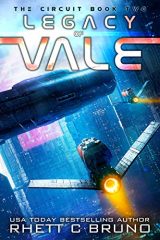 Legacy of Vale (The Circuit Saga #2) – Rhett C. Bruno
War threatens to destroy the Circuit once more…
After arriving on Ceres Prime, ADIM, is hesitant to help the Ceresians. Their hatred for his creator will never wane, and he starts to understand the danger all of Cassius' many rivals pose. How can he keep him safe?
When Sage Volus finds herself a captive of Cassius Vale, she begins to struggle with her role in the coming war, and what exactly it means to be an executor. The removal of her cybernetic implant reveals emotions she thought she'd buried too deep to be found. She must make a decision on who she truly wants to serve.
After breaking free of the solar-ark Amerigo and certain death, Talon Rayne finds himself in unusual company. His quests to hold his daughter again will bring him to places he never thought he'd go―into the very arms of his people's most hated foe.
As the battle grows ever closer, threatening the all-out war that could annihilate millions, these four must determine what part they intend to play, who they will align themselves with, and what it means to be human in a solar system where that means less and less.
---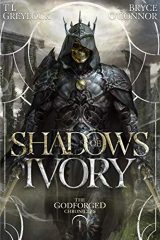 Shadows of Ivory (The Godforged Chronicles #1) – Bryce O'Connor and T. L. Greylock
I burned cities and drowned mountains. I pulled stars from the night sky and scorched the world with their flames. I am the Fisher King, and the grave does not bind me.
An academic with a taste for adventure, Eska de Caraval has means and influence, wit and charm… and a knack for acquiring artifacts that may not be hers to claim.
But when Eska comes into possession of a strange disc of rune-carved bronze, she finds herself abruptly hunted by all manner of adversaries: an assassin in the shadows, a monster in the deep, a bitter rival burning with vengeance.
From sword and fang and flame Eska must defend herself, struggling all the while to unravel the mysteries of a dangerous artifact. An artifact so powerful, a dead tyrant will rise again to wield it.
---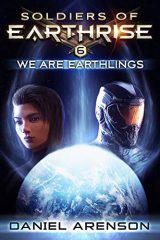 We Are Earthlings (Soldiers of Earthrise #6) – Daniel Arenson
The final battle is here.
The fate of humanity will be sealed.
We've been fighting this war for so long. On one side—an empire spanning the stars. On the other side—a single rogue planet.
We've shed so much blood. We've buried so many sons.
Yet we are all Earthlings. We hate with the same fire. We love with the same flame. We die in the same darkness. We sing the same great song of humanity.
For years, Jon and Maria fought on opposite sides. For years, the war has kept them apart. Now Jon and Maria must meet again. Now they can bring peace . . .
Or everything we've fought for will burn.