Dragons, zombies, and starships, oh my!
---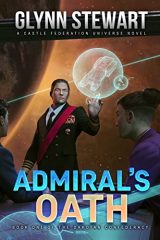 Admiral's Oath (Dakotan Confederacy #1) – Glynn Stewart
Rear Admiral James Tecumseh barely survived his last mission against the Alliance of Free Stars with his reputation and life intact. Under a cloud of suspicion, he has been assigned to a quiet sector far from the front of the Terran Commonwealth's war with the Castle Federation and its allies.
But when the Federation's Operation Medusa cripples his nation's communications and plummets an interstellar empire into silence, Admiral Tecumseh finds himself thrust into command of an entire fleet—and responsible for the safety of billions of innocent souls.
Enemies internal and external alike challenge the nation he is sworn to serve. Duty and honor call him to action to protect the innocent, and the Admiral and his new fleet are called to war once more.
But the darkest treason lurks where no one expects it…
---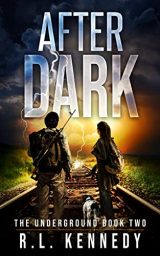 After Dark (The Underground #2) – R. L. Kennedy
It's not about how to survive… it's about who to trust.
Cora and Mason reunite in the continuation of the epic new series, The Underground. New relationships will be tested, old ones will break, and confusion will reign.
The status quo has changed… just as Mason and Cora are getting to know — and trust — each other, new questions arise that threaten loyalties all around.
Through it all, one question remains at the forefront of Cora's mind: what's up with the constellation map? What could it mean?
And what will happen if she can't figure it out in time?
---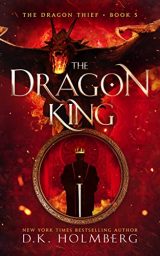 The Dragon King (The Dragon Thief #5) – D. K. Holmberg
Ty's connection to the Flame is the key to a greater truth.
After saving the king from the Lothinal attack and defeating Roson James, Ty thinks he will finally have a chance to learn more about his connection to the dragons.
There's much to be done, as he's convinced the Dragon Touched are still compromised, and the threat from Lothinal is not gone, but when the ghost king requests Ty's help, he has little choice but to help.
The journey leads Ty toward a different understanding of the kingdom, as well as his connection to the Flame. Secrets long buried may destroy the kingdom—or save it.
---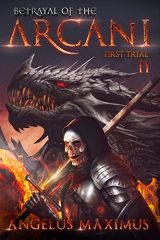 First Trial (Betrayal of the Arcani #2) – Angelus Maximus
The adventure continues as three unlikely heroes continue to fight to protect Rome from an unknown evil force.
Marius, Marcus, and Aelia have put their political differences aside as they continue to try and defeat Patricius the necromancer. However, as they will soon learn, the conspiracy plot has many layers above Patricius. Marcus continues to fine tune his magical ability in hopes he can successfully defend the party from the necromancer. Marius continues to have his suspicions that the Arcani are more than just a secret intelligence organization.
With new towns to explore in the grand Roman Empire, the party find themselves overwhelmed trying to find the truth. Meanwhile Patricius the necromancer is only becoming stronger as he and the legendary undead dragon, Zyrdeg continue to wreak havoc in Hispania. Even the zombies are becoming stronger with new abilities.
With Rome in danger, the party must complete the first trial that has been given to them by Jupiter, the Roman god of all Rome. However, when they learn the truth of the depths of the conspiracy they will probably wish they never accepted this mission. They will learn that Patricius is more than just your average evil blood mage.
All that can be said is that Rome is in more danger than anyone knows.
---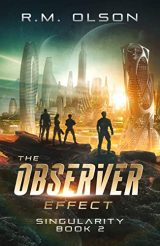 The Observer Effect (Singularity #2) – R. M. Olson
They've made it behind the portal. Now they have to survive what they find on the other side …
After a disaster leaves their diplomatic ship destroyed and the ragged survivors numbering only dozens, Ambassador Alba Espina's mission goes from negotiating a political alliance with a previously uncontacted sapient species, to trying desperately to keep the tiny band of survivors alive in a hostile alien environment.
Surviving first contact with the aliens is hard enough. But it soon becomes apparent that these aliens are hiding something they're willing to kill to keep secret. The desperate remnants of the crew is looking to Alba to save them, and searching for answers risks their survival. But now that both species knows the other exists, if Alba doesn't find out what the aliens are hiding, she risks the survival of every human in the Joias System.
---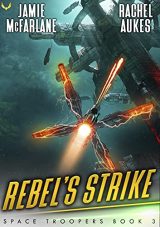 Rebel's Strike (Space Troopers #3) – Jamie McFarlane and Rachel Aukes
When a tyrannical corporation seizes control, two young patriots will risk everything to liberate humanity.
With the system engulfed in a corporate war, Jai and Peyton are yanked in different directions. Jai has joined the rebellion while Peyton is amassing a pirate fleet. But when an old friend brings the twins back together, they learn of Zona's sinister plan to quell the rebellion and institute an iron grip over the entire solar system.
Peyton has found her calling as a pirate captain. She's building a fleet with ships she's stolen and people she's saved. But when both the Zona fleet and other pirate clans come at Peyton from every angle, it'll take every ounce of skill—and a whole lot of luck—to stay in the game.
Jai's computer skills are among the best in the system. His work is crucial to the rebellion, but when he's infected with deadly nanites, he finds himself in a race against time to save himself from becoming a cyber-zombie.
---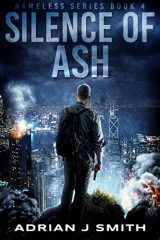 Silence of Ash (The Nameless #4)  – Adrian J. Smith
One city. Nine operatives. Millions of possible threats…
The Nameless are no more. Former agent Sofia Ortiz must put aside her grief and form a new team—Arclight. After discovering damning intel, General Munroe dispatches them on a recon mission to Hong Kong, in the heart of enemy territory.
Zanzi Connors, despondent over the mystery of her missing parents, and burdened by guilt, hesitantly agrees to join. With the clock ticking and choices limited, Arclight begins a desperate fight to fulfill their oath of being the beacon in a world of darkness.
This operation will test the new agents of LK3 in ways unimaginable as they unveil a sinister plan that could doom humanity to an apocalyptic future.
---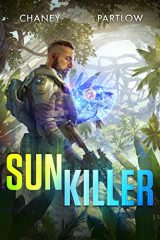 Sunkiller – J. N. Chaney and Rick Partlow
What would you do if you found the secret of a lifetime? What if you could change the universe?
Chase Weston never would have thought being the bodyguard for an archaeologist would be so dangerous…even an archaeologist digging for the remains of an alien civilization on another planet.
But everyone wants what Dr. Angel Cortez has found… no matter the human cost.
Because beneath the dirt and stone lies an ancient mystery, a secret history, and a warning of an implacable alien enemy. And if the warnings are true, then corporate mercenaries and Sea Dragon commandoes are the least of Chase's worries.
Can Sgt. Chase Weston and Dr. Evangeline Cortez uncover the mystery of the Sunkillers? Or will they just be the latest to die trying?