Failing empires, cast-off genetic super soldiers, and dragon charmers shine in this week's new releases.
---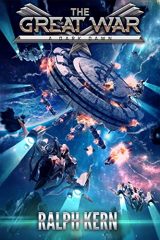 A Dark Dawn (The Great War #5) – Ralph Kern
The Dawn Empire's light is fading. Admiral Ikson Koto has one chance to renew the flame before it is extinguished forever. To save the Empire from a slow death, he must destroy the Federation's fleet in one fell swoop. His plan calls for a brutality that has never been seen before.
For Lieutenant Shannon Reeve, the horrors of battle still burn strong in her mind. Her posting to a fighter squadron in the paradise of the Federation's premier base, Azure Anchorage, should be a welcome respite. Instead, she will witness her fears come true as it comes under a relentless assault by Koto's overwhelming Imperial forces.
Deep in the expanse of space known as the Great Void, a place far from home, civilian engineer Winston Grant has been tasked with upgrading a lonely base's defences. Soon, he will find himself holding the line in a desperate last stand against an armada.
Both will play their parts in these darkest of days.
The golden age of the Federation will soon end, and instead be engulfed in the raging fire of war as Koto's grand plan comes to fruition.
---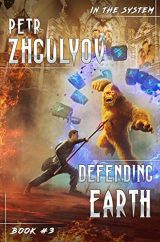 Defending Earth (In the System #3) – Petr Zhgulyov
Everything is going according to plan. Ivan Susanin has successfully installed a beacon in the undead territory, and returned home.
The situation changes when the next mission to the city of goblins is delayed, while his home planet becomes the battleground. Monsters invade Earth, and Ivan must become one of the leaders and unite the players under his banner, albeit within the borders of his own country. If circumstances demand that he discloses his identity and cooperates with the authorities, so be it! Modern weapons and equipment, instructors, financing, and protection by law…
Stupid to decline all this due to baseless concerns. The most important thing is to remember why he started all this in the first place, and ensure that he can survive what's coming.
---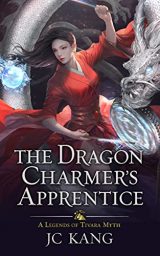 The Dragon Charmer's Apprentice – J. C. Kang
A slave shall rise from the ashes to master dragons.
Born into slavery, Mai's horizons are limited to one simple desire: to catch the eye of a handsome mate. She dares not dream for more, for like all humans, she's been taught from birth that her life belongs to the orcs, her destiny to serve.
But her world is upended when Aralas, a messenger from the elf gods, reveals blasphemous truths: humanity was created to be free; and hope—if it can be called that—lies in the jaws of the dragon Avarax, whom only Mai can charm with her unique voice.
Torn, overwhelmed, desperate to hope yet terrified of failing her kind, Mai has until a rare conjunction of moons to master magic that takes lifetimes to learn. Yet how will she discover who she really is when even her allies seek to control her?
Only by making the greatest of sacrifices will she manifest the power of a Dragon Song, and help mankind escape eternal servitude.
---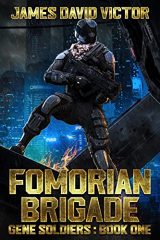 Fomorian Brigade (Gene Soldiers #1) – James David Victor
He was a genetically engineered super soldier, built to win a war. Once he was no longer needed, he was cast aside to fend for himself . . . or worse. Now, he might be the only thing that can save the human race.
Carl Sebastian was genetically engineered to be the deadliest fighting machine known to mankind. Once they were no longer needed, his kind were abandoned or sent for "rehabilitation." Forced to fend for himself, he spends his life hiding in the shadows, working for his next fix of the medication that keeps him sane. On one his routine xeno-mutant hunting jobs, he discovers the mutations are far worse and more widespread than anyone thought. Will Carl fight to save the very people who turned their back on him or will these mutations and a new generation of gene soldiers destroy mankind as we know it?
---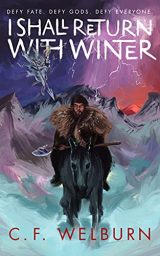 I Shall Return With Winter – C. F. Welburn
Defy Fate. Defy gods. Defy everyone.
When Oben's farm is sacked by marauding Skalgs, he embarks on a deadly quest for revenge, leaving pious Edale behind to enter the godless north.
But Skaligar is a strange place, and his enemies are full of surprises, which will push his endurance and his faith to their limits. He finds himself an unwitting pawn in their ancient prophecy; one which tells of a Conduit who will deliver Edale into their hands.
If Oben is to see his homeland again, he must not only survive, he must prove the prophecy wrong, whilst exacting vengeance on those to whom he grows ever more bound.
---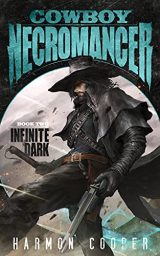 Infinite Dark (Cowboy Necromancer #2) – Harmon Cooper
There are some places that defy description, so otherworldly that they couldn't exist on Earth.
Or so Sterling Monedero thinks.
Suddenly transported to a barren salt flat, Sterling must fight for survival once a terrifying creature appears. His journey heats up as he discovers that his teammates have been transported to this unknown land as well, and that all he has to do is seek them out.
Easier said than done…
Taking on super-powered cults, discovering the secrets of ancient petroglyphs and what they have to do with the alien monoliths known as Godwalkers, coming head to head with a pair of devious necromancers, leveling up in preparation for the final showdown – all are challenges Sterling must overcome as he presses south through a canyon-filled desert with a plan so insane it just might work.