Check out the Super Summer Book Sale running now through Tuesday June 21. Indie and small-press authors have banded together to offer over 160 ebooks priced at $0.99 with many titles free. The sale includes over sixty works new to the sale, and Terror House Press has joined in offering their entire catalog of ebooks for $0.99. Science fiction, fantasy, and adventure from established and emerging talents – there's something for everyone.
The sale includes works from dozens of authors, including John C. Wright, Peter Grant, James Alderdice, Leigh Bracket, Declan Finn, John Ringo, David Weber, H.G. Wells, Robert Kroese, and Kit Sun Cheah, and the sale also features "Centrism Games," the first offering from Professor Rachel Fulton Brown and her Dragon Common Room.
---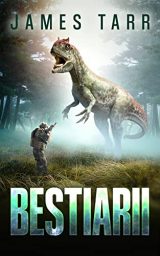 Bestiarii (Echoes of Pangaea #1) – James Tarr
The Mexican civil war had been grinding on for so long that the U.S. resorted to using private contractors—mercenaries—to prop up the failing Mexican Army. One of the many things the Mexican Army failed to protect was Pangaea, the famed animal park in remote northeast Mexico, a symbol of rampant capitalism. All the creatures inside were killed at the time. At least, that's what was reported.
For his estranged son Michael's high school graduation, hotel mogul Roger Rudd splurged on a rare and expensive hunting trip in Mexico, hoping it would bring them closer. To get there, they hitched a ride down on one of the contractors' helicopters, picking up Tina Echevarria, a beautiful and feisty Mexican graduate student, along the way.
But when the helicopter crashes in the Sierra Madre Oriental mountains, its combat-seasoned contractor crew, led by Irishman Seamus O'Malley, will have to lead the disparate group on a cross-country scramble, trying not only to evade guerilla fighters, but also the prolific and savage offspring of the artificially-created animals once filling Pangaea. Animals thought to be eradicated a generation before, when Pangaea's walls were breached. Animals called theropods by the park officials… but known to the rest of world as dinosaurs.
---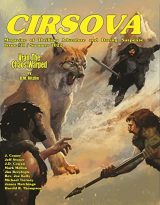 Cirsova Magazine of Thrilling Adventure and Daring Suspense Issue #11 / Summer 2022 – edited by P. Alexander
Vran the Chaos-Warped has sworn that the wizard Foad Misjak must die for his debaucheries! Vran's strange nature due to a sorcerous accident, however, twists with unpredictable results all magic around him… and strands both on another world!
The Prince of Alomar has won a slave from the Bursa… Kat and Mangos must ensure the slave's silence at all cost, but on one condition: they cannot kill him!
Jørgen Pangloss offers the promise of the unthinkable: faster-than-light travel! To what lengths will potential investors go to win Jørgen monopoly… and its fetters!?
An evil and sorcerous monster plagues the land of Kush! Can Melkart stop the crocodile-headed man-beast Sosostris from enslaving the people of Meroë!?
…and more!
---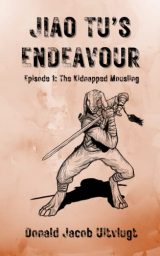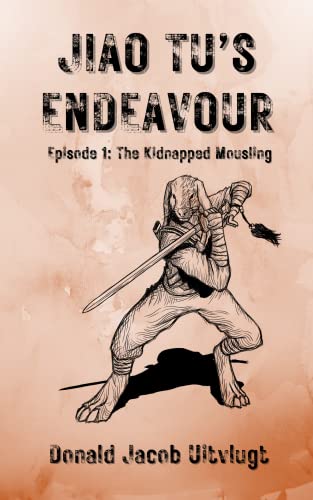 Jiao Tu's Endeavour: Episode 1: The Kidnapped Mousling – Donald Jacob Uitvlugt
On a multigenerational colony ship five hundred years off course, a lagomorph warrior must survive using only his wits and his sword.
Jiao Tu has been hired to rescue a young kidnapped mousling. A tip leads him to the Below, home to the engines that keep the world in motion. His mission has hardly begun when an encounter with a monstrous being plunges him into the midst of a struggle not only for control of the Below but for the world itself.
Teamed with an untested ratling warrior and the ratling leader of a gang of thugs, Jiao Tu must stop the monster and save the mousling—and the world—before it is too late.
---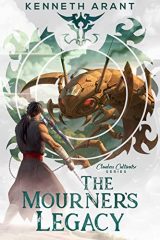 The Mourner's Legacy (Clanless Cultivator #2) – Kenneth Arant
Knowledge is power, knowledge is safety, knowledge is happiness… But sometimes, ignorance is bliss.
Taryn and his closest allies safely acquired the dragon core and left Haven City behind, departing for lands unknown. They were content with the knowledge that life would go on without them, and few, if any, would miss the itinerant cultivators.
Without the pressure of the clans weighing on them night and day, Taryn, the Xia twins, and Fan Shun are finally free to find their own places in the world… But the Mourner lied, and that lie is quickly coming back to haunt Taryn.
Taryn didn't save Haven City by taking the dragon core with him, nor did he delay the inevitable. The city was attacked mere days after the group's departure, and its infallible wall was shattered, leaving the clans at the mercy of a cultivator of unimaginable power.
To save themselves and their city, the residents of Haven have sworn an oath to their conqueror. They must find the one responsible for Gu Qigang's death and return the treasure Taryn "stole" if they want to survive.
Will Taryn's journey to a better future be stopped by the shackles of his past? Should he sacrifice himself for the only home he's ever known, flawed as it was… or will he fight toward a brighter future, consequences be damned?
---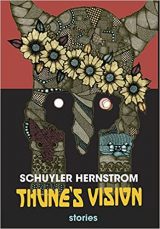 Thune's Vision – Schuyler Hernstrom
In these eight short fictions, Hernstrom feeds on an autochthon rage, speaks directly but not simply in tones strong enough to convey sibilant victory or the clamor of disaster. Somehow he also manages to imbue dark tales with a mordant wit many admire, but few can match. He sings no simple paean. He tells no careworn tale. He advances no fallen guidon but has instead fashioned his own standard from those of the fallen.
A contemporary reader can instantly mark the salient staked out by this collection across a no-man's land mired in imitation. Hernstrom's flag is one to which stout hearts rally. This book is a passport to new country, a point of departure for even wider vistas. Here is a voice which can tell of beauty in a moment, a heretofore unremarked weirdness in the old constellations, a sly joke. Here is a voice up for anything.
---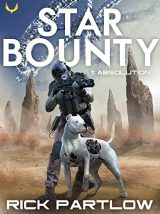 Star Bounty: Absolution – Rick Partlow
Grant Masterson is a man with nothing left to lose…
A disgraced ex-cop, framed by a crooked politician, abandoned by his family, he's forced into the life of a bounty hunter just to survive.
Tracking down a traitor who stole military grade weapons to sell on the black market, Masterson finds out things aren't as simple as the wanted poster made them seem.
Because Delia Beckett isn't a traitor, simply a patsy, and the forces manipulating her may be the same ones responsible for Masterson's fall from grace.