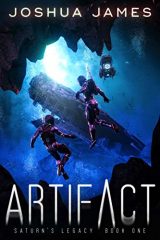 Artifact (Saturn's Legacy #1) – Joshua James
Lowell Carpenter is a disgraced Marine assigned to a remote US research station on Saturn's moon Enceladus, where scientists have made an extraordinary discovery in the ocean below.
A special forces team, led by Lowell's murderous former commanding officer, shows up to investigate. Almost immediately, everything begins to unravel.
Something beneath the surface has been activated.
Soon every space force on Earth — American, Chinese, Russian, and more — is converging on the tiny moon, ready to start a war.
But when a young archeologist with a knack for dead languages makes an amazing discovery of his own, Lowell realizes the stakes are higher than anyone could've imagined.
He soon has no choice but to disobey orders and fight soldiers he helped train as he races to stop an unimaginable chain reaction that threatens the entire solar system.
The countdown has begun…
---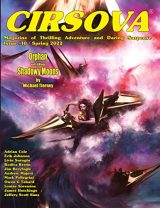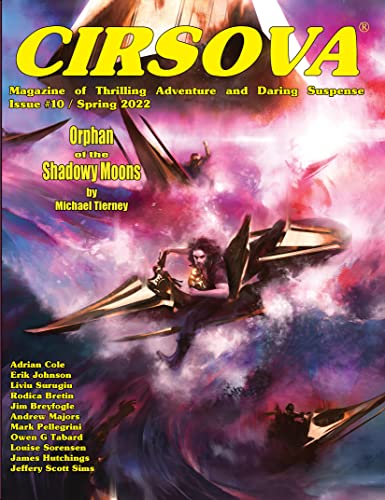 Cirsova Issue #10 / Spring 2022 – edited by P. Alexander
At long last, the origins of the Ancient Warrior are revealed! Fleeing from the Artomique fleet, Daestar, Bully Bravo, and the Ancient Warrior find a refuge of the immortal race—it is there that the psychic locks on his past are finally released!
Dragons have cut off the smiths of Pytheas, but Kat and Mangos have a plan! Un-fortunately, it will require the duo taking to the skies themselves!
A magic potion has rendered the Duke of Vardix invulnerable! Can Morca stop the Duke's scheme to assassinate Lady Niada before all at the Festival of Azamodius?!
An orphan is assaulted by the monstrous Professor Wilberforce—killing her as-sailant lands her in an institution, where trauma manifests in her strange powers!
These stories and more in the latest issue of Cirsova.
---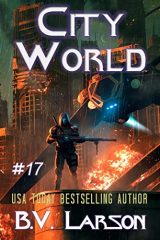 City World (Undying Mercenaries #17) – B. V. Larson
Earth's entire fleet and all her legions are conscripted by the Galactics. Centurion McGill of Legion Varus is among countless troops pressed into service as cannon fodder for the Empire.
Not everyone on Earth is happy with the demands of the Galactics. Earth has built up her military for decades, and now she might lose everything in a foreign war no one understands. As the man who has killed more Mogwa than any other human in history, McGill is approached and given a mission. He has a fateful decision to make. Will he serve Earth's overlords faithfully, or will he assassinate the arrogant alien leaders?
---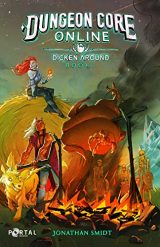 Dungeon Core Online: Dicken Around – Johnathan Smidt
Alex can't wait to dive into the latest cutting edge VRMMORPG; Dungeon Core Online. It boasts an ever-changing, ever-growing dungeon with an AI so advanced, it feels practically human. Funny huh?
Forming a two-man dungeon party with his best friend Fel, Alex is keen to sample everything DCO has to offer. From delicious fried Dicken to a fiery whiskey brewed from demonic corn, the friends eat and drink their way through the chaos that is DCO. Gaming is supposed to be fun after all, and leveling is always a little better when you're tipsy right?
It's going to be a wild ride, with levels, achievements, bosses and more – but mostly there's going to be a lot of Dicken Around.
Ever wanted to see Dungeon Core Online from the players point of view? Well then pull up a chair, grab a piece of fried Dicken and get ready for DCO as you have never seen it before in this low-stakes, shenanigans filled buddy adventure!
---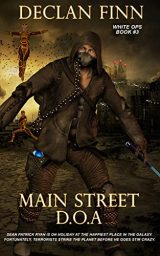 Main Street D.O.A. (White Ops #3) -Declan Finn
Sean Patrick Ryan's White Ops team has survived two wars, pirates, a cannibalistic alien horde from another galaxy, space jihadis, and political maneuvering. Their boss thinks they deserve a break and sends them to the "happiest place in the galaxy."
Luckily for Sean, terrorists take over the amusement planet before he can lose his mind.
To stop the terrorists, White Ops will have to battle a weaponized planet, including cloned dinosaurs, giant sharks, animatronic amusements and a doomsday device that will destroy the planet.
And when the deadliest assassin alive joins the fray, whose side will he be on?
---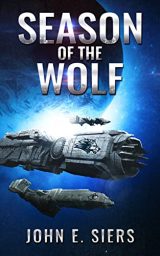 Season of the Wolf (The Lunar Free State #6) – John E. Siers
Outnumbered and Outgunned… Just Like Old Times!
Lorna Greenwood is back, and she's been given a new command. Well, maybe "new" isn't the right word. LFS Werewolf is one of the oldest ships in the Lunar Fleet. She's been rebuilt many times during her 70 years in service, even though she's not as fast or as heavily armed as Fleet's more modern light cruisers. Nonetheless, Lorna is proud of her and is determined to whip her green crew into shape for the mission ahead.
Besides, the Bug War is over, and nobody expects Werewolf will be going into battle anytime soon. Fate, however, has an annoying habit of ignoring expectations…
---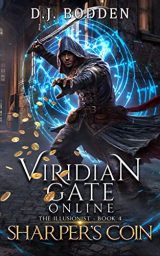 Viridian Gate Online: Sharper's Coin (The Illusionist #4) – D. J. Bodden
Love can make a man do terrible things.
Somewhere within the Library, a clock is winding down. With Wendy safe, Alan needs to focus on paying his debt to the Plague Doctors of Wyrdtide by the end of the month. But a slip of the tongue doubles the amount, turning a hard task into an impossible one.
His only option is to ask the master of assassins for work. But murder for money isn't the only thing Alan needs to worry about. The gods are upset with him, his old colleagues want him dead, and the Circle of Brewers is hiding more than the secrets of Alchemy.
And there's something else, something deadlier, and it's reaching through time to seize everything Alan loves in its fist. Try as he might, it may have been too late from the start.