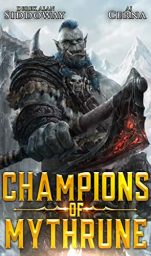 Champions of MythRune – Derek Alan Siddoway and A. J. Cerna
Champions of MythRune… Round One… Ready, fight!
With his glory days behind him and nothing but life as a loser to look forward to, Zane can't wait for MythRune. A first-of-its-kind immersive fantasy game that promises to provide just the escape from reality a washed-up athlete like him needs.
But when his younger brother learns he only has weeks left to live, Zane is forced to take his gaming to the next level if he's going to afford to pay for his brother's operation and ditch their sorry life forever.
To celebrate the launch of MythRune, the game's developers announce a worldwide player tournament. The prize? Ten million dollars. More than enough.
Utilizing a God Mode bug to make himself invincible, Zane aims to win it all without getting caught.
But it doesn't work as planned. Between pain-sensitivity glitches, exploitative players, a reworked world map, and a leveling system unlike anything he's ever seen, Zane realizes there's much more to pro gaming than staying alive.
Enemies become allies. Loyalties shift as each round of battle royale raises the stakes. Does Zane have what it takes to run the table or will his greatest advantage, the God Mode hack, become his downfall?
---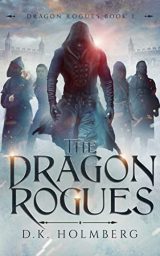 The Dragon Rogues – D. K. Holmberg
An incredible thief. An impossible heist.
Fresh out of prison, Jonathan Aguelon wants one big score before he leaves the city for good. The job will be more complicated than any that he's ever attempted, but this time he can steal more than money, he can get revenge—but only if he follows a mysterious benefactor's plan.
With the right team, Jonathan can succeed, but much in the city has changed during his time away, and the Dragon doesn't have the draw he once did. The team of outcasts he assembles needs time to prepare, but time is the one luxury they don't have.
As his benefactor pushes him into action, Jonathan refuses to be used by anyone, but can he refuse when his team might be all that stands before a coming war—if they can find a way to work together first?
---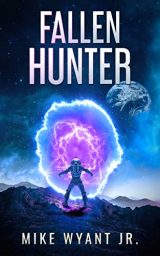 Fallen Hunter (The Anisian Convergence #2) – Mike Wyant, Jr.
Thanks to Sarah Martinez and aided by newly developed FTL—faster than light—technology, humanity has spent the last three hundred years spreading to every corner of the galaxy.
But as FTL jumps increase in number, a new danger presents itself: Breaches. Ragged tears in spacetime, they lead to a dead world filled to the brim with terrifying creatures that consume the populations of entire planets. In response, the once-secret order of Hunters has come forward. Wielding an eldritch force called the Sacred Flame, Hunters seal the Breaches and banish the demons back to Hell.
Dee Terganon is one such Hunter.
When a ship tears a Breach on the moon of a privately owned frontier world, Dee and her team respond, but when they drop out of FTL above the ravaged moonscape, there's an otherworldly pulsing coming from the Breach… one that beats in time with her heart and rattles her soul.
The Breach is open, and the demons stretch into the void. Searching. Clawing. Consuming.
Only Dee can stop them… but it will cost her far more than she has to give.
---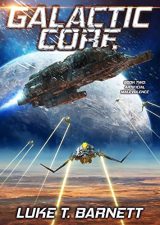 Artificial Malevolence (Galactic Core #2) – Luke T. Barnett
Some fates are worse than death.
Doug and his crew survived destroying the Empire's plans, but the threat is far from over!
When superhacker Wild Jack reveals the construction a new superweapon, Doug and crew scramble to stop it before it's too late.
But their plans derail when a new bounty hits the comms—one on Loni's head!
Doug enlists an old friend to track down the culprit, but this only leads to dark questions and darker answers surrounding the secret past of Loni and her ancient, royal family.
Secrets which threaten to unravel everything.
Meanwhile, a force even more sinister than the Empire awakens in a hidden corner of the galaxy.
With the Rangers still dogging his heels, can Doug and his friends survive long enough to save the galaxy from two massive threats…
…or will a force hungry for all sentient life devour them as well?
Join Doug, Loni, Arch, and the mysterious Kelsey as they grapple with secrets both ancient and personal—
And fight to stop the Empire once and for all!
---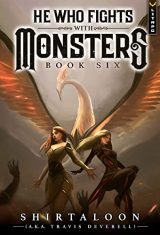 He Who Fights with Monsters #6 – Shirtaloon
The world teeters on the brink of destruction.
The people who should be saving the Earth ignore Jason Asano's warnings and choose to loot the house as it burns down around them. He lacks the strength to save the world himself, but resolves to do it anyway, impossible be damned.
The impossible, in this case, means seizing a power that no mortal should touch. It's a choice from which there is no turning back, and marks Jason's first step into a wider cosmos that he is not yet ready to face.
Holding the fate of two worlds in his hands, Jason must decide for himself what home truly means.
---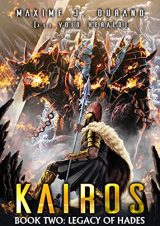 Kairos II: Legacy of Hades – Maxime J. Durand and Void Hunter
The Greek Gods are dead, but their legacy remains.
Kairos, pirate lord of Histria, is concerned. A dungeon on his island turns out to be the last entrance to the Underworld, full of wealth and dangers; while beyond the sea the Poison King Mithridates builds up his forces. Enemies old and new prepare for a new war that will determine who shall replace the fallen Olympians.
And Kairos is determined to be on the winning side.
Witness an epic blend of Greek Mythology and LitRPG where Heracles was a [Fighter] and Circe a [Spellcaster]. In a universe where the old Gods have fallen, mortals can rise to become Gods through Legends, Levels, and building up Mythical Skills. Dungeons full of minotaurs and undead, insidious assassination plots, and epic wars between demigods.