The Legion returns, alongside pixy monster hunters, western canine scouts, and refugees from alien attacks in this week's new release.
---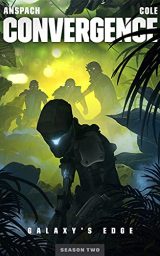 Convergence (Galaxy's Edge #13) – Jason Anspach and Nick Cole
As the galaxy marches headlong toward the greatest threat to peace since the Savage Wars, the flames are lit in the most unlikely of places.
Trapped inside a Savage mini hulk, Prisma faces a future where little is as she expected it would be, and a past that is even more troubling than she knew. Aboard a Cybar ship, Andien Broxin fights for her life with the most unlikely of allies at her side. And on the Kimbrin home world, Masters joins a Legion Special Operations Group tasked with checking a resurgent MCR… only to find himself embroiled in the flashpoint that will again plunge the galaxy into war.
Goth Sullus has fallen. Tyrus Rechs is a memory. But those who are enemies of both men are now set to step forth and reveal themselves on the galactic stage—unless the Republic, and the Legion, can answer the call to sacrifice.
---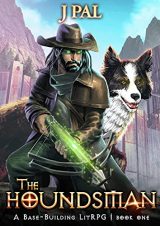 The Houndsman – J. Pal
Build his Fortress. Grow the Pack. Save the Realm.
After serving two terms in the Iron Army's Building Division, Flint Woodson is done with it all. With his four-legged friend at his side, he wants nothing more than to find a remote settlement, work as a guard or a builder, and find a wife.
He doesn't care about filling his remaining nodes with Skill Stones or wasting his life looking for a Class. Wyldbloods like him aren't destined for greatness.
But the realm is at war. The Fae are sick of humankind violating their treaties, their Wyld armies taking to the fields.
And Flint's plans go out the window when the Diskverse sends him a Life Quest.
Saying "no" isn't an option when the quest involves the word 'Champion'. Not if Flint wants to save the realm and have somewhere left to one day to live out his dream.
---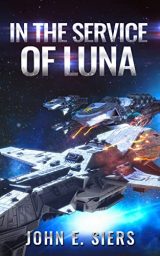 In the Service of Luna (The Lunar Free State #4) – John E. Siers
On-the-job training can be hazardous to your health…
Lorna Greenwood hopes the Lunar Free State's Fleet Academy will prepare her to follow in her grandmother's legendary footsteps. Her roommate Nova Sakura has already spent time in the LFS Marines and wants to move up to the officer ranks.
First, though, they have to survive four years of training. Military service gets real for Lorna when the assault carrier Omaha Beach comes under fire during her first year training cruise. Nova's first year cruise aboard the light cruiser Hydra seems pretty routine, until she's called upon to take charge of a squad of Marines boarding a ship full of murderous pirates.
And nothing prepares them for the challenges they face after graduation, when they're both assigned to the same ship and find themselves facing an alien enemy in a distant star system, in what could be the start of another interstellar war.
Two young women put their lives on the line in the service of Luna…even if that means leaving family, friends, and their hearts behind.
---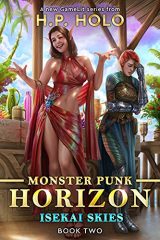 Isekai Skies (Monster Punk Horizon #2) – H. P. Holo
An epic convention. An epic cosplay. An epic engagement. It was the best night of Kaito's life—until the ground opened up beneath him.
Well, technically, a portal did. Either way, it sucked.
Now, trapped in another world with rampaging monsters, he'll have to learn to survive. Fortunately, this world is conveniently similar to his favorite video game. And he's got monster hunting experts (?) Pix and Jaz to show him the ropes.
With their help, he might last long enough to find a way home.
But if not, at least he'll have fun hunting monsters before he dies!
---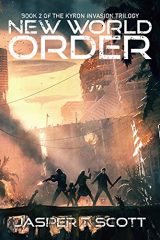 New World Order (The Kyron Invasion #2) – Jasper T. Scott
Having wiped out every major city on the planet, the Kyra are herding survivors into safe zones where they have promised to re-establish order and provide the basic necessities. Fences are erected to keep out the failed hybrids, known as "Dregs." Meanwhile, the successful hybrids are sent away to fight in the Kyra's war.
That is Christopher Randall's primary concern when he and his family are taken to the safe zone in New San Bernardino: what if they get conscripted, too? Making matters worse, the zones aren't as safe as the Kyra claim. Dregs prowl the streets at night, and the Chimeras that hunt them aren't much better. The zones are little more than concentration camps with a singular goal: breed humans to produce a new generation of conscripts.
Chris quickly realizes that they'll be better off in the Wastes, but escaping won't be easy. The refugees have tracking implants with remote kill switches, and attempting an escape could be the last thing the Randalls ever do. Yet when Christopher's daughter, Gaby, begins drawing too much attention to herself, he realizes that if they don't escape soon, his family will never be the same.
---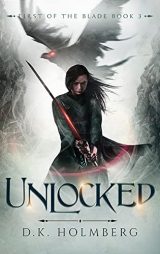 Unlocked (First of the Blade #3) – D. K. Holmberg
Magic is a part of the world. Now the First of the Blade must master it.
Having saved her people from the danger of the branox, Imogen must find a way to lead them home. The way back is treacherous and there's an ever-present threat of more dark creatures attacking.
When hunted by a new threat, the sacred patterns are not enough. Imogen must find a way to bring her people together while staying on the path the Porapeth have seen for her, but even that might not lead her to safety.
The First of the Blade must be more than a sacred sword master. If she can't unlock potential hidden deep inside her, all her people will fall.