Every week, the Castalia House Blog spotlights some of the many new releases in independent, pulp, and web novel-influenced science fiction and fantasy.
---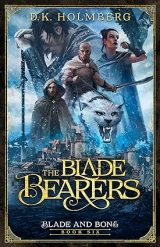 The Blade Bearers (Blade and Bone #6) – D. K. Holmberg
As the drumbeats of war intensify, the Bearers must answer.
Finn and Morgan struggle to return to Verendal, finding only destruction in their wake. With none to unite the scattered people, it's up to an executioner and his one time prisoner to save as many as they can before the war claims even more lives.
Honaaz needs a fleet to attack the Alainsith, but even that might not be enough. As the defenses begin to fail, only a desperate ploy will save them.
Kanar in the Bearer, but struggles with his song. And if he can't find it, Jal will be lost to them.
War splinters alliances and forges new ones, but all have a part to play.
---
Dreamer's Throne – Seth Ring
A broken body. A mysterious world. It'll take all his Intelligence to survive.
After a close brush with death, Garrett realizes that he's in a new world. And worse, he's missing an arm and paralyzed from the waist down. A fact that doesn't deter the brutal gang lord whose floor he's crashing on from wanting to throw him out into the street.
The only thing standing between Garrett and a cold death at the mercy of the city's scavengers are his own wits and a plucky young woman.
Armed with a System that gives him experience for exploring his new world, Garrett is determined to do whatever it takes to keep himself safe from the threats closing in all around him. Even if it means becoming a villain.
But the inn and city are far from what they seem.
Terrifying creatures lurk around every corner and there is no weapon that can stop them. A strange lucid Dream world hovers on the edge of Garrett's consciousness, and it isn't content to stay a dream. When it starts bleeding into the real world, Garrett realizes that the hostile gangs around him are the least of his worries…
---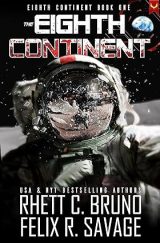 The Eighth Continent – Rhett C. Bruno and Felix R. Savage
A lowly construction worker on the Moon is Earth's only chance…
Nick Morrison's dream was to reach for the stars, but he never imagined that his destiny would lead him to the desolate lunar surface. Recruited by a daring startup to construct a lunar launch system at the Moon's icy south pole, Nick abandons his troubled Earthly life for a chance at something greater.
Little does he know that the company teeters on the brink of financial and legal collapse, stranding Nick and his team in the unforgiving lunar wilderness.
Isolated and unsupported from Earth, Nick's team faces an uphill battle for survival. As if that weren't enough, a ruthless contractor at another lunar base harbors grand designs for both the Moon and Earth, and Nick's team stands squarely in their path.
Now, they must band together to thwart the impending conquest of two worlds.
---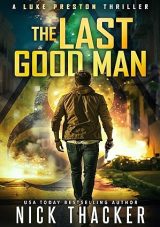 The Last Good Man – Nick Thacker
A deadly outbreak. A government conspiracy. Luke's back in the game.
Luke Preston's world shattered following the brutal loss of his wife in a police-led operation. Scarred by this personal tragedy, he shelved his detective badge permanently. Former soldier and ex-cop, Luke has since settled into the quiet rhythms of civilian life. But the emergence of a lethal contagion menacing American lives wrenches him from this tranquil existence.
When tragedy strikes a family at a secluded detention facility, bearing the hallmark symptoms of a baffling disease, the government rings Luke's number. This insidious illness, marked by harrowing fatalities and eerie blood splotches beneath victims' skin, is on the rise. With time as the enemy, Luke has to plunge into action, or the nation faces a full-blown epidemic.
Joining forces with the brilliant medical professor, Mia Mendez, Luke ventures to the borderlands. Their discoveries there are chilling: indications that this dread disease isn't natural, but a weapon, masterminded with sinister intent against the very core of the state. Pitted against formidable adversaries, it's up to Luke, with his resourcefulness and grit, to neutralize the shadowy group orchestrating this crisis. Retreat is off the table.
---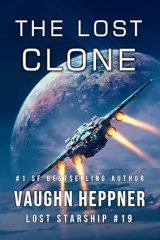 The Lost Clone (Lost Starship Series #19) – Vaughn Heppner
Across the lonely depths of space from their spiral arm, Leviathan has begun infiltrating agents into Star Watch as a prelude to invasion.
One team has cloned a kidnapped Captain Maddox, intending for the clone to take his place on Victory.
The first Maddox learns of this is when his clone unfreezes him on a spaceliner. Maddox and his clone decide to team up. They're 8000 light years from Earth, forced to play a desperate game of survival while hunted by the cybernetic Soldiers of Leviathan.
Maddox is determined to warn Star Watch about the coming invasion.
---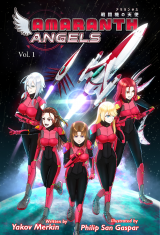 Amaranth Angels – a Kickstarter campaign from Yakov Merkin
Saya Nishizawa was a starfighter pilot prodigy, flying alongside her big sister Kurenai in the Amaranth Angels performance squadron. where they conducted elaborate flying demonstrations and competed in mock battles–which they nearly always won.
Things were perfect, until tragedy struck, and Kurenai lost her life in a sudden accident. Scarred by this, Saya wanted nothing more than to run as far from a starfighter cockpit as possible. So she resigned from the squadron, and left Earth to start anew at a new school on a space station near the edge of the solar system.
However, fate has ways of forcing people back to their calling.
When the station comes under attack by an unknown alien force, Saya and her friends, caught completely unprepared, need to take flight in order to survive.  But when the smoke clears, the five of them are stranded far from home, and thrust into a far bigger fight than they could've ever imagined.
This crowdfunding campaign will remain open until 20 October, 2023.