Appalachian witches, deep space races, and arcane noir detectives fill this week's new releases.
---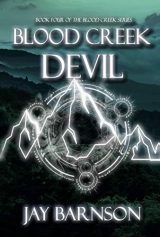 Blood Creek Devil (Blood Creek Saga #4) – Jay Barnson
A centuries-old plan. A final battle. The fate of the Crossroads will be decided.
Jenny, Jack, Sean, and Jessabelle have battled for too long on both sides of the Crossroads. Their seemingly invincible enemy, The Man in the White Suit, will stop at nothing until he dominates both Earth and Around the Bend. But when Jenny and her companions delve into ancient mysteries, they discover secrets lost to the Wardens. If they are to defeat the dangerous Coven, they'll have to travel to the brutal void between worlds.
But the void demands unimaginable sacrifices.
---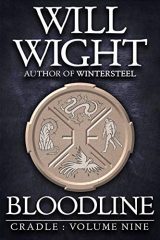 Bloodline (Cradle #9) – Will Wight
It's time to go back home.
In the years since Lindon left Sacred Valley, he has attained power beyond anything his family thought possible. Now he'll have to put those powers to the test, because a Dreadgod is on its way.
Lindon and his allies set out to evacuate the valley before the arrival of the Wandering Titan, but their sacred arts are weakened by an ancient curse. They'll have to persuade the squabbling inhabitants of Sacred Valley to leave behind their home and set off into the outside world.
But it has been a long time since Lindon left, and more has changed than he realized.
He has always sought power to save his family…but now he might be too late.
---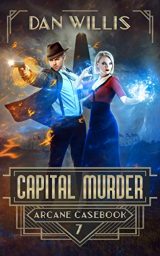 Capital Murder (Arcane Casebook #7) – Dan Willis
When the FBI wants to sweep the murder of a US Senator under the rug, Alex Lockerby must navigate the halls of political power and corruption in order to catch a professional killer and uncover dark conspiracy that threatens the very foundations of government.

Hired by the widow of a murdered US Senator, Alex Lockerby is shocked to find out that she's the only one who seems to want the crime solved.  Between the local police and the FBI, everyone wants this case over and done with, even if they have to sweep it under the rug just to make it go away.
Not satisfied with the answers he's getting, Alex dives into the world of high stakes power politics and the inherent corruption that goes with it.  Quickly he finds himself with more motives and suspects than he can manage, all while being pursued by a professional killer, a murderous thief, and a powerful crime lord from his past.  
With time running out to find the true motive for the Senator's murder, Alex must find the link between a bizarre theft, a missing alchemist, and legislation the murdered Senator was working on.  If he succeeds, Alex might just have a chance to uncover a dark conspiracy that threatens the government itself, unless they get him first.
---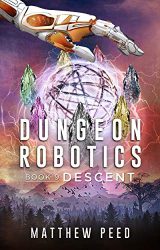 Descent (Dungeon Robotics #9) – Matthew Peed
After almost a year since Regan came to the world Murgin, danger has followed him like a loyal dog. Threats are the main theme of his life as a dungeon core and every time he deals with one, another appears to take its place. Now with the struggles of the Beneath Races as well as the mysterious peril coming from space, he might not have time to solve all his current problems before one of them blows up in his face. He is not without any recourse though, and he has a plan to meet the dangers. The question is will he be able to succeed?
Louella has more power than ever before, but a part of her is worried that it will not be enough to protect the people she loves and cares for in Vaihdetta. That does not stop her from working to make sure her people are happy and protected. Even if it means descending into the horror and war torn Beneath. She has a mission, and she is determined that to fulfill it.
---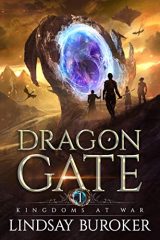 Kingdoms at War (Dragon Gate #1) – Lindsay Buroker
For centuries, wizard kings have ruled the world from their elite sky cities, battling each other to add to their wealth and power, while using normal human beings as pawns. Those without magic struggle to feed their families and live in constant fear of bringing down the wrath of their tyrannical masters.
Something must change.
But great heroes have tried and failed. Rebellions have been quashed, villages enslaved, and warriors executed.
Who is left to fight?
In the shadow of an active volcano, a small band of downtrodden soldiers and bookish archaeologists hope to find an ancient portal that allows travel to other worlds. Somewhere out there are the allies they need to win the war against their oppressors. Maybe they can even find the dragons that are believed to have built the ancient portals. With such powerful allies, they could finally end the wizards' corrupt rule and bring freedom and prosperity to all of humanity.
But our heroes are not the only ones who hunt for the portal, and the wizard rulers will do whatever it takes to keep their power…
---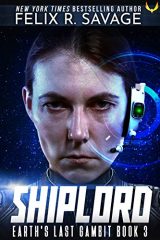 Shiplord (Earth's Last Gambit #3) – Felix R. Savage
Forgotten, alone, and left to die.
Jack Kildare and the survivors of the Spirit of Destiny are stranded on Europa, while an alien planet-killer sets its deadly sights on Earth.
But Jack's not done fighting. Not yet.
Abandoned by mission control, the astronauts embark on a life-or-death pursuit of the alien behemoth that now has Earth in its crosshairs. The 400-million-mile running battle will test Jack and his ship to their limits.
Enemy action, life-support crises, and deep-space hazards take their toll on the crew. Yet the greatest danger lurks closer to hand, on board the Spirit of Destiny itself.
Which ship will win the race? Will Jack beat the odds… or will Earth fall to alien conquest?