This week's new releases follow the adventures of a classic Edwardian occult detective; a different, even alien, version of the Cold War crisis; and a Marine exiled to Antarctica before retirement.
---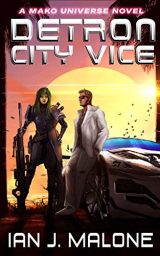 Detron City Vice – Ian J. Malone
Do you belong to the city?
The age of human division should've ended five years ago when the decades-old war between the Auran Alliance and the Alystierian Empire drew to a close. Turns out, things change.
When the League of Independent Worlds, aka "the Bog," announced its secession from the Prime Territories, debate raged across the galaxy. For some, the move was an affront to the peace for which so many had paid the price. To others, it represented a clean break from years of superpower neglect and a fresh start on a new frontier where a being's destiny could be its own.
Fast-forward to present day and one truth remains: "Folks in the Bog make frok-tons of money."
Nowhere is this more evident than in the bustling streets of Detron City, a place where thrills are chased by thousands, deals are made to impact millions, and where temptations lie in wait beneath the neon glow and lavish excesses of the city's nightlife for anyone seeking an escape.
It's also a place where people vanish.
Danny Tucker is a retired Auran staff sergeant and an ex-cop from Miami living in Detron City. He just got a call.
A friend's son has gone missing.
---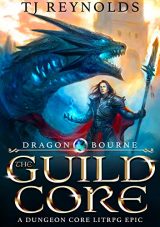 Dragon Bourne (The Guild Core #1) – T. J. Reynolds
The hero dreamed of ascending. The monk craved redemption.
The dungeon only wished to keep things tidy.
Kai was the least likely young man to ascend. Raised on his uncle's potato farm, he began his career as an adventurer with empty pockets and little skill. But a foolish attempt to prove his bravery leads Kai to unlock hidden power within himself and acquire a most unlikely ally.
Rhona is a battle-scarred soldier who's as likely to toss a quip as she is to throw a punch. After setting aside a promising career in the army to pursue the Path of the Bleeding Tiger, she sets out to stop a war and seek atonement for a bloody past.
When Bancroft the Earth Core awakens, he can't wait to clean up his dungeon and begin building things anew. A recovered item from his past reminds him that more is at stake, however, putting an end to such pleasantries.
Join The Guild Core, a small band of friends determined to restore the world to an age of dragons, heroes, and honor.
---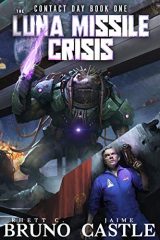 The Luna Missile Crisis (Contact Day #1) – Rhett C. Bruno and Jaime Castle
The year is 1961. The Cold War is in full swing and the space race is on. Russia aims to send humanity to space… but what if space comes to humanity instead?
Soviet Yuri Gagarin's historic first manned-spaceflight is disrupted when an alien Mothership jumps into orbit, causing a cosmic car crash that defies all odds.
Everything changes. The US and USSR must quickly put aside their differences. In exchange for the Earth's help in the rebuilding of their Mothership, the mysterious aliens know as Vulbathi offer promises of technology beyond humanity's wildest dreams. All the while, the world asks whether the Vulbathi are saviors or conquerors.
When an alien tech counterfeiter's mistake sets off a chain reaction, the fragile peace is threatened. Connor McCoy didn't mean to upset Earth's new intergalactic neighbors. He only wanted to make some cash.
Now, Connor is the only person who can stop the doomsday clock from striking midnight. That is if his estranged brother, an agent in the new Department of Alien Relations, doesn't get to him first.
---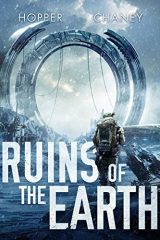 Ruins of the Earth – Christopher Hopper and J. N. Chaney
A secret buried in the Antarctic.
A puzzle unsolved for thousands of years.
And a Brooklyn-born Master Gunnery Sergeant who's royally pissed that he has to babysit the researchers sent to figure it all out.
Patrick "Wic" Finnegan's last op as a Marine Raider before retirement sends him to the frozen Ellsworth Subglacial Highlands. The only reason he's here?
He owes a favor for an old friend—but that doesn't mean he has to like it.
When Wic finally sees what the team has uncovered, he can't believe his eyes, nor is he prepared for the violence to come.
Soon, the portal opens and unleashes a storm of unbridled fury upon humanity.
From the Antarctic tundra to the streets of Manhattan, Wic and his team will be pushed to their limits as they fight to hold back Earth's ultimate threat.
The odds are against them. Governments are toppling. And the Earth is falling into ruin.
---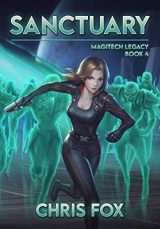 Sanctuary (Magitech Legacy #4) – Chris Fox
Join Us, or Die and Join Anyway.
I hate necromancers. They're sneaky, and underhanded, and…damned effective. My father's ghost is going to be reshaped into an assassin sent to kill my mother unless I dance for Necrotis, an unliving goddess and ruler of the Maker's Wrath.
A storm rages across the void, with winds upwards of two thousand kilometers a second in some places, the Catalyst known as Sanctuary. The Unseen Fleets lurk somewhere within, and emerge to harvest miners working the asteroids and moons flung out of the storm. Necrotis wants me to fly inside, find a city that predates the Great Cycle, and find a way inside when no one ever has before.
No pressure, right?
If I didn't need enough incentive here's some more. My mother promised the Confederate Pantheon that I'd fly into the storm to find answers while they marshal their forces for war. No one asked me, or my crew. I wish I could give them the middle finger, and take the Remora and run, but if I do?
Well… I have a feeling the whole galaxy is going to burn. I need to save my father. I need to find out what's hiding in that storm, and then turn it on the people trying to use me. I'll get answers all right, but not the ones they want.
---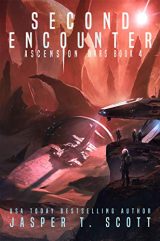 Second Encounter (Ascension Wars #4) – Jasper T. Scott
With a fragile peace established in the Enclave between humans and Chimeras, both species must learn to put aside their differences to ensure their continued survival. But racial tensions are simmering just beneath the surface, ready to explode.
Meanwhile, Clayton and Samara's daughter, Dora, might be the answer that everyone is looking for: her immunity to both strains of the Chimeran virus could soon lead to a cure, making it possible to establish new settlements beyond the Enclave.
Mysteriously, the Kyra's reinforcements never arrived to blockade and quarantine Earth. Clayton worries that it's because the Kyra are losing the war to the Chrona. He's no friend of either side, but the Kyra might actually be the lesser evil. He wants to take the Enclave's stolen transport beyond Earth to learn what's going on. Yet, when Clayton learns of a sinister plot within the Enclave that directly threatens his family, he's forced to execute his plans early.
With old enemies lurking in the shadows, nothing goes as planned, and little does Clayton know, the revelations waiting beyond Earth are far more shocking than he ever could have imagined…
---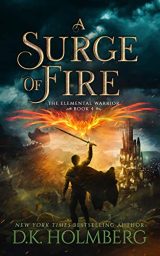 A Surge of Fire (The Elemental Warrior #4) – D. K. Holmberg
Having barely survived the Lands Beyond, Tolan recuperates while preparing for the next attack. His closest allies are gone, leaving him floundering for answers, along with his place in the Academy.
Tolan must protect Terndahl before the elementals attack. After years spent teaching others the elementals were no danger, he fears the repercussions of changing course.
When even an elemental warrior might not be enough, Tolan must find the elemental nature within him.
The gripping conclusion of the Elemental Warrior series!