Mysterious starships, alien invaders, magical queens, and betrayed dragons fill this week's new releases.
---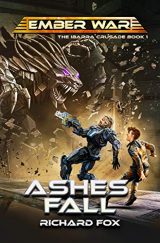 Ashes Fall (Ember War: The Ibarra Crusade #1) – Richard Fox
Earth suffers under a brutal alien occupation. But one young man from beyond the galaxy's edge brings hope.
Ely Hale returns to the Earth with a desperate plea from his father: Take his son to Stacy Ibarra and remove the Qa'resh technology embedded in his skull before it kills him. Ely awakens to a world turned prison planet, and the Geist invaders have their own designs on the device he carries.
Only the Ibarra Crusade stands against the darkness, and they are losing the war. When the Crusade's few remaining agents learn of Ely's return, they launch a final, desperate attempt to steal him off world and out of the Geist's clutches.
Ely isn't a warrior, but the Hale name comes with high expectations…and carries hope for all of humanity.
---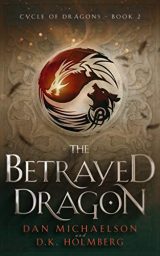 The Betrayed Dragon (Cycle of Dragons #2) – Dan Michaelson and D. K. Holmberg
A chance encounter leads Ashan deeper into the mysteries of the dragons.
As a new student in the Dragon Academy, Ashan wants nothing more than to understand his connection to the dragons and to harness their power, but he might have come to learn of his power too late for him to use it. Attempts to harness the magic that burns within him haven't succeeded, and he's consoled knowing that if nothing else, he can learn to be a dragon rider.
Dragons begin to go missing, the Djarn move toward the kingdom, and Ashan gets caught in a plot he's not trained to handle. When the king's chief dragon mage falls under suspicion, Ashan discovers the key to unraveling the plot against the throne. All Ashan wants is to learn enough to become a dragon mage, but if the Djarn take the dragons, more than that goal will fail. The entire kingdom will fall.
---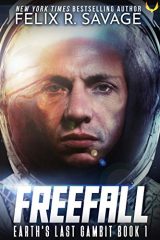 Freefall (Earth's Last Gambit #1) – Felix R. Savage
A mysterious alien ship is orbiting Europa.
A handful of astronauts must voyage to Jupiter to face the threat, alone.
During a classified mission to the ISS, astronaut Jack Kildare picks up an eerie signal. An alien spaceship is orbiting distant, icy Europa. It looks derelict… but is it? As fear sweeps across Earth, NASA spearheads a frenzied effort to build a ship capable of traveling to Jupiter to confront the alien menace.
Technology intertwines with espionage and sabotage in a race against the clock. Fighting for his rightful place in the mission, Jack finds himself submerged in a world of secrets, international power games, and cold-blooded murder.
Earth needs a man like Jack… but someone doesn't want him going back to space, ever.
Can Jack defeat the saboteurs in time to save humanity? Or will the alien threat triumph?
---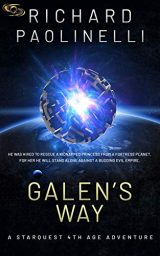 Galen's Way – Richard Paolinelli
The Princess Rhiannon of Salacia has been kidnapped and is being held for ransom on the fortress planet Nammu. Galen Dwyn, the most feared mercenary in the Andromeda Galaxy has been hired to rescue her and bring her home.
But even as his rescue mission succeeds, Galen will soon find himself on the run with the Princess. Caught in the middle of a web of political intrigue, even as he begins to fall for the Princess, he will have to use every ounce of his skill and cunning to keep them both alive as forces from several planets seek them out.
For her love, he will stand alone against the forces looking to establish a new, and very evil, empire.
Galen will look to keep her safe and bring the budding empire to a halt before it can gain a foothold in the galaxy. He will choose to do so the only way he knows how.
Galen's Way.
---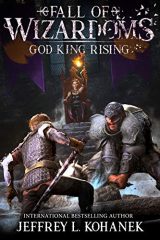 God King Rising (Fall of Wizardoms #1) – Jeffrey Kohanek
Two queens.
One rules by fear, her citizens laboring to fund the lavish lifestyle of the wizard class. The other believes in justice and compassion, earning her the love of her subjects…and the enmity of her wizard peers.
Both will die.
In one wizardom, a secret rebellion brews. A hero to the people rises, fueled by a mysterious sorcerer's blood magic. But at what cost?
Conspiracies and assassins lurk in every shadow, threatening the throne of another nation. The scheming wizard behind it will stop at nothing to claim the crown. Yet, even he is a pawn.
What force is behind it all? What is their endgame?
---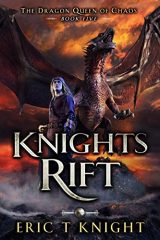 Knights Rift (The Dragon Queen of Chaos #5) – Eric T. Knight
Time is running out.
Jarryd risked everything to obtain the Thaumaturge stone, a weapon so powerful it devastated a nation. With it, he might have a chance against the Dragon Queen.
If the weapon doesn't kill him first.
For the stone's power grows by the day, and Jarryd's friends fear what it is doing to him.
Unfortunately, Jarryd is running out of time. He's been poisoned by an Imperial assassin, and the poison is spreading.
Changing him into something else…
---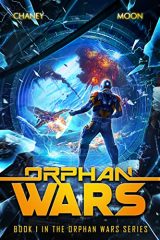 Orphan Wars – J. N. Chaney and Scott Moon
When leading archeologist Dr. Hank Murphy discovers an alien artifact on the Moon, corporate interests are quick to get involved.
A discovery like this could change everything, but more importantly, someone stands to make a fortune.
But Murphy just wants to understand what this thing is and how it works. After months of research, he finally manages to locate the power source.
The gate is soon activated…
And Murphy is pulled through.
Moments later, he finds himself in a war-torn corner of the galaxy where strangers like him are called Orphans…and they are considered extremely dangerous.
Somehow altered by the experience, the archeologist now has enhanced strength, speed, and agility. He is more than human. He is an Orphan. And he must survive a deadly new reality unlike anything he can imagine.
Worse still, Murphy is not the only so-called Orphan in this region of the galaxy. There are many others.
And not all of them are created equal.
---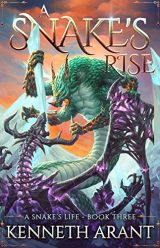 A Snake's Rise (A Snake's Life #3) – Kenneth Arant
She promised him for better and for worse.
Torga's been keeping a secret from his wife. While Reina, an accomplished monster hunter, was overjoyed to be reunited with the man she loves, what would happen if she found out that he was actually one of the largest monsters in history?
Torga's plans to reveal himself are interrupted when a conspiracy of other gods sends him and his wife to Helheim, a frozen waste where their skills and magic are stripped away. He'll have to recover his powers, and possibly make a deal with some of Helheim's less savory residents to escape, but will Reina accept his help once she realizes who he really is? He's going to have to convince her, because her mortal body is dying, and if it does, she'll be trapped in Helheim forever.