Every week, the Castalia House Blog spotlights some of the many new releases in independent, pulp and web novel-influenced science fiction and fantasy.
---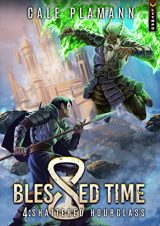 Blessed Time 4: Shattered Hourglass – Cale Plamann
Time is running out, and the fate of reality itself lies in Micah's hands.
Micah fought the Third Prince of Elsewhere once. He was defeated more thoroughly than he had ever thought possible. Even when he fled from his failure through time itself, the Prince pursued him, dogged and unwilling to give up on an injured quarry.
The gods gave him a quest: gather the artifacts needed so that he could contend with an evil capable of devouring existence itself. He fought and bled, finally acquiring the tools he thought he would need for the climactic battle waiting for him when he returned home. Unfortunately, his adventures didn't prepare him for one simple truth.
He was not ready.
The Third Prince was more powerful than any human that had ever lived and ever would live. Fighting a being older and more sinister than myth and legend itself was a fool's errand, but when fate called, sometimes there weren't heroes and demigods waiting in the wings to defeat it. Sometimes, there was only a fool left to answer.
---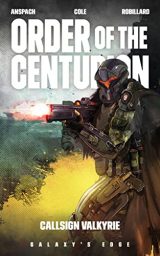 Callsign: Valkyrie (Galaxy's Edge: Order of the Centurion #6) – Jason Anspach, Nick Cole, and Walt Robilard
These Things We Do, That Others May Live!
The Legion is the most elite, direct-action force in the galaxy, hammering the enemies of the Republic… but some missions require a scalpel.
When radical insurgents shoot down a covert republic flight at galaxy's edge, a nearby Legion recovery team is sent to recover the crew and keep the flight's VIP—a doctor overseeing clandestine research and development—from falling into enemy hands. The operators of REC-Team Pelican fight the clock and struggle against criminal cartels, dangerous insurgents, and internal political strife, knowing that theirs is the duty to succeed where others might fail.
Strap in for a thrilling adventure of special operator warfare, covert intelligence, and high-stakes spy craft as REC-Team Pelican navigates a treacherous battlespace to make the rescue… no matter the cost.
---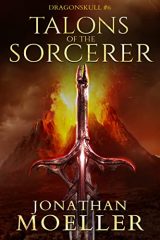 Dragonskull: Talons of the Sorcerer – Johnathan Moeller
A malevolent sorcerer. A grim fortress. Those who cross its gates never return…
Gareth Arban seeks to stop the sorceress Azalmora from finding the Dragonskull, a powerful relic of dark magic.
But the fortress of Nifheldun lies in his path, and to pursue Azalmora, Gareth must help the warriors of the Norvangir seize the fortress.
But the sorcerous master of Nifheldun is cunning, and Gareth and his friends might be the latest warriors to fall before his deadly spells…
---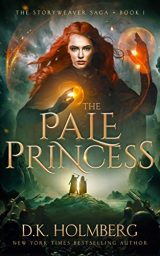 The Pale Princess (The Storyweaver Saga #1) – D. K. Holmberg
Stories claim the Pale Princess was a powerful sorcerer who once saved the world from a dangerous magic. Only a few know the truth.
Lan and Sophie lead a simple life with their grandparents, though both long for more. When their grandparents are murdered during a strange magical attack, their lives will be forever changed.
For Sophie, she's brought to a palace where she lives a luxurious life, while trying to understand what the strange sorcerer Ridaln wants from her. When she discovers a talent with magic, she learns poses that give her access to power that she had only heard about in the stories her Nana told.
For Lan, who's always wanted to learn the sword, the opportunity to train as a soldier makes him think he'll be able to learn and serve. What he finds is brutality and torment, though he does learn to fight. A chance encounter on the battlefield takes him away from that brutality, where he's given a chance to learn another way—and finally become the mythical Taihg soldier he's dreamed of being.
As Sophie tries to understand her purpose in the palace, and Lan longs for battle, they become a part of a dangerous war—and may be the only ones capable of stopping a dark power a dangerous sorcerer wants to once more unleash upon the world.
---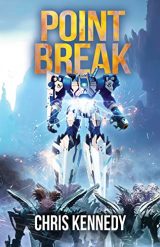 Point Break (The Guardian Covenant #3) – Chris Kennedy
A warrior without a war!
Lieutenant Paul Anderson is a Guardian driver, able to pilot the massive, thirty-meter-tall mecha "Point Break" from his cockpit high above the ground. There are only two problems—the Alliance won't let him arm the giant mecha, and even if he could, he's a long way from where any of the fighting is occurring. When Paul learns his mother's been killed on Lewa, he wants to get some payback… but he can't.
Captain GrabaLar, a Deoor, is a lot closer to the war. The CO of the 27th Missile Battalion's Alpha Company, he's called back to the fighting when the humans pull out of Trook Seven to defend Lewa. Unfortunately, his position is exposed, and he's likely to be overrun when the Gimfa show up, which he's sure they will. He'd like nothing more than to leave the fighting to the Guardians… but there aren't any to be had.
When the Gimfa—giant aliens bigger than a Guardian mecha—arrive on Trook Seven, though, Paul's faced with an almost unwinnable fight, and he learns to appreciate the saying, "Be careful what you ask for." For GrabaLar, he never asked for any of it… but he's going to get it just the same. With the battle for Lewa hanging in the balance, will Trook Seven fall, too?
---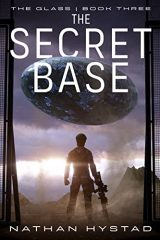 The Secret Base (The Glass #3) – Nathan Hystad
The Glass changed the world forever.
Ransom and Britt attempt to settle into a new life, but a dreadful threat is constantly hanging over their heads.
The settlers in Tucson know their time is limited. An invasion is underway.
Peggy is adamant they can destroy the Glass, but it will take a trip to another time and place to ensure it remains off.
Cedric, under a cloud of doubt, must decide where his true allegiance leans.
There is hope. A military base with something that could change the tides of their future.
No one seems to have remembered the base exists, but they search for their salvation. Joel is determined to finish the battle before it begins, but his chances of survival are bleak.
---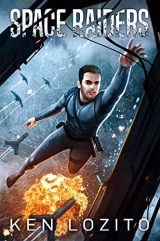 Space Raiders – Ken Lozito
After years of searching, Nathan Briggs is finally on the verge of finding the lost shipwreck. Unfortunately, the aliens have other plans.
When Nathan stops a brutal attack on an unsuspecting victim, he gets more than he bargained for and sets into motion events that will change his life forever. They told him he should've run away, and maybe they were right.
Nathan is about to embark on an adventure of a lifetime.
Aliens are real. He has something they need, and they're not the only ones hunting for it.
And while the aliens have advanced technology, they're about to learn something. When the going gets tough, Nathan doesn't give up, he just gets tougher.
---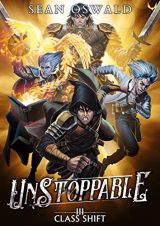 Unstoppable (Class Shift #3) – Sean Oswald
Change is life. Consistency is a lie. Control is an illusion.
Those are the words which greeted Tim upon his arrival in this new world which has become his home.
They are the mantra that he has been forced to live.
But are they true? Is there room for him to nudge his reality in the direction he wants to go?
If he has to change so be it. He'll ride the waves and make it work for him.
This time he is determined to become Unstoppable.