Angelic Wild West gunslingers, alien chi cultivators, and misfit dragons fill this week's new releases.
---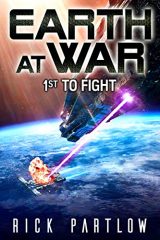 1st to Fight (Earth at War) – Rick Partlow
I retired from the USMC, and now I write about space marines.
I never thought I'd actually become one.
As a sci-fi author with a hit TV show, I have a few ideas about what alien invaders are supposed to look like. In my stories, they're technologically advanced monsters, with tentacles, and no faces.
Turns out I was right about the technology.
And about how angry they'd be.
But the way they look…that's more terrifying than even I could have imagined.
They look exactly like us.
Because they are us.
---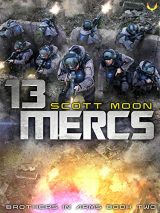 13 Mercs (Brothers in Arms #2) – Scott Moon
The war isn't over. One victory can't remove the warlike alien armadas from the galaxy, or vindicate the power elite and their mercenaries. Wounded, separated from his squad, Michael Priam must make an unholy alliance to keep the enemy from wiping the United Galactic Government from the star map.
When Michael finds himself prisoner on an outlaw's ship, he is faced with recovering from wounds that should have killed him in time to fight a new menace facing the home system. His friends will see his actions as betrayal, but he must chose honor over happiness. When he is cast onto an ice moon by a treacherous new ally, he will fight a Skull outcast to survive, but also rely on him to escape in time to save people who won't thank him for it.
Continue the fight that started on the Slog. Grab the second installment of the Brothers in Arms saga to witness heroes fighting for the UGG fight on planets, ship decks, and the void of space.
---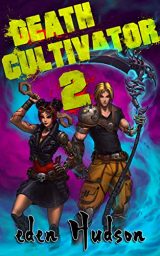 Death Cultivator 2 – eden Hudson
Fight for your Soul.
Death cultivator Grady Hake thought his problems would disappear when he and his friends became members of the strongest gang on the prison planet, but all it did was thrust them into the kill-or-be-killed world of the Eight-Legged Dragons.
As Hake undergoes the trials of his gang, he'll discover there's a deadlier force on the prison planet than the death cultivator, even deadlier than the Angel of Death, and it wants his soul. Learning to cloak his lethal Spirit attacks in oblivion might help Hake rise through the ranks, but it won't keep him and his friends alive…or keep his soul in one piece.
---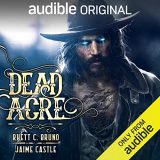 Dead Acre – Rhett C. Bruno and Jaime Castle, narrated by Roger Clark
James Crowley met his mortal end in the West in a hail of gunfire. Now, he finds himself in purgatory, serving the White Throne to avoid falling to hell, but with no chance at heaven. Not quite undead, though not alive either. The best he can hope for is to work off his servitude and fade away into nothing.
His not-so-sacred duty as a Hand of God? Use his new abilities to hunt down demonic beings that have infiltrated the mortal realm.
This time, the White Throne has sent him to a western town called Dead Acre, with a saloon, a moldy church, and little else worth talking about. There isn't even a sheriff. But a local cobbler has gone missing at the same time a number of graves were desecrated.
Crowley must follow the clues, all while dealing with a gang of cutthroats who treat Dead Acre like they own it; locals not keen on sharing the truth with strangers; and an extraordinary woman who makes it hard to focus.
Life isn't simple for a Hand of God.
---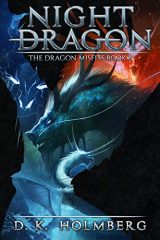 Night Dragon (The Dragon Misfits #6) – D. K. Holmberg
A true misfit may be the key to finally defeating Lorach, but only if Jason learns its powers in time.
Having stopped Lorren and saving the egg, Jason now faces his most dangerous threat as Lorach moves on Dragon Haven.
With the city under attack from a strange new power, only with an understanding of the misfit dragons will Jason—and the dragons—finally be free. When even Dragon Haven seeks to use their power, Jason is forced to make a choice between the people who took him in and the dragons he pledged to protect.
For Jason, long a misfit himself, the choice is more difficult than he ever imagined. One choice means Lorach will extend their influence beyond their borders and continue their reign of devastation, but the other means the misfits will be sacrificed.
---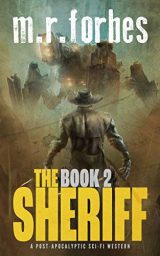 The Sheriff 2 – M. R. Forbes
The invaders are gone. Earth is in ruins. The strong prey on the weak.
On an Earth decimated by war, a lone gunslinger delivers justice, protecting the innocent and righting the wrongs of a broken world. Some call him lawman. Some call him madman. Some call him vigilante. Some call him killer. Some call him legend.
They all call him…
…the Sheriff.
His story continues.
---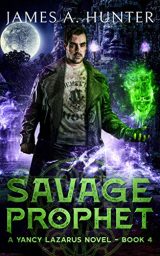 Savage Prophet (Yancy Lazarus #4) – James Hunter
Legions of murderous undead, Haitian voodoo, and a five-thousand-year-old serpent god.
Yeah, 'cause that's exactly what Yancy Lazarus needs in his life: more complications. As if being the Hand of Fate and the newly appointed guardian over one of the Horsemen of the Apocalypse wasn't headache enough. 
Turns out one of the Horsemen of the Apocalypse—the pale Rider, Death—is slumming around in one of Yancy's old haunts. In order to corner this new threat, though, Yancy's gonna have to face some deadly supernatural nightmares from his distant past. And, to make matters worse, he's not the only one trailing the Pale Rider. A powerful new mage with some serious magical chops is also aiming to find the Fourth Seal and he'll do whatever it takes to win. Even if it means hurting those closest to Yancy… like FBI Agent Nicole Ferraro.
---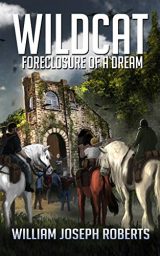 Wildcat: Foreclosure of a Dream (The Fallen World #12) – William Joseph Roberts
On the run in a Fallen World…
Three long years after the world Fell, Wildcat Leander Calloway Toler, a deputized lawman—or what passes for one in this Fallen World—finds himself being pursued across the Appalachian wastes with the daughter of a wealthy businessman in tow. Trapped and outgunned, Leander learns that those who took his family and left him for dead in the chaotic days after the Fall have returned.
Infuriated by the bureaucracy of a corrupt system, Leander decides to take matters into his own hands and recruits a team of loyal companions. When they set out on a quest across the mountainous coalfields of southern West Virginia, though, they find out the previously two-bit biker gang has established an empire beyond what anyone could have imagined.
Military scout teams, mutant critters, and radiation zombies are nothing compared to the challenges and pain awaiting Leander once he finds himself in the heart of the Brotherhood's compound, face to face with JalCom…and quite possibly the devil himself.
With the help of Evelyn, an Obsidian agent he finds in the depths of the JalCom lab hidden far below the Greenbriar, can Leander and his team of loyal companions find his family and stop the Brotherhood's reign of terror?