Every week, the Castalia House Blog spotlights some of the many new releases in independent, pulp, and web novel-influenced science fiction and fantasy.
---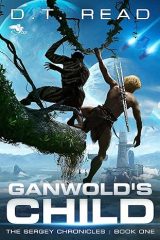 Ganwold's Child (The Sergey Chronicles #1) – D. T. Read
Darcie was taking her young child Tristan to rejoin her husband Lujan in the Enach system when nonhuman slavers attacked and captured their transport. Darcie escaped with Tristan in a lifepod and touched down on Ganwold, a primitive planet controlled by their long-time enemy. Unfortunately, due to a malfunction in the lightskip drive, they'd also accidentally jumped several years forward in time and can't expect to be rescued, so Tristan grows to manhood hiding among the alien ganan.

But when Darcie contracts a lingering, life-threatening illness, Tristan and his gan "brother" Pulou set out on a quest to find the father Tristan never knew, and they are faced with technology they've never seen. Captured and turned over to the Sector General, Tristan is used as a bargaining chip in the ongoing war.

Now Admiral Lujan Sergey must figure out a way to counter the impending attack, while realizing he could lose the family he's just learned is still alive.
---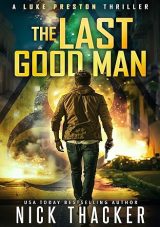 The Last Good Man (Luke Preston Thrillers #1) – Nick Thacker
A deadly outbreak. A government conspiracy. Luke's back in the game.
Luke Preston's world shattered following the brutal loss of his wife in a police-led operation. Scarred by this personal tragedy, he shelved his detective badge permanently. Former soldier and ex-cop, Luke has since settled into the quiet rhythms of civilian life. But the emergence of a lethal contagion menacing American lives wrenches him from this tranquil existence.
When tragedy strikes a family at a secluded detention facility, bearing the hallmark symptoms of a baffling disease, the government rings Luke's number. This insidious illness, marked by harrowing fatalities and eerie blood splotches beneath victims' skin, is on the rise. With time as the enemy, Luke has to plunge into action, or the nation faces a full-blown epidemic.
Joining forces with the brilliant medical professor, Mia Mendez, Luke ventures to the borderlands. Their discoveries there are chilling: indications that this dread disease isn't natural, but a weapon, masterminded with sinister intent against the very core of the state. Pitted against formidable adversaries, it's up to Luke, with his resourcefulness and grit, to neutralize the shadowy group orchestrating this crisis. Retreat is off the table.
---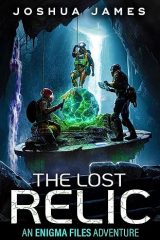 The Lost Relic (ENIGMA Files #1) – Joshua James
In the high-stakes world of ancient artifacts and clandestine organizations, a trio of unlikely misfits are drafted into a desperate race to prevent the assembly of a prehistoric relic capable of warping reality itself.
Rhett, the stoic ex-military leader haunted by his past; Dinah, the conflicted academic with a penchant for solving ancient puzzles; and Fabien, a dangerous man driven by a personal quest—all are bound together by a cause bigger than any of them.
Their journey takes them from the treacherous peaks of the Himalayas to the volatile heart of war-torn Ethiopia, and from the depths of the mysterious South American rainforest to the unexplored realms of spacetime.
But what they seek might be more powerful than they were led to believe, it's origins more mysterious, and their enemies more numerous.
As they inch closer, the lines between heroism and reckless sacrifice blur. An ancient force waits in the shadows, threatening to unravel the fabric of existence.
How far will they go to save a world on the brink of ruin?
---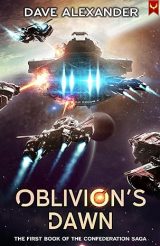 Oblivion's Dawn (The Confederation Saga #1) – Dave Alexander
If they don't learn to trust each other… Humanity will fall…
Tella Spar is an ambassador in the Galactic Confederation. Sent to negotiate the peaceful release of hostages on Bala, she uncovers a plot that would usurp humanity's standing within the Galactic Confederation. A plot put into play when a group of mercenaries commanded by the notorious Garret Cushing sends a cryptic message to the Confederation in blood.

On a distant planet outside the reach of the Confederation, Garret Cushing finds himself in dire straits. Struggling with a guilty conscience, and his life in the balance, he decides to do the unthinkable; turn himself over to the Confederation in exchange for protection.

As a witness to a decades-long conspiracy, he could save millions of lives, but first, he has to get off Bastia alive.

There's only one way; with the aid of the Confederation, the organization that wants him dead.

Enemies are forced to trust one another as they fight their way across the galaxy in an attempt to stop a devastating war. If they die, then humanity's hope for a future within the Galactic Confederation will end.
---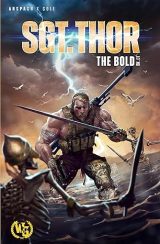 SGT. THOR the Bold – Jason Anspach and Nick Cole
One Ranger Leads the Way
A U.S. Army Ranger sniper finds himself on his own and on the move far downrange and beyond the wire in an epic fantasy world filled with deadly monsters and dangerous foes in a total battle royale for glory, hoard… and flat-out survival.

Adrift on the Sea of Riddles and lost in a dangerous world of epic fables, Sgt. Thor and his anti-materiel sniper rifle, Mjölnir, must survive brutal pirates, darkest sorcery, and a catastrophic shipwreck on a strange island steeped in arcane mystery and containing the remains of a lost civilization guarding an ancient artifact of great and terrible power.

Grim enemies and intrigue abound…

In order to defeat a Pirate Necromancer and his army from the east seeking to manipulate a battle between the warring Fates, this elite tip-of-the-spear warrior must use his modern warfighter skills and battle-tested leadership to forge an unlikely savage fighting force to pit against heavily armed enemies all too real, and for some… far more fantastic than the myths and epics of a long-ago past.

In a dangerous fantasy world one man must move farther, faster, and fight harder than foes seeking to kill him with might, magic, treachery and by whatever means possible. But U.S. Army Rangers don't die easily.
---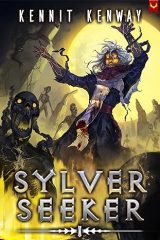 Sylver Seeker – Kennit Kenway
New World. New System. Same old Necromancer.
After fulfilling the duty all Arch Necromancers are tasked with, the last thing Sylver Sezari expected was to be reborn. He was usually the one reanimating dead things, after all. How ironic.
But reborn he was.
And after crawling his way back into the land of the living, he finds himself in a strange land, a strange time, and with a strange floating screen in front of his new face.
Either through plan or chance, he's alive again, and planning to enjoy himself to his heart's content.
---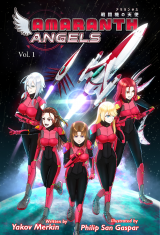 Amaranth Angels – a Kickstarter campaign from Yakov Merkin
Saya Nishizawa was a starfighter pilot prodigy, flying alongside her big sister Kurenai in the Amaranth Angels performance squadron. where they conducted elaborate flying demonstrations and competed in mock battles–which they nearly always won.
Things were perfect, until tragedy struck, and Kurenai lost her life in a sudden accident. Scarred by this, Saya wanted nothing more than to run as far from a starfighter cockpit as possible. So she resigned from the squadron, and left Earth to start anew at a new school on a space station near the edge of the solar system.
However, fate has ways of forcing people back to their calling.
When the station comes under attack by an unknown alien force, Saya and her friends, caught completely unprepared, need to take flight in order to survive.  But when the smoke clears, the five of them are stranded far from home, and thrust into a far bigger fight than they could've ever imagined.
This crowdfunding campaign will remain open until 20 October, 2023.