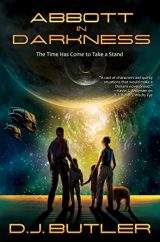 Abbott in Darkness – D. J. Butler
John Abbott is all in.
He's up to his eyeballs in debt to pay for school, and he's just moved his small family forty light-years from Earth for a plum job with the wealthy interstellar corporation, The Sarovar Company. John's first assignment is to discreetly investigate possible corruption at the remote Arrowhawk Station, where Company traders buy the famous Sarovari Weave from the three-sided, crablike Weavers.
John finds evidence of theft and worse, but when the guilty parties realize he's getting close, they come after him and his family. Can John catch the thieves and end their corrupt trade? Can he head off a war between the Company and the Weavers? Can he make a life for his family in this remote wilderness without corrupting himself?
With no way back to Earth, the only direction for John Abbott and his family to go is forward—into danger.
---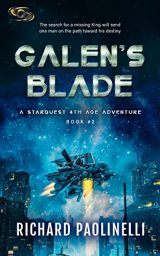 Galen's Blade – Richard Paolinelli
The journey of Galen Dwyn continues in the second book of the Starquest 4th Age series.
While Dwyn lies in stasis, recovering from his injuries in his stand against Harmool's fleet, Rhea has assumed the title of Regent of Salacia while leading the search for her missing father, King Iodocus. She is also helping repair the damage done to the Alliance in her Uncle's and Mother's mad quest to launch a new Empire. A shocking assassination attempt is thwarted at the last second by Dwyn, who seems to be a changed man now that he has exited stasis to save his love.
The King's location is ascertained and a rescue mission mounted to retrieve him from the Wilds, a lawless area of space. An ambush splits their forces and Dwyn leads the ambushers away so that Rhea and her father can escape. Before Dwyn can find a way back to Alliance territory, an old enemy returns from the grave, and hold Rhea and the King hostage, while triggering a massive insurrection that overthrows the Alliance and installs a new Emperor.
Dwyn must now mount a second rescue while finding a way to rally a rebellion against this threat to peace in the Hominids' corner of the Andromeda Galaxy.
---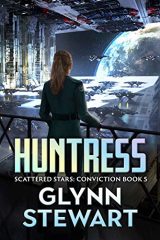 Huntress (Scattered Stars: Conviction #5) – Glynn Stewart
Admiral Kira Demirci lost the coin toss with her second-in-command and was supposed to be taking a holiday. That meant waiting in the Redward System while Memorial Force's new carrier Huntress was commissioned and turned over to the mercenary space fleet.
But when a stranger arrives looking to hire Memorial Force to protect her homeworld, Kira finds money, boredom and altruism combining to bring her into action. The majority of her fleet is elsewhere, but she has two heavy warships, including Huntress. More than enough to protect the pacifist system of Samuels from their neighbors.
Those neighbors were armed by Kira's old foes in the Brisingr System, and she smells the hand of the Equilibrium Institute behind the scheme. A chance to protect the innocent and frustrate two old foes at once is hard to turn down—and even if things go wrong, the rest of her fleet is on their way.
She's planned for everything. Hasn't she?
---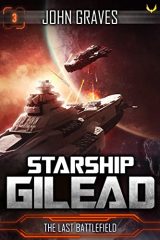 The Last Battlefield (Starship Gilead #3) – John Graves
War has crossed the galaxy and Earth is the last battlefield.
Adrienne Manthus has lost everything: her father, her ship, and her love. Trapped behind enemy lines, she and a small contingent of space marines must explore a desolate world in search of an ancient artifact that will give them a fighting chance against Kokabiel, the God-emperor who has conquered the galaxy. But without the Starship Gilead, how can Adrienne hope to make a stand against her tyrannical enemy?
Across the stars, Jeremy Manthus has stolen his father's starship. He has spilled innocent blood and rules Gilead with an iron fist. But rebellion is fomenting among his crew, and Jeremy has lost sight of Gilead's mission. How long will he be able to hold the captain's throne when his sister returns to claim her birthright?
Millions of lives have been lost and the galaxy is in flames as the Starship Babylon finally arrives at Earth. There's only one starship capable of defeating her, but will Gilead arrive in time? And who will be in command?
---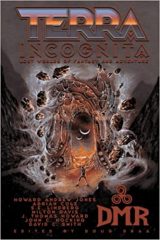 Terra Incognita: Lost Worlds of Fantasy and Adventure – edited by Doug Draa
You are holding a ticket in your hands.
A ticket for a voyage of thrills, wonder, and discovery as seven of today's top fantasists, each one a master of Heroic Fantasy, transport you to lands beyond your imagination. Lands of fantasy and adventure. And the only passport needed is your imagination.
David C. Smith's courageous rebels under the leadership of the undying warrior Akram must form an alliance with an ancient race to overthrow murderous usurpers, along with their necromantic masters, who are hellbent on destroying their kingdom in an insane attempt to conquer the world.
Adrian Cole transports a group of explorers to a Lovecraftian netherworld of no return. Or is there, if one is courageous enough?
S.E. Lindberg gives us a distant world where two alien sisters, who were created in the image of man, wage a war against each other to determine the future of their world.
J. Thomas Howard reveals the harsh realities of ancient Eire, Samhain, and the war between the Fomorians and Tuatha Dé Danann.
Milton Davis introduces us to a young man, barely past boyhood, who has to brave great dangers on his own to seek the help of ancient allies who may no longer exist.
John C. Hocking regales with the plight of a young archivist who is forced at swordpoint to travel into a parallel world full of horrors from a time long forgotten.
Howard Andrew Jones sets sail into adventure with a group of sea-going merchants and their passengers. Many of them are not who they seem to be and only reveal their true selves once a sunken kingdom from the bottom of the sea launches an attack against the travelers.
---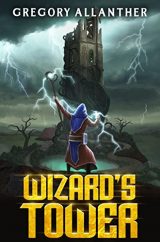 Wizard's Tower – Gregory Allanther
The humans call me Nemon Fargus. They call me wizard, and [Elementalist] and [Enchanter]. They call me teacher. They call me adventurer.
But I don't care. Not anymore.
For more than 150 years I've served the Kingdom of Sena. Through four Kings and a Queen. Two wars and a rebellion. I've founded and taught at a magic school. I've fought against beast waves and dungeon breaks.
But now? Now, the one close friend I had left has passed. So, I'm done with their politics and their economics. The short and busy lives of humans are more burden than benefit on the weary soul of this half-elf.
Now, I'm looking for a refuge, a place that can well and truly be my own. Away from the growing cities and the bustling markets, away from the pointless wars, away from the eager students and the arrogant adventurers.
I'm seeking the peaceful life of a wizard in his tower, studying magic to advance my spellcraft…We'll see if that happens.