Prehistoric murder, mad kings, and unwilling mercenary henchmen fill this week's new releases.
---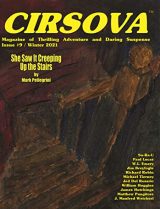 Cirsova Magazine of Thrilling Adventure and Daring Suspense Issue #9 – edited by P. Alexander
In this issue:
Infinite universes are filled with myriad worlds of infinite possibilities—and infinite selves! One man hunts and is hunted across the multiverse, seeking absolution!
The Mongoose and Meerkat have been hired to lay claim to the salvage of a wrecked ship… and will be partnered with none other than the Hand of Bursa!
It was supposed to be a drug-fueled science fiction anthology alleging to recreate the human brain! But what was the sinister truth behind The Mellifluous Phoenix?!
A door-to-door salesman promises a fantastic cleaning device that can get rid of anything and everything! But what can get rid of a salesman who won't give up?!
..and much, much more.
---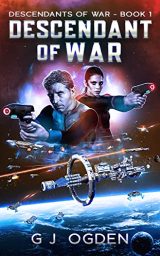 Descendant of War – G. J. Ogden
Frustrated by restrictive rules, maverick warship commander, Dalton Reeves, has crossed the line one time too many. Disciplined for violating orders, Reeves is packed off to "The Abyss" – a dangerous and isolated space city named Concord Station, and officially the worst assignment in the galaxy.
Amidst escalating interstellar tensions, a long-forgotten enemy emerges from the mysterious Shadow Space to threaten war. Events are quickly set in motion that will propel Concord Station from obscurity to the most strategically important outpost in the galaxy.
But as the secret of Reeves' dark origin is revealed, he's thrust into the center of the conflict in more ways than one. Dalton Reeves is a descendant of war, but he's not the only one.
The ancient enemy not only seeks conquest, but to exact vengeance upon the sole descendant of two infamous soldiers that annihilated the alien's homeworld a millennium ago.
With the six realms on the brink of all-out war, can Commander Reeves face both his demons and his bitter rivals to become the warrior and the leader the galaxy desperately needs him to be?
---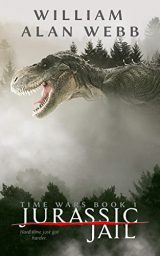 Jurassic Jail (Time Wars #1) – William Alan Webb
In the Jurassic, nobody cares if you scream.
Future America is dangerous and bankrupt. The interstate highways are littered with the rusted hulks of ambushed cars and trucks, and only Mad Max would dare travel the back roads. With society at large failing, the government has embarked on a number of projects to keep its collective head above water.
Like the Manhattan Project and Operation Overtime before it, Operation Timekeeper—the project to build a time travel system for military purposes—has attracted the best and the brightest that still remain in America… as well as the worst and the most psychotic who will do anything to control it.
When the only thing worse than failure occurs, and an operational time travel system is developed, it sparks an arms race with Russia and China, and the body count skyrockets as both patriots and enemies try to hijack the new technology for their own purposes.
But not everyone has given up on the rule of law. In Tennessee, Fayette County D.A. Pete Dance wants to prosecute the murder of a man whose fossilized remains turn up after a series of devastating earthquakes, assuming he can stay alive long enough to do so. The only problem Dance has—besides the assassins on his trail—is that the victim is still alive.
---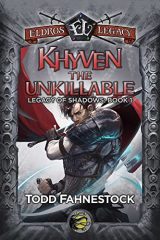 Khyven the Unkillable (Legacy of Shadows #1) – Todd Fahnestock
A rising champion. A secret rebellion. A deadly crossroads.
After forty-nine victories in the bloody Night Ring, Khyven the Unkillable is a celebrity gladiator. If he can survive one more battle, King Vamreth will free him and declare him a knight.
But the king doesn't play fair.
Instead, for Khyven's fiftieth "battle," the king orders him to travel through the magical noktum and infiltrate the secret lair of a rebel leader known only as "The Queen in Exile." All Khyven must do to earn his knighthood is gain the queen's trust…
…and betray her.
---
Madness of the King (The BRUTAL Sword Saga #9) – James Alderdice
Gamble with fate. Defy the gods. Winner take all…
First known as Gathelaus the Sellsword, then the Usurper, and now as the Mad King; he seeks a return to not only his glory and kingdom but also to save his very soul and mind. Poisoned and seeing visions of madness, he is on the run across a trackless wilderness with no end of enemies hungering for his blood. Everyone with a grudge to bear, from Pictish chieftains to vicious mercenaries, and even elemental gods and devils come calling, hoping to take his head. Blood will flow like a river…
But with friends and lovers at his side, some of those dark forces can be opposed. Balance in the universe will rock back and forth. His return to the throne will be an epic event in the penultimate installment of the Brutal Sword Saga…
---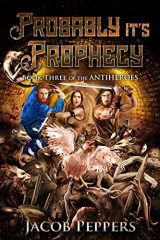 Probably it's Prophecy (The Antiheroes #3) – Jacob Peppers
The only thing rarer than a homicidal chicken is a hero who lives to see retirement.
Dannen Ateran spent the week following his battle with the necromancer and his undead army doing exactly what he enjoyed most—nothing.
At least, that was, until Perandius summoned him to the land of the gods once more with a mission to rescue a shepherd boy foretold of in prophecy.
And so Dannen, hoping to keep breathing a bit longer, sets off to the south with his companions. But that was the thing about fleeing from death—no matter how fast a man runs, it's always ahead of him.
Plenty of ways to die and die horribly but then, Dannen had lived long enough to know that if a man went looking for ways to die, he never had to look very far.
---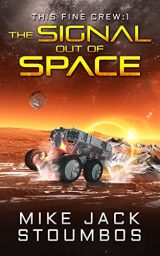 The Signal Out of Space (This Fine Crew Book 1) – Mike Jack Stoumbos
Welcome to the Initiative!
A declawed reptilian engineer.
A furry medic concealing her noble heritage.
An insectoid programmed to adore humans.
An overeager human pilot named Lidstrom.
Everyone already knows that the reptiles adapt, the brutes endure, the bugs explore, and the humans… make war. Together, they aim for a fresh start with a brave new venture: the Interstellar Initiative, the galaxy's best hope for peace, cooperation, and rewriting some nasty first impressions.
Unfortunately, this human-led venture is off to a rocky start. Tensions run high, and the species enrolled in the Initiative's Academy are only a few mistranslations from tearing each other apart. They'll have to learn to work together quickly, though, or an uninvited guest will destroy them all first.
---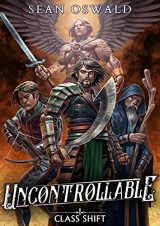 Uncontrollable (Class Shift #1) – Sean Oswald
If Tim is to survive his new world, he'll have to learn to master his uncontrollably shifting Classes.
Whether it be the heroes of legends or the characters in games, few things are more defining than Class. Except maybe Class isn't always static. Tank, DPS, healer, and more. They are all just different sides of fate's die.
Taken from life as an office drone by a trickster god, Tim finds himself in the magical world of Iocusinte, where change is his only constant. It grants him great potential, enough to be sought out by different factions looking to use him for their own ends.
That potential, however, is mercurial. His Class and very appearance change at random. He'll have to solve the riddle of his nature and learn to master the uncontrollable if he hopes to survive.