Deep space scavengers, beleaguered couriers, and Die Hard in Space tower in this week's science fiction new releases. 
---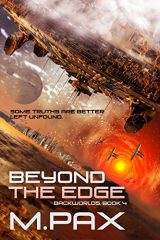 Beyond the Edge (The Backworlds #4) – M. Pax
Some truths are better left unfound.
For two years Craze's dear friend, Lepsi, has been missing. The murmurings of a haunted spaceship might be a message and may mean his old pal isn't dead. The possibility spurs Craze and Captain Talos to travel to uncharted worlds, searching. Out there, in an unfamiliar region of the galaxy beyond the Backworlds, they stumble upon a terrible truth.
Meanwhile, Rainly remains on Pardeep Station as acting planetlord, dealing with the discovery of her lover's dark and brutal past. Alone and questioning her judgment, her introspection unlocks more than heartache. Latent protocols in her cybernetics activate, forcing her to face a sinister secret of her own.
In the far future, humanity settles the stars, bioengineering its descendants to survive in a harsh universe.
---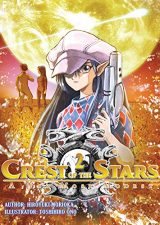 Crest of the Stars: Volume 2 – Hiroyuki Morioka
The war between the spacefaring civilization of the Abh Empire and the united forces of surface-dwelling "Landers" has commenced in earnest — and it promises to decide the destinies of all of humankind across the cosmos.
Flung into the fray of a war they never wanted, Jinto and Princess Lafier must find a way to aid the Empire's war efforts, but they are hindered by a less than savory fellow Abh and by United Humankind forces alike, all while stranded and bereft of supplies. What allies can they find on an unfamiliar world blanketed by anti-Abh propaganda? How can they even evade capture while the planet's police are hot on the lookout for them? The pair's mettle — and their bond with each other — shall be tested and then some in the exhilarating second chapter of their personal saga!
---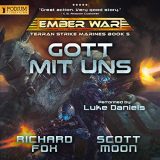 Gott Mit Uns (Terran Strike Marines #4 Audiobook) – Richard Fox and Scott Moon
Terran Strike Marines fight for victory. No matter the odds. No matter the cost.
The final battle against the Kesaht begins.
Lieutenant Hoffman and the exhausted Marines of Valdar's Hammer are called upon to make a desperate assault against the enemy's home world. But the foe is prepared, and their planet is a death trap.
While the Strike Marines fight for their lives, the fabled ship Breitenfeld remains captured by the Ibarra Nation, and the Ember War hero Valdar languishes in a cell. The ship and her captain are held on a strange world of the Ibarra's design, and only the Hammers can free them.
Hoffman and his Strike Marines have fought from the icy wastes of Koen, to the jungles of Eridu, and even deep into the heart of a shattered moon, but their final mission will demand a price in blood.
---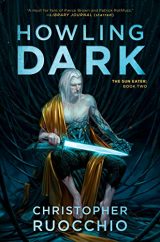 Howling Dark (Sun Eater #2) – Christopher Ruocchio
Hadrian Marlowe is lost.
For half a century, he has searched the farther suns for the lost planet of Vorgossos, hoping to find a way to contact the elusive alien Cielcin. He has not succeeded, and for years has wandered among the barbarian Normans as captain of a band of mercenaries.
Determined to make peace and bring an end to nearly four hundred years of war, Hadrian must venture beyond the security of the Sollan Empire and among the Extrasolarians who dwell between the stars. There, he will face not only the aliens he has come to offer peace, but contend with creatures that once were human, with traitors in his midst, and with a meeting that will bring him face to face with no less than the oldest enemy of mankind.
If he succeeds, he will usher in a peace unlike any in recorded history. If he fails…the galaxy will burn.
---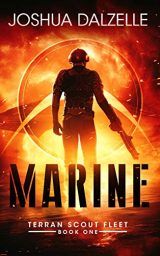 Marine (Terran Scout Fleet #1) – Joshua Dazelle
Aliens exist… and, as it turns out, most of them aren't that friendly.
Jacob Brown wasn't even born yet the first time they attacked Earth.  He was only fourteen the second time it happened.
When Earth finally came together and fielded its first spaceborne military, Jacob didn't hesitate to volunteer. Serving aboard a mighty starship, he'd be able to defend his planet—and his family—when, inevitably, they came again.
Just as he's about to graduate training, however, Jacob is approached by an officer from Naval Special Operation Command and given a choice: volunteer for a risky mission to a dangerous, lawless world, or give up his dream of serving in the military and go home. He has no idea why he's being singled out in such an unusual manner, but now it's either agree to their demands or give up his dream of being on a starship.
Soon, getting his career back on the right track will be the least of his concerns when it seems like everyone—and everything—he meets is trying to kill him. When he stumbles upon a secret most people on Earth are blissfully unaware of he realizes it's not just the aliens he needs to be worried about.
---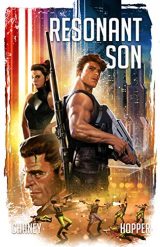 Resonant Son – J. N. Chaney and Christopher Hopper
30 floors of nightmare fueled action. An ex-cop with nothing left to lose.
After losing his job and family, Flint Reed finds himself in the middle of a terrorist attack. With nothing but his wits and experience as a former Union police officer, he must do everything he can to stay alive.
As he soon discovers, however, there are also hostages, and no one is coming to save them.
All hope falls to Flint.
But as he fights to navigate the building, the real answers begin to unravel. What are the terrorists really after, and why are they so intent on getting into the vault?
Experience the beginning of the Resonant Son series. If you're a fan of Die Hard, Renegade Star, or the Last Reaper, you'll love this epic scifi thrill ride.
---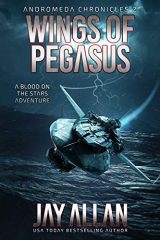 Wings of Pegasus (The Andromeda Chronicles #2) – Jay Allan
The Badlands.
A grim, haunted expanse of space, vast lightyears filled with dead, empty worlds. A dark place, the graveyard of an empire…and a frontier where vast riches can be had by those with the courage—and the luck—to survive.
But trade in old tech is not for the timid. Prospectors face rival crews, ancient imperial security systems, and the ever-present shadow of the Union's dread spy agency, Sector Nine, as they plunge forth in search of artifacts worth vast fortunes.
Andi Lafarge and the crew of Pegasus are among the elite of the strange brotherhood that ventures forth, seeking the remnants of humanity's lost past. She and her people will face the deadliest challenges, fight constant battles, and plunge forth into the darkest corners of the lost region of space.
Pegasus has a new mission, one far more important than even Andi had her crew realize, a search for ancient technology that could determine the outcome of the next Confederation-Union war. To get it, they must travel to a vast ocean world…and they must find what they seek before Sector Nine does.
They will fight, suffer, endure. But they will never fail. Not while Andi Lafarge still draws breath.
---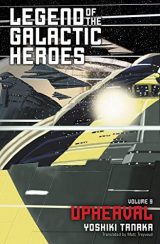 Upheaval (Legend of the Galactic Heroes #9) – Yoshiki Tanaka
The irregulars of the Iserlohn Republic, still loyal to the ideals of their former leader Yang Wen-li, rally around Yang's successor Julian as he strives to live up to his inherited responsibilities. Meanwhile, in the empire, Kaiser Reinhard survives an attempt on his life only to be confronted with the devastating sins of his past when he learns the true identity of his would-be assassin. Despite rumors of treason on the part of Neue Land governor-general Oskar von Reuentahl, the kaiser pays a personal visit to that territory, where an even greater shock lies in store.